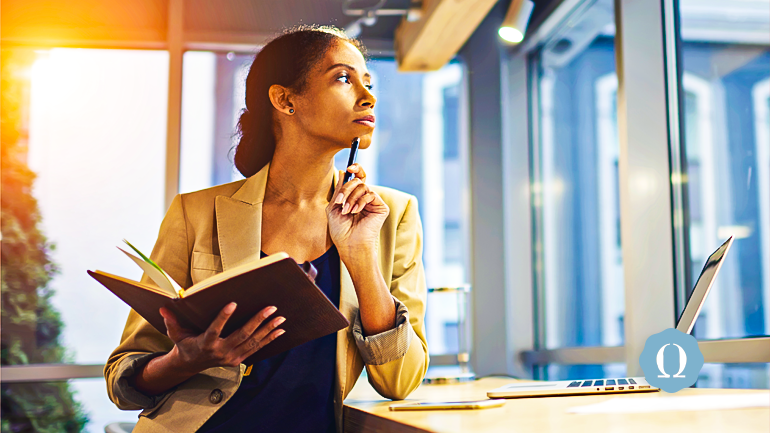 What are your sorority's communication goals?
This is a question that every member of your sorority should ask herself. Is sorority communication aimed at being merely informative, working on building relationships, a combination of both, or something entirely different? Once you have determined what the sorority communication goals should be, you're going to need to determine the best way to convey the goals your chapter has chosen to the membership, and perhaps alumnae as well.
It is imperative to only communicate with sorority sisters when there is a compelling and definitive purpose, and to include accurate, appropriate content. Over-communicating will not get the job done, as it can either be distracting or cause the message to be lost in translation.
Don't Ask "What?" Your Sorority Communication Goals Should Be
As Simon Sinek conveys in his book, Start with Why: How Great Leaders Inspire Everyone to Take Action, the important question to ask first isn't what to do, but rather why you're doing it. In other words, don't waste too much time deciding exactly what it is that your sorority should be communicating to its members. Instead, brainstorm what you hope to accomplish by communicating with them, and tailor your communications to fit the needs that process identifies.
Another important consideration is that you shouldn't feel like you need to constantly engage in communication within the sorority. If you send too many emails or messages through social media, members of the sorority may feel overwhelmed with too much information. It's like when you receive too many emails from a company because you bought one thing from them one time. You like the company, but you don't want these emails clogging up your inbox. So you unsubscribe.
Of course, you can't just "unsubscribe" from a sorority. If your sorority sisters have a lot of communication sent their way, they may become frustrated. Angry. Annoyed.
Over-communicating can also cause sorority members to be confused and not at all on the same page. A sorority sister already has enough on her plate, with typical academic stressors such as exams and papers. Don't make things worse by adding more stress to a sister's life with poor sorority communication.
It helps to figure out ahead of time which officers, committee members, or other sisters need to receive a certain message. Don't include sisters in communications that don't apply to them. For instance, you wouldn't want to send the academics chairperson an email about choosing a design for a recruitment banner.
Why the "Why?"
There needs to be a purpose behind your sorority communication; what are your goals in reaching your sorority's members?
What are your short-term goals? What are your long-term goals? It's important to consider how certain decisions you make will impact the sorority, both now and in the future. You'll want to focus on goals that will benefit the current sorority membership, but also be thinking ahead to goals that can have lasting impacts on your sorority's legacy.
Maybe you just want to plan meetings more effectively and efficiently. With chapter meetings every week, and frequent board and other related meetings, it can be overwhelming.
Maybe a couple sisters are struggling in academics. They may need tutors or other help in order to maintain a certain GPA. They certainly don't want to get kicked out of the sorority.
Maybe you have a sorority retreat or road trip planned. You don't want sisters to be bored, and it may be helpful to turn this into a change to bond -- especially if it is not a residential sorority.

Maybe you're the sorority's historian, and you want to ensure that all records are maintained in order the sorority's history. The sorority's historian communicates across time with future generations of sisters, as well as communicating about the chapter to others--for instance, by sharing pictures from chapter events on social media. There can be much more involved in this process than one might think.
Maybe you're the sorority's President, and you're trying to figure out why your sisters feel like you're shutting them out and/or neglecting the chapter by not addressing their needs. If a sister comes to you with an issue, but you're busy Snapchatting your boyfriend, then you're failing as sorority president. Also, as sorority President, you'll need to find your voice as a leader.
Maybe you want to improve your sorority's social media presence. There's a delicate balance between posting too little and posting too much information on Twitter, Facebook, Instagram, and other communication channels. You probably want to use social media to showcase the sorority's philanthropic events, and to both inform and educate followers.

In rare cases, emergencies occur. There could be a natural disaster or a security issue on campus. In that instance, it is important for sorority sisters to communicate efficiently to ensure that everyone is safe. In these situations, it is always important to be as prepared as possible.
Effective meeting planning relies on stellar communication. And, while everyone in a sorority -- from the executive board to new members to advisors -- needs to be involved, you need to figure out who is in charge of the sorority communication.

How Sorority Software Can Help
Software aimed at sororities can certainly be useful in the recruitment process, as well as in planning various social and philanthropic events. Once you have sorority community goals, the next logical step is to put those plans into action.
Sorority software like OmegaOne can help.
Sorority software can make it much easier for you to reach your sorority community goals by improving best practices for planning chapter events, working on and finalizing budgets, and preparing for recruitment events.

Sorority communication software, in particular, can thoroughly improve communication in your sorority by streamlining the process while striving for optimal results.
OmegaOne has a built-in event management system, which includes a shared chapter calendar to keep everyone on track and aware of upcoming events.
OmegaOne also enables you to keep track of your sorority chapter's billing and dues collection. Keep track of member payments, and make it easier for sisters to make and review their payments.
This sorority communication software also enables you to engage in efficient communication. You can send mass-communication text messages, emails, or alerts to sorority members without the hassle of using multiple different apps. This software also ensures that messages of a sensitive nature are sent securely.
"The Wall" is a central hub for OmegaOne users, like a Facebook group tailored specifically to sorority women's needs. You can post announcements, stay up-to-date with upcoming events, share photos and videos, and more.
For nearly three decades, OmegaFi has worked with chapters just like yours to help officers set chapter budgets and manage their finances, all with the expert assistance of our industry-leading budgeting software and financial consultants. We've expanded our software options to help with other chapter needs like communication and recruitment. Learn more by visiting www.omegafi.com. Or call 800-276-6342 or email us at info@omegafi.com.