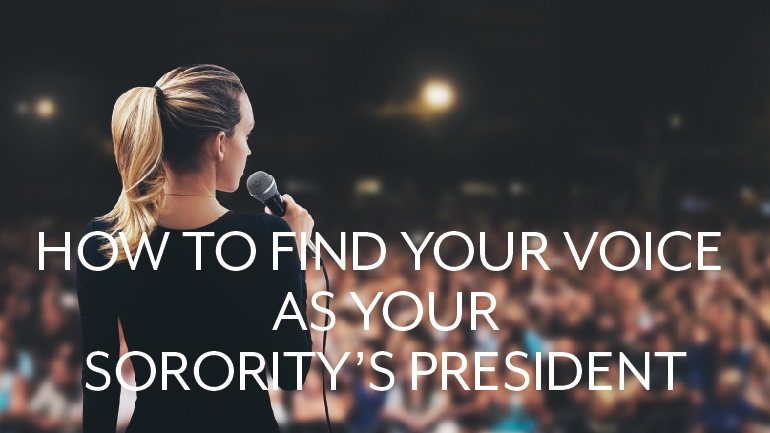 Politics and public speaking go together like peanut butter and jelly, like baths and bubbles, like kittens and rainbows, like Spring Break and the beach, any beach, just get me to a beach, you beg your sisters, before this paleness turns translucent. You've been stuck indoors in the snow for months and all work and no play is making you dull--which, consequently, is the opposite from how you should be as your sorority's president.
So listen up, then dig yourself out of the blizzard and get yourself to Cancun as fast as you can.
Being sorority president is in large part about managing the chapter and leading your sisters by representing the chapter's letters to the best of your ability--the sorority's image, message and place in the larger university ecosystem are (at least in part) in your hands.
You've already been elected sorority president, so it should be smooth sailing from here, right? You're thinking, I'll just delegate what needs to be done, keep my nose up and then sit back and kick my feet up on the backs of my humble, kneeling servants.
Well, unfortunately for you--and fortunately for your "servants"--you don't have time to be a dictator. Now you have to pitch in and be an actual leader. Sorry. That's just how it works. But really, at the end of the day, you already knew that, didn't you? That's why you signed up for this. You've got a message you want to get out. But now you've got to work on how to best deliver that message to the masses a.k.a. your sisters, as well as to set an example for young women across campus and beyond. That's why OmegaFi is here to help you figure out How to Find Your Voice as Your Sorority's President.
First, Figure Out What You Want to Say

Likely you'll have been doing a lot of this leading up to the election, figuring out your message and the direction you want to take the chapter as your sorority's president. Now it's a question of the finer details--how to really hammer your ideas home. This is a big part of finding your voice as a leader. What are some of your major goals and campaign promises to your sisters? How will they get done, step by step? Having a handle on all your duties as well as the way you want to approach major chapter goals is a great way to walk into chapter meetings with confidence and poise, and finding the right words to say what you want to say.
A wishy-washy message isn't going to go far with your sisters, who all have roles under your leadership that have to be clear and straightforward, if you don't want to get run out of the sorority house with pitchforks and torches.
Next, Find Your Voice as a Leader

You've been elected to lead possibly over a hundred young women who will all be texting, Facebooking and otherwise coming to you for essentially every little thing. You're going to have to approve chapter expenses, settle sisterly disputes in the chapter house, as well as generally oversee the chapter and every committee and officer.
It's . . . well . . . a lot to handle.
If you don't have the voice of a leader, you won't be able to lead. Your well-meaning sisters will eat you alive. Why? Because without proper leadership they'll devolve into an angry and frustrated mob without direction. Remember what we said earlier about pitchforks and torches. It's a slight exaggeration, but not much.
They need you, and you need the chapter to run like a well-oiled machine.
But how do you find your voice? How do you be a leader? If you're having trouble communicating in a leadership role, consider a leadership retreat, as may be offered through the university, your Greek Life office or your sorority. Talk to past presidents. Ask what worked for them. But also, follow your gut. By now you've earned the role of sorority president. You've got the right stuff, you just have to follow through and be clear with everyone about what's expected.
Let them know you're going to be fair but enforce the rules. Let them know they can trust you to be the confident and intelligent woman you are.
Last but Not Least, Own It!

You're the first and last stop when it comes to who represents your sorority chapter. You're the person new members are going to look up to as they learn and grow. You're the person who has to represent the letters you wear better than everyone. You get to hold the gavel, but if your chapter gets a bad reputation while you're serving as sorority president, you're the one who'll be on trial.
Your confidence and your voice shouldn't have to be forced--they're borne of the chapter's values and morals, virtues instilled in you since day one. What a sorority president's voice is built for is communicating those chapter values to your sisters, your national advisors, your classmates and anyone who cares to find out what exactly it is your letters represent.
Whether you're advocating for your chapter at an event or simply going to class, walking through the quad, hitting the gym or tailgating a sporting event painted head to toe in school colors, you're the image of what your chapter represents.
You're a constant reminder of what the ideal sister should be. You're the glue that binds your sisters together. And what's more, you're proud to fill that role.
Because, dear sorority president, you already have a voice. You just have to learn to use it.
With these tips in hand, we feel that in no time you'll be able to Find Your Voice as Your Sorority's President. However, not all sorority presidents are built alike. What works for one sister might not work for another. Tell us about your experiences in finding your presidential voice in the comments below!