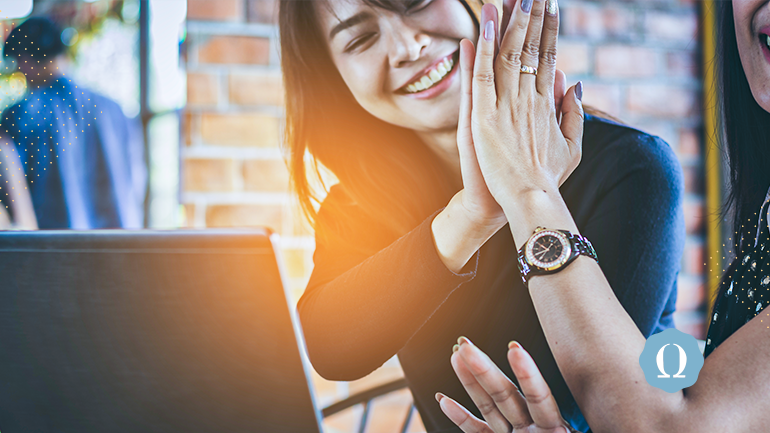 You've got sorority software goals. We've got solutions to help you reach them.
Goals are what drives chapters to grow and engage with their community, as well as to make members better leaders, students, and future professionals and alumnae.
Without goals, things can stagnate quickly and lead sisters into disarray. That's because sorority life is all about momentum, growth, and engagement.
But how do we reach group goals, such as those a sorority chapter strives to accomplish?
The answer is simple: communication.
Translating that into everyday chapter management can be a little more complex. Yet learning how to integrate strong communication into your lives as sorority women can have a tremendously positive impact.
Sorority software, such as all-in-one sorority communication software OmegaOne, can help.
Think of how many times each week connecting with one another matters. What about when an event changes dates? What if the chapter needs to go with a different vendor or caterer? What if a t-shirt order needs a quick adjustment? What if you need to add to the chapter newsletter before sending it out to alumnae? What if . . .
The possibilities are endless, as things change quickly in any chapter. One small change can affect the budget, as well as any number of executive officers, sisters, and alumnae.
Sisters need to be able to adapt on the fly.
That's where using software to augment your communication goals can be a game changer.
Here's how you can Use Sorority Software to Smash Your Communication Goals.
Communication Goal: Make Meetings Count by Filling the Gaps
You've got chapter every week.
You've got an exec board meeting.
You've got committee meetings for planning your next big 5k fundraiser. You're also getting together with the fraternity guys to practice your Greek Week skit. After that, you've got to sit down with the Panhellenic recruitment officer to go over this year's rules and a schedule of events.
To make matters worse, it seems like these meetings go on forever and you never accomplish anything.
You just rehash the same things over and over—things that then suddenly change at the worst possible moment, leaving you unprepared.
There are two main problems when sorority meetings seem to lack good communication:
You aren't effectively planning meetings.
You aren't communicating effectively between meetings.
Planning an effective chapter meeting means you've thought about the specific goals of the meeting, what information needs to be communicated, who needs to hear it, and what tasks need to be accomplished before the next meeting.
However, planning meetings goes together with how you communicate with sisters the rest of the time. That's where having the right sorority communication tools comes in.
The OmegaOne Solution
OmegaOne has several features that allow you to communicate and plan events in real time. These features include:
a shared chapter calendar
events management options
geo-location based and other check-in options for events
emails, texts, and personalized wall alerts
a system for points tracking and appeals
Click here to learn more about OmegaOne.
Beyond planning and executing events, OmegaOne's functionality allows for precise chapter communication day to day, even when sisters are spread across campus.
What this does is allow you to fine-tune your chapter goals day to day, hour to hour, minute to minute. You can resolve most major issues prior to the next meeting, so when you come together your discussions are streamlined and productive.

OmegaFi provides chapter software solutions for recruitment, budgeting, communication, and more.
Communication Goal: How to Discuss Budgeting and Membership Dues
As you know, setting a chapter budget in the beginning of the year doesn't mean there won't be changes.
There are always changes.
If you've given enough wiggle room, you shouldn't end up in a deficit. However, it's still the treasurer's job to coordinate with sisters and make the right adjustments.
This can take many forms. A treasurer sends reminders when sisters must pay dues, gives budget updates during chapter, and works with other executives and committees to ensure the chapter's goals are correctly funded.
She also must ensure all fees, taxes, utilities, and other outstanding balances by the chapter are paid.
All this requires communication between the university, alumnae chapter advisors, executive officers, and sisters in general.
The OmegaOne Solution
Membership dues directly fund your chapter budget. That's why it's important to have a straightforward and easy way to collect and manage dues.
OmegaOne software allows members to pay their dues directly. It also connects directly to OmegaFi's premium chapter budgeting software, Vault.
Click here to learn more about Vault.
By coupling Vault with OmegaOne, your treasurer can manage finances, contracts, and bank transactions, pay bills and taxes, invoice members, and more. She can then connect with members to communicate about funding for chapter projects and members' outstanding payments.
This will ensure both a pristine budget and effective communication about that budget.
Communication Goal: Let's Talk Recruitment
Recruitment is a central part of your chapter's success, and during recruitment, communication is key.
From planning to execution, it's a hectic time when every sister needs to know her role, the schedule of events, and the conduct expected of her.
The OmegaOne Solution
OmegaOne gives you a direct line to sisters when it's most needed. You can also touch base with alumnae advisors via OmegaOne, share files over a secure cloud network, and manage attendance during this all-hands-on-deck time of year.
It also integrates with OmegaRecruit, OmegaOne's sorority recruitment software for tracking Potential New Member data, holding digital rounds of voting, and compiling and submitting bid lists.

Click here to learn more about OmegaRecruit.
Once your bid list is complete, you can transfer new members into the OmegaOne system seamlessly.
Having OmegaOne can make a new member's experience much easier, since she'll have access to member and alumna contact info, as well as all important chapter information that applies to her.
OmegaFi offers software solutions for sorority chapters for recruitment, budgeting, communication, and more. Learn more about our services or call direct at 800.276.6342.
Leave your questions or comments about our sorority communication goals in the comments below!