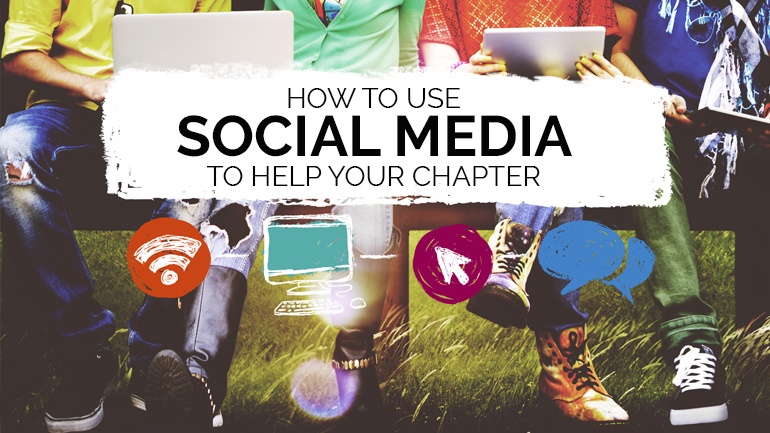 Social media. We're sure you have your own opinions regarding certain platforms and social media as a whole. Social media is met with a lot of mixed feelings by most. However, social media outlets are a powerful, instant and constant way to communicate, advertise and engage a large audience. When used properly and with a plan in place, the powers of social media can be used for good. OmegaFi is here to offer advice on How to Use Social Media to Help Your Chapter.

Showcase Your Good
You and your brothers/sisters are doing good things on your campus, throughout your community, and as a chapter of your organization. Using your social media accounts is a great way to showcase these accomplishments! Showing those outside your chapter that you and your fellow members spend time helping others, investing in your community and advocating and raising money for your philanthropy can give you major street cred. However, showing off is only half the fun. Posting a video of this past weekend's community service project will allow you to draw attention to a good cause. Invite and challenge other groups to dedicate time, donate money or help raise awareness for a cause or project. Remember to make sure your posts include all audiences. The point of posting is to draw attention from all people, not a select few.
Don't forget to use social media platforms to give shout outs to deserving brothers and sisters Acing a test, achieving high GPA's, making the Dean's list, scoring the winning goal and even taking second place in a power walking competition are all reasons to recognize your members and celebrate. Not only does it make them happy, it shows that your chapter cares about one another and values each other's successes. Those actions alone can convince those considering joining your chapter.
When you do obtain new members, make sure to celebrate them and make them feel welcome! Posting a quick "Welcome to the brotherhood" picture of new members encourages not only your current and new members to be excited about the chapter's expansion, but also the new members' friends and families. More often than not they will be supportive and share your posts, furthering your reach.

Inform and Educate
Social media is supposed to be fun, but make sure to also use your platforms to inform, educate and encourage. Take opportunities to teach and inform others regarding your chapter and organization. While it may seem like no one outside your organization cares when your founding date is, the history, mission, vision and values, you're wrong! They may not know the information exists. Sharing this type of information not only helps others understand the organization but also shows the chapter's pride in the organization. Your content doesn't always have to be chapter related, either. Be a hub for subjects your followers are interested in. Share university news such as intramural and updated bus schedules, campus-wide activities, and news articles related to higher education and Greek life. Just be careful to not share information that can be seen as one sided and beware of fake news!
Creating and sharing content is a great way to gain attention, further your brand, and get noticed by potential members and prospects. While sharing is great, make sure there is some sort of theme or method to your madness. If you want your page to be full of encouraging content, make sure to curate your content to depict that message and theme. With that being said, it doesn't necessarily mean you have to be so ridged as to only share that type of content. Be smart and meaningful with your posts in this regard. For example, a post about how to build a tiny home is cool, however not all that relevant. An article on Greeks building tiny homes for flood victims in a neighboring state on their spring break is cool and relevant.

What's What?
I think we can all agree there are more than enough social networks out there. Therefore, we will focus on what we deem to be the top four and why they are worth spending your precious time on. Each outlet serves a different purpose. Before we get started, let's have a moment of silence for Vine…RIP, Vine, gone but never forgotten.
Facebook is the OG of the bunch, however its purpose has changed over the years. Facebook used to be the place to go to keep up with anything and everything. It was lit! Now, not so much. It is still a major player in the social media game, yet you find yourself using it less and less. You may only visit Facebook when you have a notification or have something of significance to share. The most appealing thing about Facebook is the expiration of posts on timelines is longer than most. You could have posted something 2 days ago, but it's at the top of your feed today. The life cycle is longer and increases your chances of being seen and engaging with your audience.
By contrast, Twitter moves fast. The second you post a tweet it is almost immediately pushed down by 50 other tweets. Twitter is for the fast and the furious, not so much the nostalgic group. Twitter is great for quick announcements, reminders and noteworthy news regarding your chapter. We wouldn't recommend using Twitter to house the most precious photos from the sisterhood retreat. Twitter is great for shout outs, showing your philanthropy some love and creating awareness for causes. Twitter is great for quick connections.
The other two major networks worth mentioning are Instagram and Snapchat. Instagram is the visual Mack Daddy of the social world and a great way to engage users. On average, pictures and video get viewed more than any other media. Since Instagram added stories (similar to Snapchat) to their arsenal, this is where you want to be, because this is where your audience is. Posting a quick video of your chapter's intramural flag football win or a fun picture from this week's social gathering gives people a reason to follow and check back. Make your Instagram profile all about your members and chapter. Showcase what makes you all awesome.
This leads us to Snapchat. Word on the street is the average user checks Snapchat an average of 11 times a day. It has been said the Snapchat gives users the most positive experience out of all the social media outlets available today. That is not a hard idea to buy into. Snapchat is fun, quick and offers fun facial recognition filters that can turn any frown upside down. Having a crappy day? Impose your face on a piece of toast or become a unicorn for 10 seconds. You will forget all your sorrows. It also doesn't get any better on Snapchat for you and your members when they see themselves and their beloved brothers and sisters dominating Greek week, cruising to Spring Break, goofing off during summer classes or crafting recruitment materials. Whatever it is that your Snapchat captures, make it fun and engaging. Snapchat makes users feel as though they are a part of what's going on. It is inclusive, positive and fleeting all at the same time.

Be Social on Social
As discussed, blindly posting is not the move. Make sure to come up with a real plan to reach out to like-minded people and social accounts. Your members are going to throw a follow your way and those are the easy likes. Seek out accounts, pages, and social accounts who are in some may related to your page. For Greeks, following other Greek life communities on other campuses is a great way to gain appropriate attention. Collaborating, sharing, posting and supporting others in the community is a no-brainer. They share the same audience as you! Reach out to accounts similar to yours off-line to devise a plan or social media campaign that is mutually beneficial for both parties.
Highlight other organizations and activities. Listing the ways your chapter or organization is superior is a huge turn off and doesn't have a ton of reach. You will always catch more bees with honey than vinegar. It's called a social community for a reason; it's mean to engage those outside your immediate circle.
Always make sure you have someone monitoring your accounts. Part of social is discussion and response, and managing these aspects in a timely manner. The social media world moves pretty fast. If you don't stop and look around once in a while, you could miss it. Take every opportunity to respond and engage with your audience and those who have taken the time send you a message, ask a question or say, "Hey, I like this." If they are taking the time to reach out, it is important that you reciprocate.
Social media can be tricky sometimes, but it can definitely be an effective tool to help propel your chapter and expand your membership. Make sure to always use your powers for good. Do you have any other helpful tips, tricks or ideas on how to use social media to help your chapter? Share them in the comments!