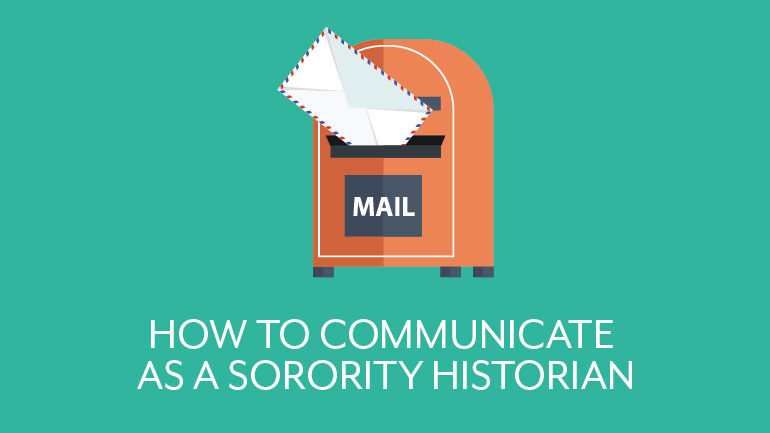 "Those who cannot remember the past are condemned to repeat it." So said philosopher George Santayana.
In sorority chapters, sisters must learn and grow, but they also shouldn't leave their history behind.
A sorority's past makes a huge impact on—and will always be a part of—sisters' futures.
Think back to your founders. They were sharp, ambitious students who pioneered new ground for women's organizations on their campuses.
Many of these women formed their sororities when male fraternities dominated college Greek life.
Those founding sorority sisters changed history by banding together and building your organization.
Imagine if no one had recorded the efforts of your founding sisters. Imagine if you had nowhere to look back to, to understand where it all began, and the values that helped build your sorority from the ground up to what it is today.
Enter chapter historian, stage left.
Record keeping plays an important role in maintaining the core foundation of a national sorority, and helps sisters understand the direction their chapter is headed.
Just as the chapter and sorority have their histories, so does the position of historian itself.
All this comes together to embody the historian position, and the importance of sorority history communications.
OmegaFi wants to help make this one for the record books. Let's talk about How to Communicate as a Sorority Historian.
Where Does the Sorority Historian's Timeline Begin?

You're building not only on the sorority and chapter's history, but on that which has been compiled by the outgoing historian and those who came before her.
Yet you're also tasked with documenting and preserving the chapter history that's being made this very moment.
How do you bring all that together? Where do you start?
Wrapping your head around the whole thing can all seem overwhelming. Don't panic. Instead, go back to the basics of the historian position and build from there.
Some historian tasks might include:
Preparing a chapter scrapbook or yearbook
Maintaining historical documents
Collecting and preserving current chapter history, such as:

event history
chapter minutes
list of current officers
family tree information
chapter reports
awards

Researching and understanding chapter and sorority history
Communicating with nationals about chapter news and archiving
Continue the work of past chapter historians
These are some of the baseline responsibilities of the job, which your chapter bylaws should describe in detail, but you can build from there to truly communicate your chapter's history for future generations.
Here are some sorority history communications tips.
Be Visual
While it's important to write down information about chapter events, a chapter's visual history will bring the past to life and give posterity to sisters' compassion and dedication to one another.
Focus on communicating the story of an event—whatever that story may be—when you photograph sisters.
Try to display the true meaning of the event and how sisters embody your sorority's values. Do this in how you capture each image, and incorporate bigger-picture sorority symbolism and values when designing the scrapbook and compiling chapter history.
It's not important to make those decisions in the moment; you should record everything you suspect might be important, and parse through what you got later.
However, going in with a basic idea of how this event connects to the larger history of the sorority can help you understand what it is you're capturing through the lens and why it matters.
Which leads us to . . .
Building a Bridge between National and Chapter Histories
This is probably one of the tasks of being a chapter historian that's easiest to neglect and hardest to pull off.
Your main task is to chronicle the chapter's history as it's being made, and then communicate that history to the national organization.
But how do you communicate chapter history properly without understanding the whole picture—and helping others understand it as well?
The answer's straightforward: Do the research.
Yes, this will feel like more homework. Yes, if you take on the chapter historian role and want to do a good job, this is important.
You should already be relatively familiar with the sorority and chapter history from your new member education period, but if that was a while ago, you should brush up. Pull that pledge manual from under your bed, and get the basics squared away.
Another way to learn about your sisterhood is to simply talk to people. Sit down with alumnae advisors, older sisters and someone from nationals if possible. Let them tell their stories.
Take every opportunity to present your chapter's history, such as at Founder's Day events, meetings for potential new members or alumni gatherings.
Or just prepare a short presentation on a historical topic for a chapter meeting now and then.
The more you engage with the larger history surrounding your chapter, the more you'll understand how to fit the pieces together and give context to your work.
How Should Sorority Historians Communicate in the Future?

A large part of your job will be keeping physical records and helping decide what gets archived.
One of your most notable record-keeping tasks is building a scrapbook, yet sorority life has become increasingly digital over the years. Photos you once would have printed you now record as pixels on a hard drive.
You can communicate instantly with sisters, alumnae and nationals through sorority communication software such as OmegaOne on any number of topics, from recruitment to where to grab lunch.
Social media has also made recording and communicating chapter history as fast and easy as the click of a button.
While social media will probably never replace your sorority's national archives, it does provide an important cornerstone for how future sorority historians will share what they record and document.
Online albums or "scrapbooks" help communicate your chapter's history to the world instantaneously.
The photos and text you publish don't age or wear, and they can be accessed freely by potential new members, parents, university administrators, sisters, alumnae, the national sorority—and everyone else.
Thus, keep in mind that social media plays a specific role for the historian. It's a place to promote your chapter's history and communicate certain aspects of your sisterhood when speed and reaching a larger audience can make an impact.
What advice would you give new sorority historians? What does your chapter history mean to you? Let us know in the comments below.