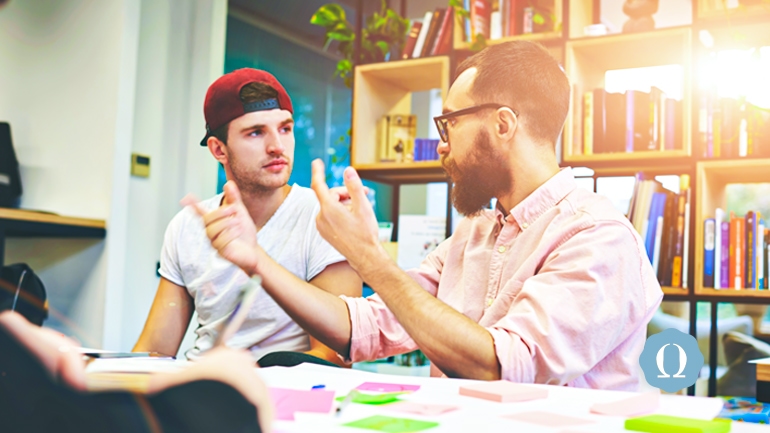 Okay, brothers, it's time for some real talk: fraternity communication is an essential aspect of managing a fraternity chapter, whether that's face-to-face, chapter meetings, or with the use of fraternity communication software.
Communication can easily make or break the chapter, and if the rapport among the brotherhood is poor, then the chapter stands to lose a lot.
First, you need to decide why you're communicating to the brotherhood. Are you trying to spread the word about an upcoming event, or to improve relations within the fraternity, or maybe to do something different entirely? Once you know why you're communicating, you can decide how and how often you're communicating.
If there is too much information, then your brothers' brains might be fried. They're already knee-deep in studying for midterm exams. They certainly don't need any additional stress, especially when it comes from their fraternity, which is supposed to be enriching their lives -- not making their lives more stressful.

What is Fraternity Communication?
Fraternity communication is not just about talking bro to bro. While having one-on-one conversations with members is essential to boosting morale and relationships within the brotherhood, it is not the only aspect of fraternity communication that is important.
If you're an executive officer you're also managing communication among [potentially] a hundred or more brothers, as well as alumni, chapter advisors, the Greek Life office, the fraternity's national organization, other Greek life on campus...the list is basically endless.
The entire executive board of the fraternity should engage in regular communications with brothers and with the community. But, the chapter president is usually the one in charge of the bulk of this communication. He is the one who represents the chapter at various events, and he should be able to delegate other communication-related tasks to officers and brothers in order to reach certain chapter goals.
Fraternity communication goals can be reached in a number of ways. The most useful tool these days is social media. Fraternities would do well to have a strong presence on Facebook, for example. After all, Mark Zuckerberg created Facebook as a means to connect with his Harvard classmates.

Despite Facebook's presence in the news lately, we believe that it is smart to have a consistent, effective presence on multiple social media platforms. You'll want to build as many followers as you can. But keep in mind that no one wants to see the same fraternity clogging up his/her feed.
Having a professional-looking website can also go a long way towards improving your fraternity's online presence. You can improve fraternity communication by enabling brothers to communicate directly through the website. The website can also be a great tool for communicating with potential brothers and their families.
Alert the media: fraternity chapter newsletters are essential tools to reaching your fraternity communication goals, and to maintaining those goals. Each chapter newsletter should focus on university and alumni milestones, as well as important chapter events. The main goal here, though, is to continue to engage alumni. You want them to stay active in the fraternity, regardless of where they live and how long ago they graduated from college. After all, you are all brothers for life. And brothers support brothers.
Real Talk, Bro
Sometimes, brothers just need some real talk. All college students deal with stress. It could be academic-related, personal, or a combination of both. If you're reading this, then you're probably already in a sorority or fraternity, so you have a solid social network. If your social circle was small or nonexistent prior to joining the fraternity, now it has expanded quite a bit. You should take advantage of that.
As a college student, it is important to practice proper self-care, and your brothers can help. Don't be afraid to speak up if and when something is bothering you. If a brother can't help you, then hopefully he can lead you to someone who can. It never hurts to ask for help, especially when you are surrounded by people with similar interests and values.
If a brother is struggling in academics -- and a certain GPA is required to remain in the fraternity -- then perhaps you can invite him to join in or start a study group. Chances are, there is someone in the fraternity or in your sister sorority who is in the same or similar classes who can help.

How Fraternity Communication Software Can Help
If you were to stop and think about all of the software programs you use on a daily basis --- on your phone, tablet, and computer -- you'd probably come up with more than you had expected. Software is such an essential part of our personal and professional daily lives, and fraternities are no exception.
As we have mentioned, fraternity communication can be complex. And stressful. And tedious.
Fraternity communication software like OmegaOne can help.
OmegaOne is geared toward fraternity chapters, which means that you won't be downloading a software program that needs to be specifically tailored to your chapter's needs.
OmegaOne also enables you to keep track of your fraternity chapter's billing and dues collection. Keep track of member payments, and make it easier for brothers to make and review their payments.
This fraternity communication software also enables you to engage in efficient communication. You can send mass-communication text messages, emails, or alerts to brothers without the hassle of using multiple different apps. This software also ensures that messages of a sensitive nature are sent securely.
"The Wall" is a central hub for OmegaOne users, like a Facebook group tailored specifically to fraternity brothers' needs. You can post announcements, stay up-to-date with upcoming events, share photos and videos, and more.
For nearly three decades, OmegaFi has worked with chapters just like yours to help officers set chapter budgets and manage their finances, all with the expert assistance of our industry-leading budgeting software and financial consultants. We've expanded our software options to help with other chapter needs like communication and recruitment. Learn more by visiting www.omegafi.com. Or call 800-276-6342 or email us at info@omegafi.com.