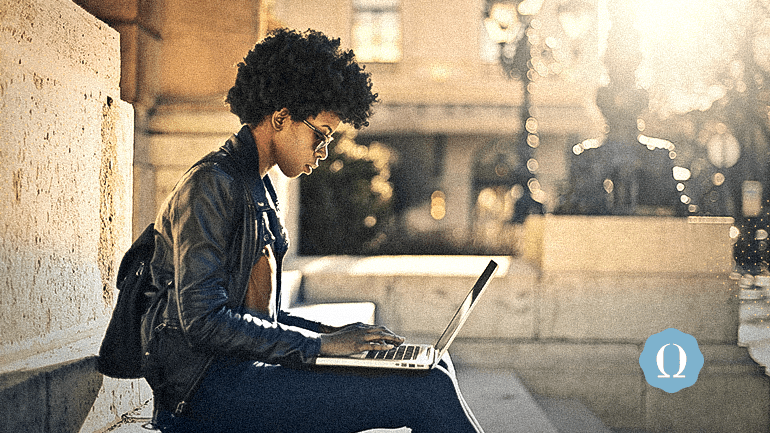 You hope an emergency never happens. But when it does, it's important for sisters to have the best sorority software to keep you safe.
Rarely do we think of safety as part of basic, everyday sorority communication—often the focus is more on the positives, like philanthropy, planning formals and retreats, and the Very Important Chapter Business™ of discussing new episodes of Orange Is the New Black.
But why is this so?
No, we don't mean OITNB—which, granted, is great.
Why isn't safety a primary consideration of sorority communication?
After all, risk management is built directly into every chapter event, into how you manage your sorority house, and it's a major cog in how you interact with your university community.
Sure, you have anti-hazing seminars. You coordinate with alumnae advisors to ensure you are doing your utmost to combat alcohol/drug risks or other dangerous behavior.
You're up to date on the newest national guidelines.
Yet, risk and the way we communicate about potential emergencies in our daily lives as chapter members can be improved.
In 2019, software is a major tool that influences how we communicate—and do pretty much everything else. How can software improve how we prepare for and connect during a crisis?
OmegaFi wants to ensure you have the best possible digital solutions so sisters can work together effectively in a crisis.
This is The Best Sorority Software in an Emergency.
How Sisters Can Prepare for the Worst
This may seem like a depressing topic. After all, the prospect of tornadoes, fires, or floods don't exactly fill us with pep and cheer. They're a danger to lives and livelihoods, and while we take any kind of threat seriously, it's not very fun talking about our own mortality.
We're here to tell you that preparing for—and communicating about—the worst-case scenario, is actually one of the most positive things you could do.
So let's run through a few good pieces of disaster preparedness software for sisters.
The FEMA App
FEMA (or the Federal Emergency Management Agency) has been helping Americans prepare for and recover from disasters for nearly half a century, ever since President Jimmy Carter established the agency by executive order.
They provide assistance and expertise for a variety of unexpected emergency situations that happen across the nation every year. They're often an important resource for disaster-affected areas to rebuild.
Hence, FEMA is a perfect resource for sisters to rely on to prepare.

The FEMA app offers:
real-time weather alerts for multiple custom locations
emergency preparation and survival tips for a variety of situations
help locating nearby emergency shelters or disaster recovery centers
the ability to share alerts and GPS photo reports via text, email, or social media
This is the perfect app to use for disaster preparedness information you can study and present to sisters and encourage them to download this software as well.
The Red Cross's First Aid App
The American Red Cross provides a variety of digital mobile tools for emergency preparedness and response. They offer software for everything from emergency weather alerts to resources for active military and veteran communities.
Their first aid app is especially helpful in educating and preparing sisters for potential emergency situations.

The American Red Cross is "a humanitarian organization that provides emergency assistance, disaster relief, and disaster preparedness education in the United States," according to their Wikipedia page. They've helped Americans in disasters for over a hundred years, and they're trustworthy experts on the topic of emergency education and safety.
This software is designed to teach you how to deal with emergencies such as:
allergic reactions
burns
cuts/bleeding
broken bones
head injuries
choking
heart attacks
These are all important skills for sisters to have, and this can be used as an educational risk-management tool before an emergency happens. Having a tool like this helps ensure every sister plays an important role in your risk management plan and increases the chance they can help each other if worse comes to worst.
How Sisters Can Create the Best Possible Outcome
We all hope for emergencies not to happen. Unfortunately, hoping isn't always enough. We need to be prepared—and this way we can reduce risk and be more prepared to help one another in a crisis situation.
A big part of sorority communication should be to ensure sisters are safe each and every day. So—how does software factor in to communicating sister safety?
OmegaOne: Your Sorority Emergency Communication Software
OmegaOne is our premium, mobile-friendly sorority communication software.
It helps your chapter plan and execute events, manage study hours, provide important updates and messages to sisters, and you can even pay your chapter bill using OmegaOne.
However, there's one crucial feature OmegaOne provides, and that's an emergency check-in system designed specifically to facilitate safe communication in a crisis.

Here's how it works:
During a campus emergency, an administrator/chapter officer activates an emergency push notification that all sisters can see and respond to.
This notification will be sent every 2 minutes for 30 minutes.
Sisters will respond to the push notification with either "safe" or "not safe."
For sisters marked "unsafe," OmegaOne allows the chapter to geo-locate those sisters and communicate with them if possible.
The chapter can alert authorities about sisters in unsafe locations/situations.
Of course, you hope you never have to use this system. But if something does happen, you can enact your chapter safety plan using OmegaOne.
OmegaFi offers software solutions for sorority chapters for recruitment, budgeting, communication, and more. Learn more about our services or call direct at 800.276.6342.
Leave your questions or comments about our sorority emergency software in the comments below!