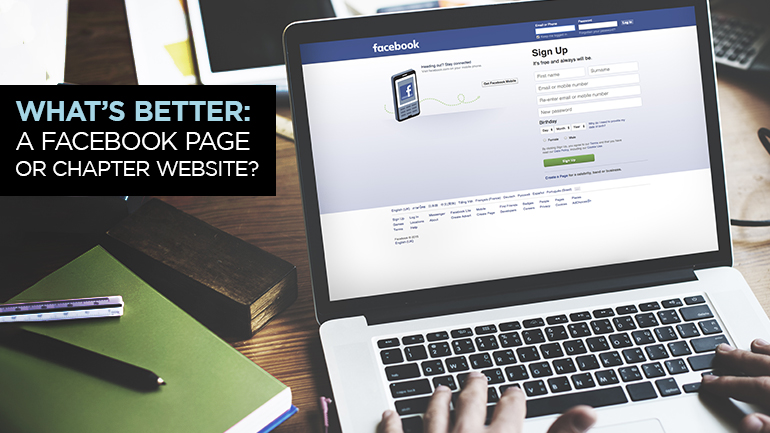 Have you and your chapter members struggled with the best way to communicate and tell the story of your chapter, educate new members and attract new ones?
I'm sure you've wondered which platform is the best way to get your message out to your desired audience. We know your time is limited and your message is important, so let us help you.
So which tool is the best? Both! Bet you didn't see that coming, or maybe you did. Either way, let me explain.
A Facebook page and a chapter website are both valuable assets (if maintained properly) for different reasons. Each outlet serves a purpose for a specific audience. Below is a detailed explanation regardind the burning question at hand, What's Better: A Facebook Page or Chapter Website? Make sure to let us know what you think in the comments section!

Facebook Page
The best thing about a Facebook page is it's free! The second best thing about Facebook is that almost everyone has one, 1.79 billion active users worldwide to be exact. Your exposure and following is increased with the continued growth and use of this platform by your chapter members.
A chapter Facebook page is a great way to keep your members informed, engaged and prideful. Post about this week's mixer with the Delta Zeta's on campus. Add fun pictures from the event. As they say, "a picture is worth a thousand words", so make it one that everyone can view, you know what I mean?
Upload video of the Habitat for Humanity house you and your sister built over spring break. Say "happy birthday" to your faculty advisor, and share your recent award from your national organization's headquarters. All of these are great examples of how you can showcase your chapter's events and accomplishments and keep everyone excited about your presence on campus.
Shareable content is another big advantage of Facebook. Posting a pic of Brother "Ben Smith" who is your Member of the Month will without a doubt be shared by Ben's mom, dad, sister, best friend and old high school science teacher. Posting the video of you and your sisters' insane dance routine to the latest Bruno Mars hit has the potential to go viral and perhaps even make an HLN appearance when it hits 20k views. Sharing the right content on your chapter's Facebook page is a great way to get noticed, promote the value of your organization and Greek life as well as potentially attract new members. Make sure to post on a regular basis. A Facebook page is only as valuable as the content it contains. Consistency is key!
With that being said, sharing the wrong content on your Facebook page could be detrimental. A good rule when posting content on Facebook is if you have any question as to whether or not it's appropriate, don't post it. There are no real limits to who can see your posts and that is sometimes terrifying. Keep it classy, informative, light hearted and fun. Make sure to assign a responsible person in your chapter to maintain and overlook the page. This person will be responsible for posting, replying to comments, concerns, questions, etc., as well as making sure the integrity of the page is not tampered with. Maybe give this person a cool nickname like "Hawkeye."

Chapter Website
Some may think websites are on their way out since the explosion of social media. While websites are a bit more tedious to maintain, they still hold a tremendous value to the right audience. A chapter website's purpose is to educate, inform and be a resource to members, potential members, parents, college/university officials as well as your organization's headquarters staff.
The chapter website is your most credible public platform. A properly run Facebook page will push interested parties to your website. Here they will find all the necessary information about your chapter including history, events, contact information, bylaws, etc.
With the development of DIY website platforms like WordPress, Wix and, if you really want to get fancy with it, Squarespace, anyone can have a chapter website. These website providers are fairly easy to create and update and a whole lot cheaper than seeking a freelance professional to create one. There are plenty of tools and plugins available to accommodate things like online purchasing, dues payment, event scheduling and so many more. Just as the famous saying goes, "There's an app for that." Well, with websites, trust me when I say, "There's a plugin for that." If the do-it-yourself route seems time consuming, then do some research regarding website services geared towards the Greek life community.
Chapter websites are important to increase your visibility and credibility to headquarters staff, parents and university officials. Parents especially need a resource to visit when they are hearing from their fresh-out-of-high school son or daughter that they want to rush a fraternity/sorority in the fall. Our parents (and even grandparents) are much more internet literate than they used to be. Bet your last Chipotle BOGO coupon that the first thing they will do when their beloved offspring mentions the above is they will hit the interwebs, which inevitably means they will end up at your chapter website. What kind of first impression will you make? Let's hope it's the one where you have a clean looking web page, with working navigation, history about your chapter and the organization and a nice slideshow of pictures of chapter members participating in campus events and philanthropy projects. You may event want to provide a document or article geared towards answering common questions or concerns regarding men and women going Greek.
Make sure there is a clear way for your visitors to contact the appropriate members of the chapter with questions or inquiries for becoming a member. Make your website (and Facebook page) tools to increase recruitment. You can even get bonus points with your organizations headquarters, as well as obtain accolades, awards and scholarship funds for a successful and well-maintained chapter website.
In conclusion, you and your brothers/sisters have a whole lot to showcase to the masses as well as a great story to tell. As long as your chapter is active, you will always have something to talk about, which in the digital world is called content. It's your time to shine in the vast and never ending recesses of the World Wide Web. Do it right and make it worth it!