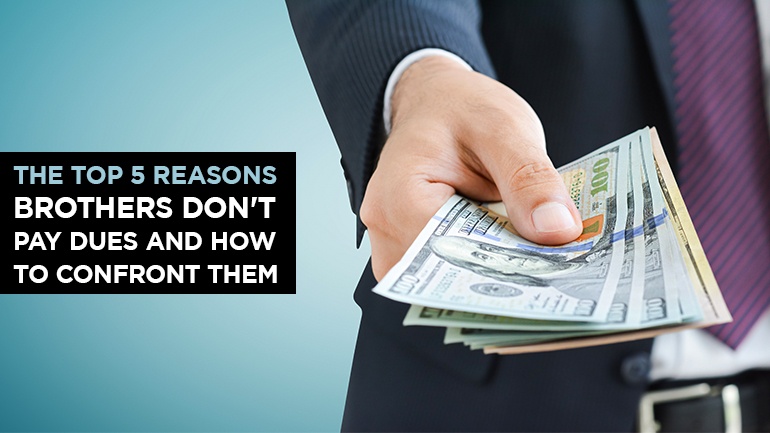 Woe is the brother tasked with collecting the dues of the chapter. Whether it be the upper collective of the administration (president, vice president, secretary) or just the unfortunately tasked treasurer, dues collection is a big deal for every chapter and is the lifeblood of an organization's ability to function and grow. Yet, collecting dues is one of the most difficult and daunting tasks within an organization. Worse still, dues need to be collected—at the very least—every semester, and at times even during the summer. However, for anyone that has been in the position to collect dues, they know right off the bat that this the most stressful part of their duties and responsibilities. These are your brothers we're talking about. You pledged with these guys, socialized and partied, and for all intents and purposes have become brothers for life.
So why is this a challenge?
First starters, these are your brothers. And although you may not be bound by blood, there exists a kinship that goes beyond a normal friendship. Ultimately, this means that these conversations can be hard to have. When confronting a brother who doesn't have the money to pay his dues, or worse, outright refuses, your scolding can appear like a direct and deeply personal insult:
"You're calling me a bad brother."
"You're calling me cheap."
"You're calling me immature."
When we feel attacked, we get defensive. Defensive brothers tend to be uncooperative debtors. For your benefit, we here at OmegaFi are here to give you The Top 5 Reasons Brothers Don't Pay Dues and How to Confront Them.

5. "Where's the Money Going?"- Keep Things Transparent
Let's talk about the similarities between dues and taxes. For this example we're going to use box-office superstar and America's estranged uncle, Wesley Snipes. For those of you unaware, Wesley Snipes went to jail in 2010 for a litany of tax related crime in which he served three years in a federal prison. Now no one 'likes' taxes, but it's an obligation and a responsibility for citizens of this country. And while there is virtually no way of knowing where our exact tax dollars go, we know that as they go into the collective budget, they help fund any and all government related projects including our public schools, roads, and military defense. In this sense, you are paying into the collective and receiving the benefits for it.
A fraternity is no different. However, given that a fraternity's budget is exponentially smaller than that of the U.S. government's, it's possible to give the brothers of your chapter a more accurate depiction on where the money goes. With the goal of inspiring brothers to pay their dues, it's important to remember that not everyone's personal finances are equal. What may be a simple expense to one brother may be a large inconvenience to another. So give them a sense of insight into where exactly their money is going, and offer the assurance that their hard-earned money won't just be sitting in a pot.
4. "What Am I Getting?"- Provide Value for Dues
Leading in from our last entry, it's important to talk about value when you're asking brothers for hundreds to thousands of dollars each semester. What are they receiving with their dues payment? Assuming that you have a budget and planned programming for the year, this should be easy to answer. For brothers that spend a lot of time in the house but don't live there, that's a benefit they are reaping as a brother of the fraternity. The parties that are thrown, the drinks you consume, fraternity paraphernalia, the access to the network of brothers in your city and abroad, and even the necessary funds to promote recruitment (and ultimately new brothers) are all intrinsic benefits of brotherhood. Aside from the benefit of being a member of the fraternity, the yearly budget goes to paying for socials, events, and banquets, all of which cannot be executed without the funds that are derived primarily through dues.

3. "Do I Get Anything for Paying Early?"- Incentivize Brothers to Pay with a Discount
There are few people who aren't at least a little enticed by a good deal. It's a foundational aspect of sales and business overall. To increase demand, you must either lower supply, or further incentivize demand. The primary tool of this strategy is the sale or discount. So how do you inspire brothers to pay their dues early—or, at the very least, on time? You create an incentive. For brothers that pay early, you can offer a discount off their dues. Rather than pay $1,000 in dues if they pay on time, maybe they only pay $900 if they pay a day early. Further still, you can time this to sync up with your university's financial aid drop. The reality is that by incentivizing paying your dues early through a discount, you aren't actually proving a discount at all. You just aren't charging a penalty for brothers who are late, meaning you can set the necessary dues amount as the early dues rate and wipe out the late penalty altogether. For help in aggregating these structured payments, it may be easier to use an online finance management system. This will help in coordinating payments and providing an easily accessible digital space for dues collection and payments.
2. "There's No Structure. Everyone Else Pays When They Want"- Keep It Professional
For brothers who've held the role of collecting dues, part of the biggest challenge is trying to keep it professional amongst a variety of complex relationships. You may be closer to some brothers than others. That's a reality to being in a large fraternity. The key is to remember that regardless of this fact, each brother must be looked at as an employee in this sense. You've got to keep it professional. This means using chapter meetings to address dues often and well in advance of the due date. It also means sending formal emails on letterhead to all brothers on the roster. It's easy to claim you never got the message if the communication was poor, so be sure to hit all avenues and channels when reaching out.

1. "What happens if I Don't Pay?" - Hold People Accountable
This will be the most directly oppositional question you'll receive in attempting to collect dues. Some brothers simply won't care to pay, and will actively call your bluff. They'll consider you a stickler, resolve to themselves that they will still show up to parties and events with impunity, and ultimately you'll give up or forget. When this happens—and you'll recognize the moment that it does—you need to nip it in the bud immediately. In fact, it's better to pre-emptively address this situation by using your platform: address the consequences of not paying dues during your chapter meeting. With the whole group listening, the rules and regulations have been clearly set. In this sense, there should be no confusion regarding the procedures and penalties for refusing to pay dues.
It's at this point that you remind brothers of the realities of being an inactive brother: paying for parties, paying for events, an inability to run for office, as well as an inability to vote are all standard conditions for inactive brothers. It's up to you to lay down the law and enforce the rules for the betterment of the chapter and the sake of the organization.
We've all got our horror stories of dealing with difficult brothers. Feel free to share your thoughts on The Top 5 Reasons Brothers Don't Pay Dues and How to Confront Them and a few ways you've been able to overcome them below.