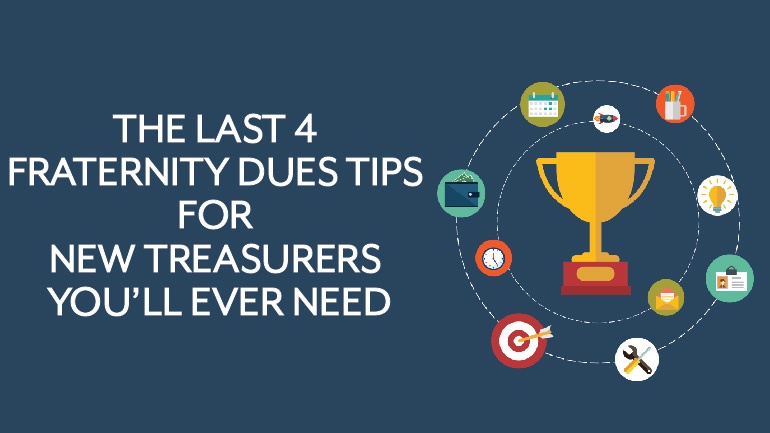 Collections.
Few people like to ask others for money, and even fewer like having to pay it.
So, in nearly every case, woe is the fraternity's chapter treasurer.
Despite the critical need of their service, chapter treasurers are often just seen as nagging busy-bodies. They're the brothers who put stupid things like "order", "accountability" and "fiscal responsibility" above the needs of the chapter.
ABOVE FUN.
It makes us sick to our stomachs.
Jokes aside, money is fun to spend and difficult to obtain. So, the role of a treasurer is a vital one. Not only does he enforce the fiscal bylaws of the chapter, but he actually works to cut costs, generate budgets and raise funds for the chapter's overall operations—including guess what!? Parties and socials!
Hooray!
Calm down, you.
As we mentioned before, the life of a treasurer is a difficult one precisely due to the fact that few brothers (including the executive board at times) are actually aware of everything they do.
This includes the collection of dues.
And it's precisely these dues that trickle down into the larger chapter membership.
Which means that as a treasurer—or *gulp* a new treasurer—the process of collecting dues will singularly be one of the hardest parts of your job.
However, you're in luck. We here at OmegaFi aren't just older than stacks of newspapers in a hoarder's storage locker, we're pretty smart too.
Thus, we're here to give you the crux of all the collected knowledge we have in a single blog post. For your enlightenment, we give you The Last 4 Fraternity Dues Tips for New Treasurers You'll Ever Need.
We'll start here...
4. Cover Your Butt—Send Many, Many, Many Reminders

So, we're going to give it to you straight here: Sometimes your brothers will be "forgetful."
Remember that hard deadline of having fall semester dues in by the 2nd Friday of school?
"Sorry bro, I thought it was the third week of school. I got you next week I promise."
Next week comes…and no payment. The week after, still nothing. You see the same brother dressed to the nines at your mixer with the Tri-Delts, and he's telling you he's waiting for his parents to send it over still.
He pats your shoulder and walks away.
The problem here isn't your brother. Well it is, but it's more than that. The problem is that you gave out a single deadline once (and probably through email—which they can say they didn't see), and there you have it. Instead, you need to create a schedule of reminders that stay on top of your brothers by making that deadline clear, but also that gives you the leeway to cover your butt (and we weren't thinking "butt").
Here are a few micro-tips:
Set a date for dues collection the semester before they're due.

Typically, around the end of the semester, let's say the Spring or Summer before Fall.
Setting this date so far in advance is easy, too: Set it for the week financial aid drops.
Mention this deadline often at chapter meetings (begin and end them with this deadline).

Send a reminder a month in advance of the date.
Send another reminder two weeks in advance of the date.
Send a reminder a week before.
Send a reminder the week of.
Send a reminder the day before the hard deadline.
If you haven't noticed that's FIVE reminders, so you can safely assume that if a brother doesn't pay by the stated deadline, it's because he can't or because he won't.
Which brings us to…
3. Reward Brothers for Paying Early

People need incentives to do things they don't want to do. It's why discount coupons and special sales exist. An opportunity to buy one thing and get another thing free or to get 50% off for the next 24 hours often creates the proper motivation to inspire action.
Collecting dues is no different. You just have to be clever.
Let's say you have a minimum threshold for dues set at $400 per brother.
Use your knowledge of this bare minimum amount to incentivize brothers to pay their dues early. For example, tell brothers that the dues amount is $500 dollars, BUT if brothers decide to pay by the deadline, they'll get a reduced rate of $400 dollars. This allows you to charge a late fee of sorts to brothers who pay after the original deadline.
Although this can be a bit tricky, ultimately, you're getting brothers to pay their dues on time, saving them money and generating a little extra from the ones who are paying late.
Next up…
2. Never Take the Role Personally; It's Just Business

You're going to get into confrontations with some of your brothers. To be frank, there's just nothing you can do about it as a new treasurer. Your job is to collect dues, and for brothers who just don't feel like paying, they're going to make it difficult for you.
Understandably these aren't just your friends. These are your lifelong brothers, so you'll want to be sympathetic without fundamentally damaging the relationship.
All important things.
However—and we advise making this statement clear at or around the time you take office—you have a financial responsibility for the good of the chapter, and that responsibility is to collect the money and use it to fuel the chapter's programming and expansion.
And that's an important job.
That means when you get at brothers for the late dues they owe, remember that it isn't personal. It's just a part of the gig. You don't have to be a jerk about it, and you should always try to work out a payment plan and hold them to it.
And finally…
1. Don't Be Afraid to Crack the Whip

Listen you new treasurer, you. Don't put anyone in a headlock here. By "crack the whip" we're talking about exercising the constitutional power you've been granted in your chapter's bylaws. Although you technically can take a brother to court. That can be a bit harsh…and petty, too.
Instead, for brothers who are completely cool with ducking you and refusing to contribute to the chapter at large, you need to strip them of everything that makes being in a fraternity fun.
They'll have to pay for parties like any other non-Greeks, they can't vote at chapter meetings and will not be invited to social gatherings or chapter programming at large.
That can be a tall order to figuratively excommunicate a brother, but if the brother is flat-out refusing to contribute to the chapter at the expense of everyone else's dime, what does that say about their sense of brotherhood in the first place?
If you've got any tips for getting your brothers to cough up the cash, let us know in the comments below!