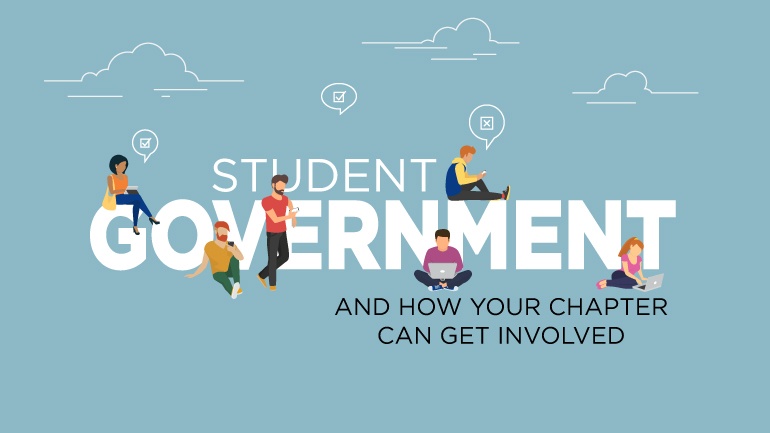 Now, as a young collegiate, you may know the phrase "Student Government" is a bit nebulous, and can cover a number of activities including--but not limited to--running for office in the student council. We here at OmegaFi would like to submit to you that this is the whole point. You don't have to stage a coup of the student council and take over the presidency, though having sisters or brothers run for office certainly can't hurt. However, there are a plethora of other activities that can help you get involved in the Student Government experience, and give your sisters or brothers a ton of experience playing a professional service role for your university community.
Some chapters may not have the time and ability to serve a major role, but that's okay. Everyone can play a part, small or big. The idea is that SG typically budgets anywhere up to the millions for student living and organizations such as academic teams, art initiatives, and other registered groups. Since your chapter is very clearly a student organization, even though at many colleges you won't receive RSO funding per SG statutes, your relationship with SG can be a crucial part of your relationship with the entire university. Think of them like a conduit to electrify your chapter's role among your peers, and in return, your chapter will be enriched. That's why OmegaFi is happy to call to order this official meeting about Student Government, and How Your Chapter Can Get Involved.
Join Student Organizations, Promote Positive Initiatives, Voice Your Opinion

You don't have to be an elected official of Student Government to get involved. Joining registered student organizations whose goals and activities you actually care about can go a long way to injecting your chapter's presence into campus life via groups funded by Student Government. Perhaps your chapter's mission values are things like honor, integrity, friendship, and philanthropy. The goal is to apply those values to other organizations and bam--you're doing great things for your campus and passing those values on to those who aren't members of your chapter, and by extension, to Student Government itself.
Whether it's the chess club, a Nursing Student Association, or some other group, your involvement can play a positive influence and promote your letters all at the same time. When initiatives you care about are looking for SG funding, promote them, get behind them, and voice your opinion. It's ideal that you attend an SG meeting or hearing once in a while, to fully understand their decision-making process and trends, as well as what the opposition to certain ideas might be. However, if you can't swing the meetings on your hectic schedule, they usually have a university-based webpage where you can find a ton of relevant info in terms of budgetary decisions, agendas, and so forth. It's also a good place to start when mining around so you can get involved with…
Committees, Committees, Committees
One great committee to get involved with, if your college has this or something similar, is a coalition that supports academic teams. An academic team can be anything from bowling, to debate, to a mock trial team or Model UN team. You might even already be a member of one of these teams. Yet, there are likely many other committees to take an interest in, depending on your university. There could be a committee for community service, funding, and others.
However, you have to check with your particular Student Government structure to see which committees require you to be a member of SG (standing committees), and which are open to outside students (external committees). Some examples of external committees could be a review board for campus police, multicultural student affairs, campus dining advisory, sports, and others. If you think of a committee that would benefit students and Student Government, tell them about it! And we don't mean just write an email that's going to go into a spam folder. Bring it up with them in person.
Find out where SG holes themselves up during the day and take the hike over there. Face-to-face meetings show a human interest, and you're more likely to get your point across. Sometimes, SG allows visitors to speak during the "announcements" phase of their meetings, so if your request or idea is appropriate for one of said meetings, go for it! Just remember, honey catches the flies, so be professional, succinct, and direct. And finally…
Run! Or Vote.

Ah, democracy. What a concept, eh? It's no different conceptually on the national scale as it is in the microcosm of Student Government. Okay, SG president isn't leader of the free world. But that person still plays a vital role in the civic future of students at your university. And she or he isn't the only one. Whether you run for president, vice president, treasurer, or one of various student senator positions, being elected to a role within your Student Government can be daunting, humbling, and rewarding.
It's also important to familiarize yourself with your particular university's SG structure, statutes, history, and current members when you run, to give your message the best chance of success. Your learning doesn't stop there, either. You want to be the best officer you can be, and there are many sources to help you learn how to make your role an effective one. We don't suggest you use your role in SG to foster privilege to your chapter, and in fact that is likely a huge breach of official conduct you want to avoid like the plague.
However, just as joining your chapter brought you into a greater community, so will serving on Student Government. You'll learn what students really care about, how to compromise while maintaining professionalism, and be a part of your university's inner-workings. However, as rewarding as it might be, it's important to be realistic about your expectations and commitments--holding an SG office isn't something to take lightly. If you don't have the time to commit to an election campaign and a ton of extra work once you actually win, you can still get out there and vote. Pay attention to the platform each candidate is running on. Which do you feel is most beneficial to the students? Is it realistic? Does this person seem dedicated, passionate, professional and generally up to the task? Then it's time to place your ballot.
No matter how you slice it, SG is likely going to be webbed through your entire collegiate experience. They are the voice of the students. So go and be heard. As a part of a chapter on campus, you already know how to rock your message and values, work as a community, and get 'er done. With this newfound knowledge, we hope you will find a way to work with SG and be the change you want to see in the world--or at least on campus.
What have your experiences with Student Government been like? What's worked for you when trying to participate in student life? Let us know in the comments below.