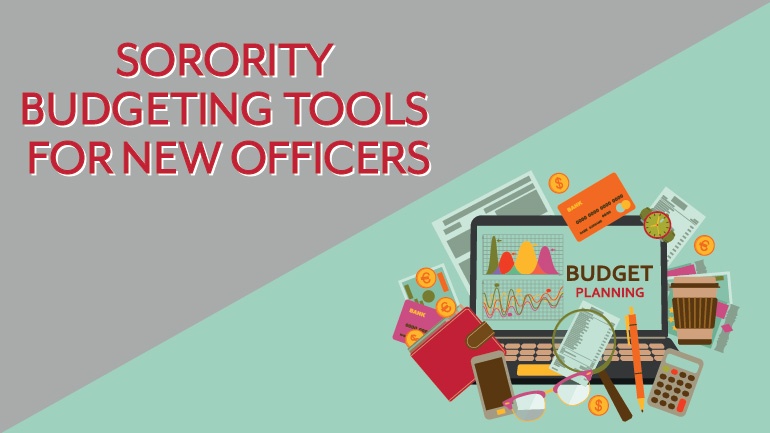 So it turns out that budgeting for your sorority chapter is a bit more difficult than balancing your checkbook.
"Wait," you might ask, "what the heck is a checkbook?"
First, Google it. Second, a checkbook was, as best we can tell, a rune used by ancient seafarers to navigate the stormy seas of yore. In this analogy we, the generation before you, are the ancient seafarers. And what we navigated was our own finances. Nowadays banks have online systems to track and manage your accounts. Written checks are all but obsolete in the age of debit and credit card chips, as well as online shopping. But before you think we're knocking technology, remember that OmegaFi thinks budgeting tools that make your life easier are good. Who wants to sit around scratching out math problems in a tiny checkbook ledger, trying to figure out how much ramen you'll need to be scarfing down this semester to keep up with your bills?
Not you, wise sister. Not you.
We believe the same theory applies to budgeting for your sorority chapter: Especially if you're just starting out as a chapter officer, anything that makes your life easier, the task at hand more streamlined and efficient, and that generally saves you headaches is a tool you should consider using. That's why OmegaFi is happy to sit down and chat with you about Sorority Budgeting Tools for New Officers.
Let's start with the biggest tool new officers can get their sorority-budgeting-software-savvy hands on . . . well . . . erm . . .
Sorority Budgeting Software (The Technology Side)


The great thing about sorority budgeting software, particularly OmegaFi's Vault, is that it's customer-focused and tailored to improve the budgeting goals of new officers like you. Whether you're a new chapter treasurer, chapter president or other chair person, this sorority budgeting software is the tool that will make the biggest impact most immediately.
When setting out to balance the chapter budget, the goal of this software is for our staff to help you set up an economically efficient budget, integrate banking and payment and notifications into a single database, and facilitate budgetary communication between the treasurer, president, and all sisters in a sorority.
The great thing about this software as a sorority budgeting tool is that all chapter officers and advisors can be given access to the budget to have a clear understanding of how funds are allocated to individual expenses, events, ceremonies, rituals and bills. Sisters and their parents have a straightforward understanding of how and when to pay using the myOmegaFi portal online or via the phone app. Thus, sorority budgeting software can really help new officers of any stripe with budgeting concerns without overburdening the treasurer.
But software alone can't keep your sorority running smoothly, young padawans. That's a Star Wars reference, for those of you who aren't nerds like us.
The technological aspect of budgeting alone can't help save the galaxy. Can you imagine the droid C3PO trying to fight off enemy tie fighters in the Millennium Falcon without Han and Chewie at the helm? Can you imagine R2D2 dueling Darth Vader in place of Luke Skywalker? Psshht. As if. Okay, so you may be moaning and groaning here if you're not a sci-fi person. But regardless of whether you went and saw The Last Jedi 10 times in theaters or have a Carrie Fisher poster above your bed, the point is this: You still need actual human beings to get you where you're going, whether it's in the future or a long, long time ago.
That's Why You Need Sorority Budgeting People (The Human Side)


Some of these people are you: the young, budding, ready-for-action new officers of your sorority chapters. You might be the treasurer. This makes you a vital tool for your sisters; you'll help remind them when to pay dues, be able to answer questions about the budget when necessary, and generally be able to maintain the monetary needs of the chapter in a way that benefits them. But if you're new to the gig, that's hard to do without the proper training, as well as people who're already properly trained having your back.
Being there for each other is nothing new for sorority sisters. We know you've got the team mentality in the bag. It's how you've snatched the Greek Week trophy three times in a row, it's how you've become a successful and growing organization on your campus, and it's how you'll approach budgeting. But with that positive, humanistic mentality you sisters have for each other, you'll need the tools other people can provide.
For example, when using OmegaFi's software as a sorority budgeting tool, we offer training and consulting via our highly qualified Account Managers and staff in setting and maintaining your chapter's budget. There should also be a broader human hierarchy by which each higher level can be used as a tool by the people below them. Check this out:
Sisters rely on the treasurer.
The treasurer meanwhile relies on those such as the president and other chairs to help her set the budget based on the chapter's needs, while helping enforce rules and penalties regarding dues payment.
All these duties also rely on advisors and national sorority staff consultants in order to understand baseline budgeting for the chapter (where national websites offer tools such as template budgets and guidelines for other chapter needs).
Finally, the advisors and consultants can and should be properly trained in how to most effectively utilize the software or other budgeting tools sorority chapters implement.
The bottom line is this: Budgeting is hard, and it takes a village--a village filled with people at all levels of your sorority organization. The more knowledgeable and familiar with the chapter's budgeting and budgeting software, the better off you'll be.
Whether it's software like OmegaFi's Vault or the human beings working to get the most use out of that software, a sorority's new officers should rely on budgeting tools to achieve their goals and maximize the operation of the chapter throughout the semester.
What tools do you use to budget for your sorority? What struggles or triumphs with budgeting have your new officers faced recently? Let us know in the comments below.