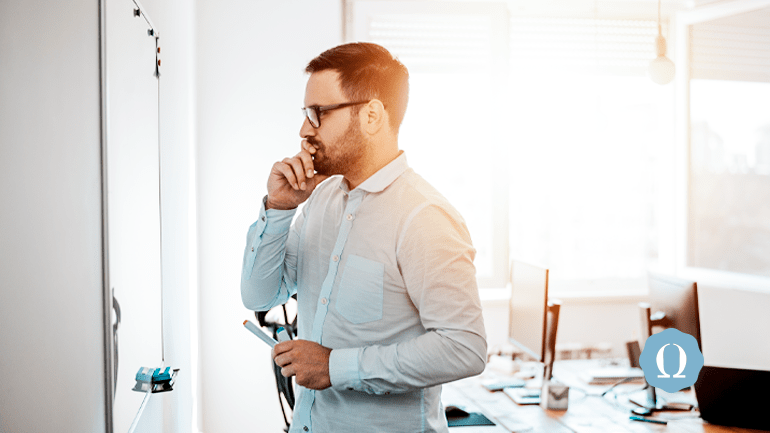 In a fast-paced world where brothers need to be on the same page every day, having the right fraternity communication goals is crucial.
Brothers are always communicating, of course. You're in close quarters in the chapter house. You hold meetings, seminars, retreats. You're chatting it up at the gym. In the pool. On the way to class. In the student center or the dining hall.
Brothers are always communicating. But do they have goals they want to accomplish through this communication? Are they thinking of strategies to connect more efficiently? Chances are that in some cases they are, and in some cases they aren't.
If you're talking about the beef stroganoff you had for lunch, it's no big deal. But for many serious chapter goals and initiatives, there's a lot of planning involving many brothers over a long period of time.
Planning requires precise and consistent communication.
Think about a philanthropy event like a 5k walkathon. To get people involved, to make it a success, work backwards through all the steps individual brothers had to take:
Setting a budget for the event
Getting all the promotional materials in place
Coordinating with chapter advisors
Securing vendors and venue
Putting in place a system to collect donations
And these are just the highlights. Between these big steps, there are committee meetings, executive meetings, and discussions during and outside of chapter.
All along the way there's a potential for miscommunication. The right fraternity communication goals can keep you on track.
That means you need to think ahead. You need a fraternity communication plan.

Fraternity Communication Goals for When Brothers Must Prepare
Fraternity chapters do a lot of planning. Like, a lot of planning. That is surely of no surprise to you.
The real question is: When are you not preparing and drawing up plans for some event, some goal, some grand scheme?
It's crucial to make sure you're communicating clearly and efficiently so that plans are made with precision—and, when necessary, the right changes can be made along the way.
Take some time to think critically through these questions and form your own communication strategy for planning a chapter goal.
Who Needs to Know?
Each chapter goal has a certain set of brothers—officers, committee members, and others—who have distinct roles.
Write out each brother helping plan the goal and what their job is. For instance, the treasurer would be managing the budgeting and expenses. The committee members might each have distinct tasks they'd take on. The chairman and other executives would be taking on broader leadership roles. Other brothers might be volunteering.

What Do They Need to Know?
Now think of a certain communication like, "We need to secure x venue, y caterer, and z other materials." Look at your list and decide: Who needs to know? Also, who doesn't?
This helps you direct precise communications to the right people at the right time, to get results.
Why Do They Need to Know?
Visualize your end goal. What if everything went perfectly? What would that look like? It could be a killer social, a 5k philanthropy, or the recruitment to rule all recruitments.
Now, work backwards from that end goal. Think of past experiences and each step along the way.
What are some things that could go wrong? What happens if an order gets delayed, a caterer is double-booked, a venue doesn't work out?
Go back to your list from earlier.
Who would need to know about those things? What would the communication chain look like to fix mistakes quickly? And how could you communicate to better prepare brothers to handle these possible snags beforehand?
Fraternity Communication Goals When It's Go Time
Your best-laid plans matter only as much as how well you communicate when you're acting on those plans. Go time is when all those plans can quickly fall apart without keeping brothers on the same page. You don't want to be midway through a recruitment event, have something go wrong, and have no clear plan for how brothers can pull together to fix it.
Here are a few questions you can answer for communicating when your plans meet pavement.
How Are You Getting Them There?
Your plans aren't much good if you have an event and no one shows. What systems do you have in place to get brothers where they're supposed to be?
A major communication goal should be to engage brothers and keep them involved and showing up.
Think about all the steps you take, from reward to punishment. Write out the steps on that scale. For instance, you may give brothers with perfect attendance special house privileges. You might or might not have a points system in place, but certainly you're tracking when they skip out. If brothers consistently don't attend events, what are the consequences?
Once you have this list, you can use it to figure out what isn't working and what is. Usually this means balancing the good and the bad and finding ways to better encourage brothers to take part.

What Communication Tools Are You Using?
Sometimes it's not just what we're saying or how we're saying it. It's about what tools we're using to get those messages across.
When it comes to official chapter communication, list out which communications you send across different channels.
Which kinds of communications do you send by email?
Which do you send by text? Phone call? One-on-one meetings? During chapter or executive meetings?
Which communications take longer, like those you'd hash out during a retreat?
What Role Does Fraternity Communication Software Play?
Good communication software can make a major difference for chapters and their goals. Does your chapter use any specific communication software?
Has your chapter considered using a premium communication platform like OmegaOne?
OmegaOne software can help optimize the fraternity communication goals we've discussed here.
Key features include:
Instant, officer-driven communication to custom groups via alerts, emails, texts, and shared files
Shared chapter event calendar
Geo-location and other check-in tracking options for events and study hours
Emergency alert system to quickly track and communicate with brothers during a crisis
Points tracking, membership fee payment, user-friendly membership database, and more
Learn More about OmegaOne Here
OmegaFi provides software tools to fraternity chapters for recruitment, budgeting, communication, and more. See what we have to offer here or call us direct at 800.276.6342.
Leave your comments or questions about fraternity communication goals below!