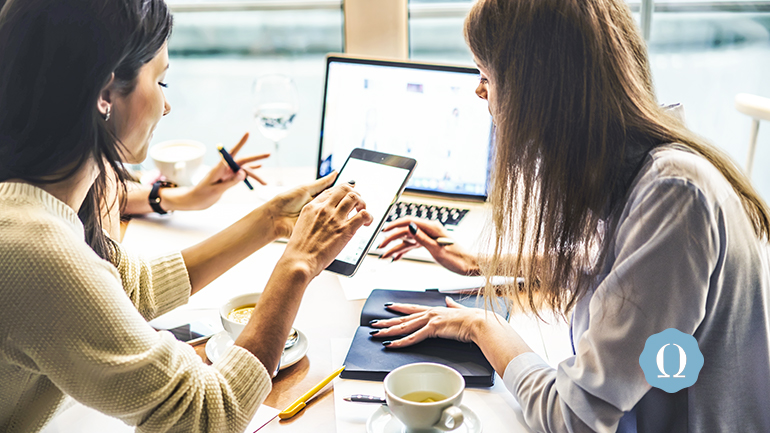 Regime change comes like clockwork for sorority chapters, and the gear that drives it is Panhellenic recruitment.
Here's the thing: Sisters will all graduate one day.
It's just a fact of life. You'll be sad to leave your undergrad family behind, but eventually you'll start a new journey in your professional life.
That said, you want to be able to pass the baton to the right sisters at the right time. Sorority chapter management takes vigilance and dedication, and that requires women with the right temperament to help your chapter succeed.
Recruitment means you literally have to go out and find the future of your sisterhood.
Easier said than done, right?
An ideal rush would give you your pick of potential new members. With some careful thinking and recommendations by alumnae, you should walk away with a promising future pledge class.
But you aren't recruiting in a vacuum. You're competing with every other chapter on campus for members.
And they're also doing everything they can to recruit the best future sisters.
In 2019, chapters use software to help manage pretty much every aspect of sorority life, and, of course, recruitment's no exception.
The right sorority software can help manage tasks that otherwise would require more of your precious time and resources during rush, and it's practically a must these days.
But what software is right for you? Every chapter has different needs. But OmegaFi has a few solutions up our sleeve.
Here's our Panhellenic Recruitment Software Every Sorority Needs.
Think Chapter Websites Are Out? Think Again.
Social media dominates the way college Greeks communicate and promote their chapters these days.
You're likely to have some elements of promotion, alumnae engagement, engaging other chapters, campus culture, and keeping in contact with nationals through your social accounts.
Facebook, Twitter, Instagram, and others are your usual go-tos. However . . .
That doesn't mean you should neglect your chapter website.
In fact, a website can provide information in a compelling way that social media doesn't.
Think of your website as your chapter's professional resume, whereas social media is more of a casual communication tool.
A good website can give PNMs an instant glimpse of your chapter's values and priorities, and make you seem more official and established than if you only relied on social media accounts.
Your website should offer PNMs an easy way to get in touch with executive officers and the chapter in general, and learn a little more about what their lives would be like as sisters.
OmegaOne software can help you build a compelling website that will attract PNMs and answer many questions they may have about your organization—meaning they'll be more knowledgeable when you meet at rush events, and you can have more productive conversations.
It's a win-win for your chapter. And who doesn't like winning?
But communication isn't just about PNMs. Panhellenic recruitment also requires constant communication with sisters so everyone stays on the same page. For that, you need . . .
Chapter Communication Software
OmegaOne has you covered there, too. Here's how.
During recruitment, sisters may need to keep up to date about any number of things, like:
Recruitment event schedule and any last-minute changes

Updates about PNMs and bidding

Recruitment info from your Panhellenic, alumnae, or nationals

Info about rush skits, if applicable

Info about chapter house management

Other chapter management needs during rush

Coordinating locations for sisters to be during rush events

Check-in for volunteers

Questions sisters have for executive officers about rush
The list goes on. And on. And . . .
Needless to say, communication software like OmegaOne can make a huge difference in your Panhellenic recruitment.
With OmegaOne mobile app, you can post to the chapter wall, send private messages, poll sisters, share locations, check in for events, upload files, coordinate a shared calendar, and more.
Communication is key to a successful recruitment, and software can help.
How Nationals Can Help with Panhellenic Sorority Database Software
You use databases a lot in a sorority.
Whether it's for member data, fundraising, alumnae contact and biographical info, recruitment, or something else, your organization spends more time compiling information than you may realize.
Enter Compass stage left.
If you're storing your data in ten different places, you waste time switching between applications and devices, trying to share and transfer information. There are times when you need everything as streamlined and centralized as possible.
Recruitment is one of those times.

"Giving nationals the software tools they need can help your recruitment in major ways."
Compass is a powerful sorority database software with a customizable interface.
Here's the kicker: It's not necessarily a tool for undergraduate sisters, but is geared more toward your national headquarters.
HOWEVER, nationals play a pivotal role in recruiting success and member management. So if they haven't heard of Compass already, tell them about it.
It allows them to:
Track initiation and new member reporting.

Manage events from the headquarters level.

Manage Greek fundraising for projects, like house renovations, that may attract future new members.
As you can see, giving nationals the software tools they need can help your recruitment in major ways.
The Number One Recruitment Software You Need Today
At the end of the day, you need software that's going to help you with the actual bidding process, and for this OmegaRecruit is the Panhellenic recruitment software every sorority needs.

This software helps you get everything you need out of bidding and keeps sisters all on the same page during the process. You can manage voting and keep profiles on PNMs, as well as produce reports and match sisters with PNMs for communication about bids.
Crucially, OmegaRecruit is also ICS integrated, so if your Panhellenic uses this electronic recruiting system, you're covered.
OmegaFi offers solutions to many challenges Panhellenic sorority chapters face, including budget management, recruitment, communication, and more. Learn more by clicking here or call us direct at 800.276.6342.
What questions do you have about Panhellenic recruitment software? What has your experience been with recruitment and other software geared toward Greek chapters? Give us your best tech talk in the comments below.