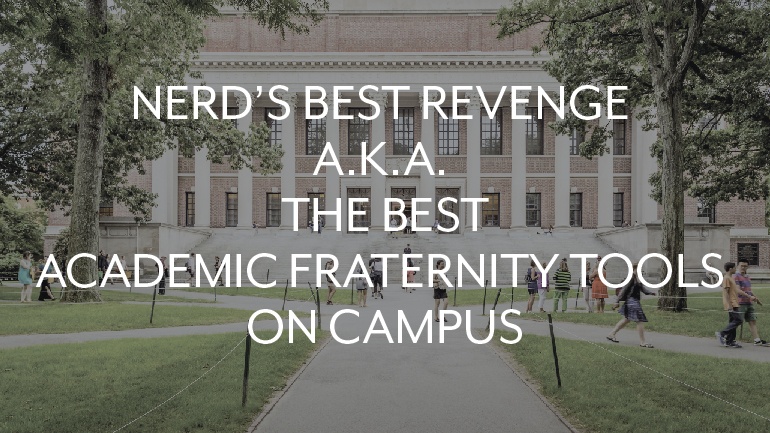 On the surface, a non-Greek may perceive fraternity life as all party, all the time. Well, sure, being as social as possible helps with recruitment efforts and getting to know your fellow brothers and sisters on campus. However, Greeks can't afford to live and die by the party. And even the less social aspects of brotherhood wouldn't exist but for one important factor. We'll give you a hint. It's the most crucial aspect of being a fraternity brother, and on this one thing hinges the chapter's very existence.
Do you give up? Okay, we'll tell you. The most important part of fraternity brotherhood is . . .
Academics.
(Cue dramatic music.)
"Yes, yes," you groan. "We know. We've heard it all before, and we do study hours so well that we've got it down to an art form. Now can we please go party?"
No, you can't. We have to have a little chat about, first of all, how study hours aren't the end-all, be-all of a fraternity chapter's academic success. Your fraternity likely uses many tools already in the everyday management and operations of the chapter. But did you know there are tools on your campus that are tailored specifically toward your success as university students?
"No," you concede. "Tell us more!"
Gladly.
Put an extra log on the fire, have a seat and--what? You don't have a fireplace? Sorry. We guess we'll just have to do this without the ambiance. Thus, without further bluster, OmegaFi is proud to tell you about the Nerd's Best Revenge a.k.a. The Best Academic Fraternity Tools on Campus.
Study Hours 2.0: The Art of the Academic Fraternity Software


Study hours are usually where most fraternity chapters start as far as tools to raise their brothers' GPAs. However, it's a lot easier to make that first step, and then tweak and enhance how study hours go down as needed, with the help of academic fraternity software.
Through like, at least half of study time, everyone's on their smart phones anyhow. Actually, now that we think of it, don't let brothers use their smart phones during study hours. Pry them out of their hands. Frisk them for backup phones in hidden pockets if necessary. Anyway, there are actually software apps that can help you track study hour attendance and where study hours are held, get progress reports, and can even allow Greek councils access to study information.
We highly recommend considering OmegaOne, which you may already be using as a tool for fraternity communication and coordination. On top of being a versatile piece of fraternity communication software, OmegaOne also allows brothers to track and report on study hours all in the same place, without having to switch back and forth between different pieces of software. Easy!
Office of Greek Life


Besides being a central hub of some of the best tools for fraternities and sororities on campus, your Greek Life office very likely is eager to help with your chapter's academic success.
But you don't have to take our word for it (as we bask in the nostalgic glory of Reading Rainbow references). Actually get up and go down there, physically. Walk through the door and get to know the folks there better. Ask questions. Visit their website. We know everything's social media with you kids these days, and let's face it--we're as wired into the Matrix as you--but trust us, websites do still exist, and you may have access to more academic fraternity tools than you think.
They may offer tools like tutoring for Greeks, resources on academic guidelines and goals for fraternity chapters, as well as leadership development programs, retreats and summits. Check with your national organization as well, who might also offer leadership programs or academic assistance of this nature. All these tools can help your chapter mold young men who are able to lead their degree fields and succeed in the classroom and beyond.
The Campus at Large


Okay, so, you're a brother of a fraternity chapter. We get it. You'll want to look at Greek-specific tools first to solve pretty much any chapter-related issue. But being a member of the Greek community doesn't mean you're suddenly exiled from the rest of the campus and its academic tools, which are meant to benefit all students.
You are a student, aren't you? You pay tuition, yes?
Good. Glad we've got that settled.
So what exactly does your campus offer? Well, for instance, there's likely a specific office for student learning that can offer tutoring services, as well as academic advisors to guide you through the path of your degree work, and tools for mental health consultations if you're feeling overwhelmed with your course load. Likely there are many tools both within the department of your specific college of study and overall to help guide a fraternity brother academically. For many classes you likely have an online interface where you can even get in touch with teachers and fellow students, review rubrics and syllabi and access other resources your instructors provide.
One specific tool, though, that we can't stress enough: your professors' office hours.
Don't complain. Just do it. If you're having trouble in a specific course, with a specific assignment or exam, go to the office hours and ask the professor how best to proceed. Go with specific questions. Oh, and one more thing. Go before the assignment is due. Don't walk in on the last day of the semester after having never gone to class and ask for extra credit. We don't know what kinds of professors you know, but in our experience, they don't really like that.
These are just a few of the academic tools your fraternity has at their fingertips. And the best part is they're all conveniently available on campus, so you don't have to go fly your spaceship into a swamp to study with Master Yoda.
Remember, Do. There is no try.
Let us know in the comments below what fraternity academic tools you've used in the past. What's worked? What's been a major fail?