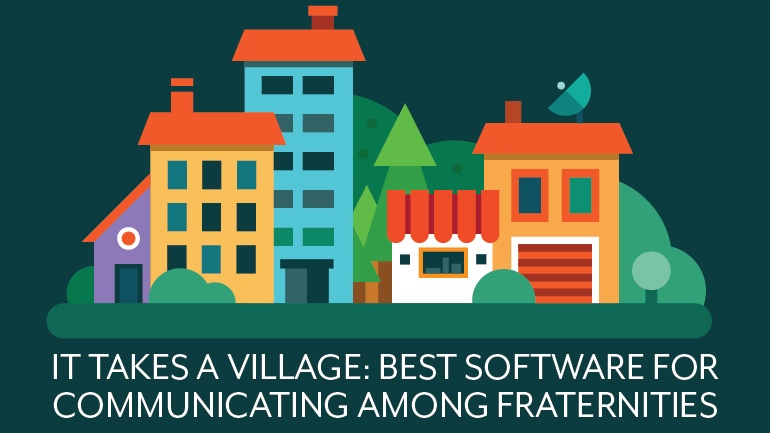 In your chapter, you and your brothers have communication down pact. You've got it to a science. You likely are as "in touch" as you can be, between bunking with your brothers, playing intramural basketball with your brothers, doing gym day with your brothers, taking classes with your brothers, going to socials with your brothers . . . *takes breath* . . . and even when you aren't there in person, you're on social media, texting winky faces like it's going out of style. You probably even use fraternity communication software like OmegaOne
That's all well and good when you're talking to your fellow chapter brothers, as well as the more technology-affluent alumni among us. But what about when you're trying to forge new friendships with other fraternities on campus? Well, first off, go talk to them in person. Get to know them in real life before you turn to technology. Invite them over for Taco Tuesday. You know you always make too many tacos and they just go to waste. And nobody, we mean nobody, likes a wasted taco AND not making new friends.
But once you know each other, you'll probably want to keep in touch, and maybe even coordinate future events together. Social media and texting aside, which are usually better for individual messaging, how do you communicate with other fraternities on a large-scale, comprehensive platform? Get ready, because OmegaFi is about to blow up your phones with the Best Software for Communicating among Fraternities.
No Slacking Off with Slack


Okay, maybe a little slacking off. But our point is this: Slack is a great platform for large-scale communication, period. It's a favorite of businesses and is as integrated as you can be as a software platform for networking, project management and keeping everybody on the same page. They offer text and voice communication that can be broken down into individual channels, so you can really customize who you're talking with and what you're talking about. Whether it's all business or pleasure, Slack can coordinate your communication smoothly and efficiently.
Say you want to join up with one of your fellow fraternity chapters on campus for a philanthropy effort. Not only can you share proposals and cloud network files through integrated apps like Google Drive and Dropbox, you can easily create a shared workspace where specific chairmen and involved brothers can hone your ideas. You can include representatives from your national organizations and any other groups involved in the philanthropy project to weigh in and guide you. Essentially this software is designed so that you can have the right conversation with the right people, without having to be in the same room.
Do you want to just bounce ideas for a killer social off of each other, or share study notes for certain classes? You can do that, too. That's why for our money Slack is one of the best fraternity communication software out there when you want to build some brotherly love.
Group Up and Join GroupMe


This software has decidedly less of a "business" feel to it, so if you're looking for a more casual way to chat and share with other fraternities on campus, GroupMe may be the way to go. Like Slack it's accessible through a mobile app, but GroupMe may be a little more your speed when it comes to using a smart phone to chat with friends.
What we mean is, Slack is a magnificent platform for creating workspace synergy (okay, we don't know what that means either, but it sounds right). But GroupMe maybe be what you'd go to for a more laid back software platform. The focus is on sharing media like videos and photos and quick mass messaging--as opposed to say a social media platform like a Facebook group, where brothers may be overwhelmed with lots of "likes" and other notifications and posts that will leave your messages lost in the ether.
Okay, so a scenario: You're downtown and just passed the new sushi place that just opened up. You haven't been in yet, but you're by yourself and feel kind of lame going in alone. On the other hand, you really feel like getting a few salmon rolls and deep fried veggies. Your stomach is grumbling like nobody's business.
So what do you do? Just text one of your brothers? Well, that's hit or miss, isn't it? You have no idea where anyone is right now, as you haven't been to the chapter house all day. Are you going to just keep texting everyone until you get lucky? And what if someone's in the area but has a seafood allergy? That would be the worst. The worst! We mean more for him, of course. But you get what we're saying.
Instead, GroupMe lets you reach many people, in your chapter, in other chapters--whoever you want--and you can share your location and an instant invite. Say someone says "yes?" You can switch to one-on-one messaging, hammer out the deets and even take photos of the menu to see if your new lunch buddy wants you to order anything for them before they arrive.
When you look at what you can do with fraternity software to communicate amongst your own chapter and others, you can see how the old ways of texting seems like horse and buggy days by comparison.
Though luckily, even if you refuse to give up your precious text messaging, with GroupMe they even have you covered in that category. You can set up a GroupMe group communication network without downloading the app or even having a smart phone--by the way, how do you not have a smart phone yet? A flip phone? Really? What are you, Walter White? Just follow these instructions if you want to use SMS for a GroupMe chat. But seriously, just get a smart phone already and download the app, fella.
Slack and GroupMe are two of the Best Software for Communicating Among Fraternities. Are there others you would add to the list? Has communication software helped you bond with brothers from other organizations on campus? Let us know your experiences and ideas in the comments below.