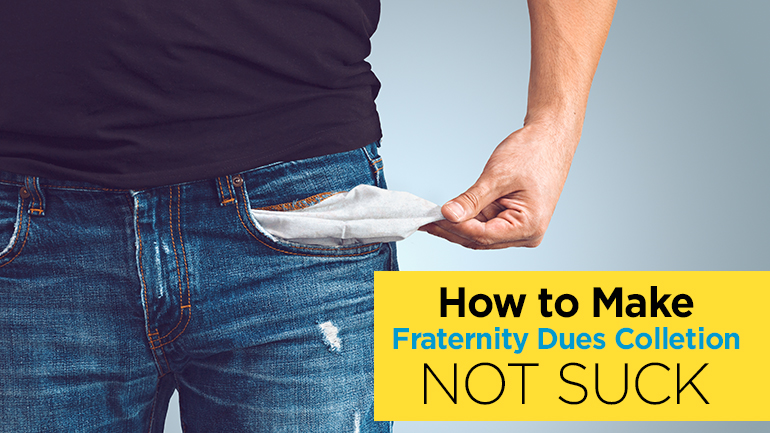 Your members have officially been initiated into the fraternity. What an exciting time! The months leading up to this point have been made up of having fun and getting to know your potential members who have now become new brothers. Well, the honeymoon is over. Time to buckle down and start the tedious task of collecting dues. For some chapters, collecting goes off without a hitch and others, not so much. Here are a few ways on How to Make Fraternity Dues Collection Not Suck.

Incentivize
Everyone loves an incentive and we know it helps move things along. In a perfect world, your brothers would have a payment reminder on their calendars, submit payment on time and everyone could go about their daily lives. But since we are being realistic, we know that scenario is most likely the exception and not the rule. Instead, offer pre-payment discounts to brothers who pay in full before the start of the semester (or quarter). Make sure to consult your treasurer to crunch numbers and make sure a pre-payment discount isn't going to hurt the bottom line. The pre-payment discount route is a win-win situation. Brothers don't have to worry about paying monthly, they get a discount and the chapter has cash in the bank.
If offering discounts isn't in the budget, then think out other rewards (more on this later) that wouldn't cost the chapter anything. For example, offer a "miss a chapter" pass. It is highly frowned upon when a brother misses chapter, but sometimes it's unavoidable for members. Offer a pass to miss a chapter or two if they pay dues on time or in full. Have any left-over rush or event shirts from years past? Throw a quick goody pack together and offer it to those who pay up. Raffle off a trip to a convention or a leadership school for those who pay by a certain date. Most headquarters offer chapters the opportunity to send members of their executive board and an undergraduate member to a fraternity hosted event during the year. Get creative with your incentives based on what your chapter member's value and apply it to your particular organization.

Transparency
For some, it may not be totally apparent where they money is going. Even though they signed up to pay dues for "xyz" when they decided to become a member, make it a point to highlight what projects and missions are being funded at the chapter and national level. This will help brothers realize that their money is going towards worthy projects, as well as remind them that they are supporting the organization and brotherhood they love so much. Outline key projects and events for the year and show the funding progress for these in chapter meetings. For example, if the chapter needs $10,000 for founders day weekend/formal and $50 of everyone's monthly payment is going to that event, show it! This will help them realize the goals that are in place are obtainable, and will also convince paying brothers to support the chapter's effort to get non-paying brothers to cough up the cash. In short, everyone wants to celebrate Founder's day, go to formal, order t-shirts and most importantly, keep their charter.
Get everyone involved in the bigger picture to garner support. Making goals and completing projects gives one a sense of pride. Showing how awesome your chapter is will create loyalty,an eagerness to keep the ball rolling and keep the success (and cash) flowing.

Reward
This maybe an obvious solution to helping with the suck of paying dues, but it is a successful solution! It's similar to incentivizing but only works when everyone participates. Here's how to make it happen. Set a goal for all chapter members. The ultimate goal for a chapter is to obtain a 100% collection rate, whether it's early, on time or even after the due date, collecting what is owed to the chapter is paramount and #1 on the to do list. Without cash flow, a lot of the chapter's goals and missions fall by the wayside. Organize different tiers of rewards. If 100% of the chapter pays before Christmas the chapter will be treated to a pre-spring break party and work your way down. For example, if 75% of the chapter pays up, the chapter (those who paid of course) will enjoy a night of bowling. Of course, make sure to collaborate with your treasurer. You don't want to spend your budget on a night of bowling and arcade games.
Rewards shouldn't be offered out of the gates. When they agreed to become a member of the organization they also agreed to abide by the rules, regulations, laws and financial obligations. While this is easier said than done, it bears repeating. Make sure to stress the importance of their responsibility to the organization and keep that reward card in your back pocket.

Offer Help/Advice
Talk to your brothers about why they are unable to pay. For your younger brothers this is the first time they are out on their own and having to manage money and bill paying. Guide them through the process and suggest ways to help make it less of a financial burden. Parents are always a good resource and may not even know the financial requirements and payment due dates. In some cases it may behoove some brothers to open a credit card to pay for dues. This will help the chapter obtain the money that is owed and help the brother establish a line of credit (which is important and necessary). Make sure to stress the importance of charging responsibly. By no means do you want a brother to open a line of credit and then find himself in debt by the end of the year.
Suggest they apply for scholarships through the fraternity's national headquarters and other outlets. A TON of scholarships offered by universities and other organizations go unclaimed, either because people don't know they exist and/or no one takes the time to write that essay or submit that application. Having an older and wiser brother guide members through this process may make a difference. Grab a 'cup of joe' at a local coffee shop with a fellow member and assist them with finding and submitting scholarship applications. You can spend an afternoon helping your brother and getting to know them better. This will make a positive difference for them and your chapter!
Paying dues doesn't have to suck! It's how you go about it. Get creative, have fun and make it a team building opportunity. Remind members collecting funds helps the chapter, organization and brotherhood grow. It's all part of the cause. Of course, if at any time dues collecting, bill pay management and budgeting become overwhelming, OmegaFi is here to help! Have any other suggestions on taking the suck out of dues collection? Let us know in the comments!