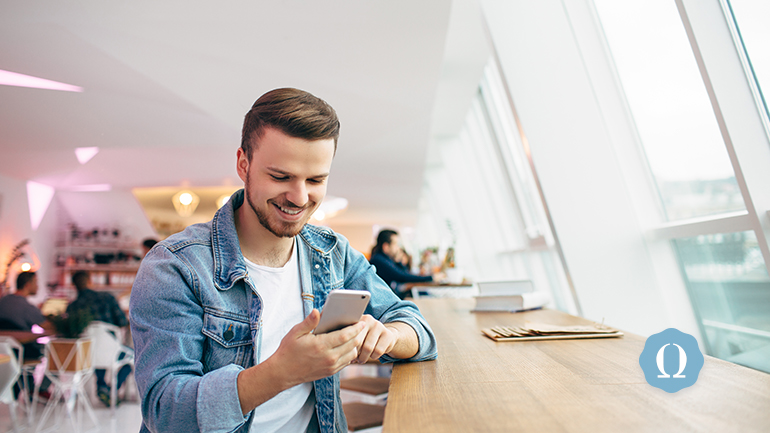 If the 21st century can be defined by anything, it's the transformative power of the Internet and smartphone technology.
Using apps, the power of personal computing has never been simpler and now can be accessed at any time, anywhere, and right from the palm of your hand.
For example, within a few minutes of poking around your phone you can…
Check your bank statements
Purchase stock
Send money
Send an email
Pay your bills
Get directions
Find a home/apartment
Read a book
Listen to music
Learn a new language
Book a flight
Take photos
Watch television
Watch a movie
Shop online
Etc.
And I haven't even mentioned calling or texting.
An app can be a powerful tool for any individual—and any organization, too. Whether you're a fraternity or a sorority, growth—along with the retention of your organization's values and culture—is your main objective.
Here's how a single app can transform a chapter.
Google Calendar Saved My Chapter's GPA
In 2013, I was elected Keeper of Records (Historian) for my chapter. The position mostly involved documenting each of our campus events through photography and videography to later promote on social media.
However, one of the other key responsibilities of the role was to be the liaison between the Greek Life council and our chapter.
Although my predecessors had generally ignored Greek Council correspondence (i.e. invites to council events and sponsorship opportunities), on the first week of taking my position I got an email marked "urgent" with a subject line reading:
"Final Notice: Academic Suspension Imminent If Chapter GPA Is Unaddressed"
Uh-oh.
Opening told me that our chapter's GPA was below the minimum threshold (3.0) of the council and currently sitting at a 2.8. I also found out we had been warned the semester before (Thanks Gary!).
We had a semester to pull it up .2 of a point or we would be placed on academic probation.
That means no recruitment or social events—let alone parties—and we would be barred from wearing our fraternity's paraphernalia on campus. They were going to turn us into ghosts.
Even though there were strong academics within our ranks, their high GPAs were offset by our "lesser-performing" brothers. Our weakest members couldn't be ignored.
We had a collective problem.
Though our weaker brothers were smart, after speaking with a few of them, the academic chairman and I discovered the issue was one of organization.
These brothers were simply forgetting homework assignments, upcoming quizzes, and failing to carve out the appropriate study time.
The solution?
We worked with each under-performing brother on an academic calendar and we put it on Google Calendar.

We went through every syllabus, every organizational event, and every non-academic responsibility and put each assignment, exam, and obligation in the calendar.
We even blocked out time just for studying.
And the only thing we asked was this:
Follow the schedule.
Within four months, the verdict was in...no academic probation.
Not only had we increased our GPA to the 3.0 threshold, but had hit 3.3 as a chapter average! The experience was life-changing for many brothers who incorporated the importance of a strict routine into other aspects of their lives.
Today, those brothers are leaders in their careers and have found incredible success from the simple act of planning ahead.
Zillow Helped My Chapter Find Its First Fraternity House
During my Greek Life experience, our chapter never had a ton of money. Sure, we had enough to cover our national dues costs, cover our social events & formals, and snag new paraphernalia for brothers but we never had enough to purchase a centralized fraternity house.
Instead, we had an umbrella of brothers who offered up their apartments and off-campus housing for our meetings and events.
My treasurer that year was an ambitious one. After reviewing our bank statements and how much money was going to paying off-campus rent vs how far those funds could go to the monthly mortgage of a fraternity house, he recognized that with the help of a committed group of alumni, purchasing a fraternity house was more than possible; it would save brothers $200 a piece in rent.
The search was on.
Using Zillow, the undergraduate members of the fraternity put together a list of five options in the area that had the size and space we were looking for in a house. We pushed that list to our alumni brothers and thanks to one very generous alumni who put the deed in his name, the chapter was able to purchase its first fraternity house a block away from campus.
OmegaOne Kept My Chapter Out of Bankruptcy

In my senior year of college, I was elected secretary. At the time, I thought the position would be a nice resume builder. The responsibilities were largely clerical and I wanted to remain involved in chapter leadership from a more distanced role. I figured I'd cruise to graduation stress-free..
I was wrong.
Our treasurer informed the chapter that because of out-of-control spending on our winter formal, we were effectively broke.
Even though we had incoming new member dues from our spring semester pledge class, it wouldn't put a dent in our national dues payments, property taxes, and administrative costs.
We needed money, and we needed it fast.
Thankfully, the solution was simple. We just needed to collect delinquent dues from the 25% of brothers who were late or behind.
Unfortunately, easy solutions aren't always easy to implement.
Collecting money from brothers that are behind on their rent, haven't paid tuition, and are working two jobs to make it isn't easy. And even among our leadership, separating the personal from the business was a tall order.
Which is why OmegaOne changed everything; it was a get-out-of-jail-free card.
Rather than directly approach every brother time and again for their dues or rent payments, there was a centralized system for communication where brothers could receive chapter-wide notifications and know exactly when and how much they owed.
It was a game-changer.
Within 30 days, we had collected delinquent dues from 18% of our inactive membership, allowing us to create a solid nest egg in our treasury and keep us out of the red.
If you'd like to learn more about OmegaFi and what we can do for your chapter management
Call 1.800.276.6342 or contact us directly here.