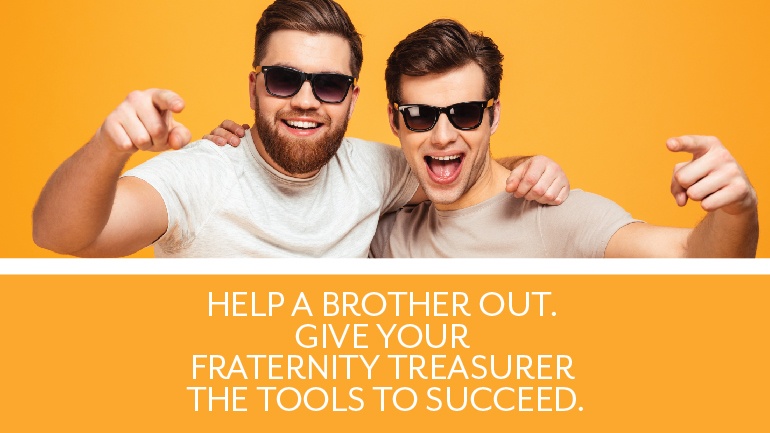 Your fraternity treasurer is a man of many talents. He's handling the chapter budget, dues collection, managing the finances, updating brothers about their current financial standings at chapter meetings and keeping a paper trail of it all. Somehow, he's also an A student.
Okay, he's more like an A minus student. Maybe B plus.
Still, it's pretty impressive if you think about it. In fact, we think you owe your treasurer some mad props for all the work he does as a chapter officer and a student preparing to earn his degree and enter into the career world.
Yet as mesmerized as you may have become watching him juggle all these responsibilities, you can't leave him out there alone or eventually he's going to drop something. And when something goes wrong financially with the chapter, all brothers will suffer the consequences.
The fact of the matter is you aren't at the circus, and this isn't a one-man show.
A fraternity chapter's financial management is a family affair and a team effort, so get in there, brothers. The best way to show reverence and support for your treasurer is to do your part. That means helping alleviate some of his toughest tasks, but in reality the whole of managing chapter finances shouldn't be on the treasurer's shoulders to begin with. You each have a part to play in the financial future of your chapter, and the onus is on all brothers.
That's why OmegaFi thinks you should Help a Brother Out and Give Your Fraternity Treasurer the Tools to Succeed.
When Dues Are Due, Help Your Fraternity Treasurer Hold Brothers Accountable

It's on the chapter's executive officers in general and treasurer in particular to collect fraternity membership dues from brothers. Yet, when the excuses for late payments are endless, this becomes a nearly impossible task and takes resources away from other important aspects of financial management.
Honestly, there are always going to be a few brothers who, despite incentives, discounts, chapter scholarships and payment plans, will pay late. Your treasurer prepares a financial report for each chapter meeting and makes sure brothers have record of their financial standing and unpaid dues in writing. Sadly, there's only so much he can do besides talking to delinquent brothers and going by the book. In extreme cases, he might convince the president to back him up with disciplinary measures, or even consider revoking membership and sending a brother to collections if debts get too out of hand.
Beyond that, he's powerless.
But you're not. Even if you're not an executive officer or part of the finance committee, you as brothers can hold each other accountable.
For instance, if you see a brother who's like a whole semester behind on dues but who goes out to the club every night and is travelling to Europe this summer, remind him of his financial obligation to the chapter. Without being overly confrontational, individual brothers can play an important role in keeping each other in line with the values and goals of the chapter by simply cutting the bull and being candid. Ask the brother why he hasn't paid his dues, and remind him that the chapter needs him to pay so brothers don't have to cover his share for events like the big formal coming up.
When it comes to helping your fraternity treasurer, making sure each brother pays his fair share of dues will go a long way.
Financial Management Software: It's Not Just for Your Treasurer

Another important tool for fraternity treasurers is chapter financial management software. It streamlines budgeting and management, and offers digital access for officers, brothers, parents and fraternity officials to make and collect payments. Good software will produce financial reporting for you to study trends in the budget. It may also offer features such as bank transaction management and sending notifications to brothers and parents who owe. In the case of OmegaFi's Vault, you also have access to financial management experts who can guide your chapter toward getting the most out of your software and chapter budget.
The treasurer will likely be the one spearheading the effort to use this software. He seems to have it under control. Why should you worry about your chapter's budgeting software? You're no nerd. You've got an upcoming intramural flag football game to worry about.
We hate to break it to you, but even if you're the team's all-star quarterback, you still need to have a handle on the software side of chapter budgeting. No, you're not going to be handling it day in and day out. But you need to understand how to access the budget. If you're a committee chairman, you need to understand how your part of the budget relates to the whole. You need to know how and where to make dues payments. Finally, if you're on the finance committee, you need to be able to help your treasurer prevent or correct mistakes.
In other words, one of your treasurer's most important tools is for all his brothers to become nerds, too.
The Budget Is the Fraternity Treasurer's Domain, but the Responsibility Belongs to All Brothers

Along with the help of other officers, the treasurer will set the budget for the semester or year. Then it's up to brothers to hold up their end, pay dues on time and adapt to the financial reality of the chapter.
All brothers play a part in a chapter's financial success, and share the blame if a chapter fails financially. Individual officers and committees need to budget for their projects with a holistic approach, considering the financial reality and greater good of the chapter.
Do everything in your power to make the treasurer's life easier, and you'll have given him the tools to improve the quality of your fraternity experience tenfold.
Fraternity treasurers, how can brothers help? What tools do you wish your chapter would give you to make your job less of a juggling act? Ask for what you need in the comments below.