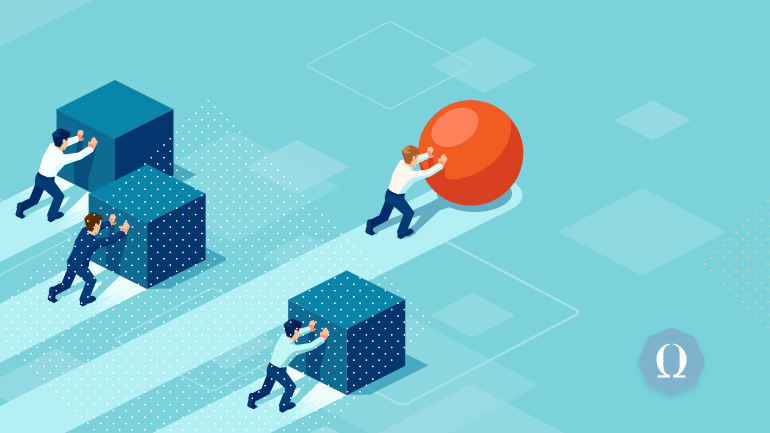 When you hear about fraternity software, you might be left wondering: "Is there an app for that?"
The answer is . . . not exactly.
"App" is a word that has come to embody the quick-fix style of functionality we often expect from our smart phones and tablet devices.
The term covers everything from addictive games like Fortnite, to messaging apps like WhatsApp, to Facebook and Twitter, to "The Most Useless App Ever"—an app that, living up to its name, is simply a button that does nothing when you press it.
There are some fantastic apps out there for Android, Apple, Microsoft, and other devices and operating systems.
However, when you think about fraternity chapter management, communication, financial planning, recruitment, and academic success, the word "app" quickly becomes meaningless.
Some apps cover basic chapter needs. Others get you there with a more generic work-around solution.
Fraternity software stands apart by providing high-level functionality that fits a chapter's day-to-day workflow, needs, and goals.
This can take many forms. But the main way to tell if something is fraternity software is to ask yourselves a simple question:
Was it designed to help fraternity brothers succeed?
---
Check out OmegaOne, the ultimate fraternity software tool.
---
Brothers face a unique set of goals, and a specific, community-centered philosophy when approaching those goals. Fraternity software understands that and helps intuit the best paths forward.
So let's talk about why Fraternity Software Is Better Than Your Average App.

One Task Per App? No Thanks.
One of the major problems with a single-use app is that it only performs a certain task in your overall chapter workflow.
A spreadsheet helps you organize a chapter budget, but it doesn't manage your banking or communication with members.
A messaging app lets you connect with everyone, but it's hard to set up specific groups for each new team-based topic.
You need a separate app for a chapter calendar.
Want to access important chapter files to go over rituals for an upcoming initiation? You've got to log in with a separate username and password to your cloud storage.
Sure, you can get by that way. But is it truly an effective way to accomplish objectives?
Not really. One-task apps are highly specialized at doing one specific thing for a general user. They're often designed to be useful at that single thing for as many people as possible.
They also break up your workflow, because you can't naturally transition between the different actions of planning and executing a chapter event or initiative.
Using these different apps is disruptive, whereas fraternity software's entire goal is to optimize a chapter's workflow and minimize setbacks and avoidable hurdles.
Let's review. General apps:
solve a single problem, requiring multiple apps to reach a goal
are designed for a broader, more generic audience
interrupt the natural chapter management flow
Now it's time to look at how fraternity software can help alleviate these problems.
Fraternity Software: Getting You from A to B
More realistically, good fraternity software needs to get you from A to B to C and sometimes back to A again. Because there are a lot of complex moving parts in how a chapter operates day to day, and there's no quick and easy shortcut.
Part of that is in understanding the group workflow of officers and brothers, as they connect with alumni, school administrators, and their university community.
Fraternities are community centered and community engaged, and facilitating that strong connection means having a strong internal communication between members. Every brother must know what to do and when and how to do it.
Fraternity software anticipates what tools will work best to guide you fluidly through planning a chapter event, organizing brothers into their respective roles, and making the event a success in your community.
OmegaOne Getting It Done
OmegaOne is an all-in-one, premium fraternity software tool designed to put communication at the forefront and bring brothers together to accomplish their goals.

Here are a few of the features OmegaOne uses to guide you to success:
Attendance-Driven Event Planning
OmegaOne's major communication goal for your chapter is to find ways to bring you together and get everyone engaged.
Here's a typical event workflow using OmegaOne functionality:
🡪 Brothers pay chapter bills via OmegaOne, and membership dues directly fund events.
🡪 Plan your event using communication features like customized email and text groups, file sharing, and wall announcements.
🡪 Share event times, dates, and other info on the shared chapter calendar.
🡪 Brothers get reminders about events when they're approaching.
🡪 Brothers sign in to events using geo-location or other options like QR scan code.
🡪 Officers can approve or deny brothers' appeals for non-attendance directly via OmegaOne.
Connecting the Pieces Faster
OmegaOne fraternity software doesn't just connect the steps you take to reach a chapter goal. It does so in a way that's intuitive, easy, streamlined, and saves you precious time.
It gives officers control and helps build consistent chapter management through communication, planning, and results-oriented success. It allows you to focus on building chapter participation in recruitment, study hours, philanthropy, and more. And it gives you a direct line to key alumni who want to connect with you via OmegaOne.
It gives members the tools for success. Officers can disseminate information to brothers in a way that gives them clarity about their roles in the chapter and drives engagement, teamwork, and mutual success.
Solving Problems You Didn't Know You Had
Good fraternity software will reveal weak spots in chapter management and shore them up. It should show you more efficient pathways to achieve your goals, drive success, and help you act as an effective community leader more consistently.
OmegaOne is built by Greeks for Greeks and is meant not just to solve your problems today, but to anticipate the problems of tomorrow. Strong, direct communication among members is the fuel that drives the engine of chapter management, from funding, to planning, to engagement. The stronger your engine, the farther you'll go.
OmegaFi offers software solutions for fraternity chapters for recruitment, budgeting, communication, and more. Learn more about our services or call direct at 800.276.6342.
Leave your questions or comments about our fraternity software in the comments below!