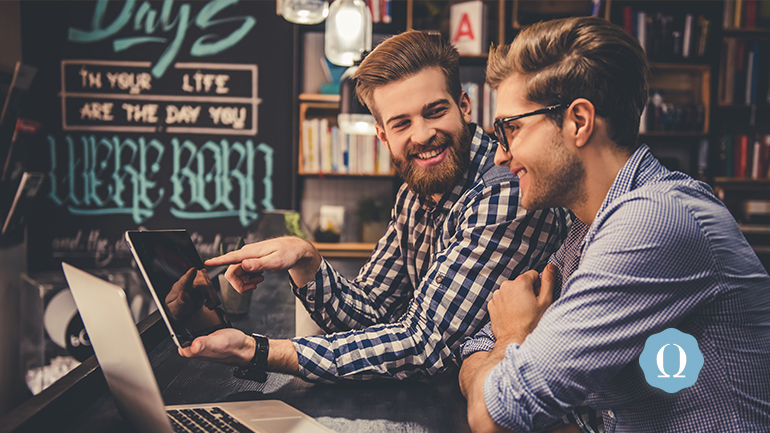 Fraternity recruitment can be daunting and anxiety-inducing for anyone, regardless of how long you have been a brother. Even executive officers will probably feel at least some amount of stress as recruitment nears. Fraternity recruitment basics can be especially intimidating for new members, who are completely unfamiliar with this other side of the recruitment process. New brothers have obviously been through formal recruitment themselves, but participating in recruitment as a brother is a whole different ball game.
Fraternity Recruitment
Fraternity recruitment should really be thought of as ongoing and year-round, as current brothers are supposed to start seeking out -- and making friends with -- freshmen and transfer students who may need help adjusting to campus life. Seeing a friendly face on day one can make a huge impression on someone.
Because fraternity recruitment tends to move pretty fast, it is important to maintain consistent, doable pacing when getting ready for that busy time. Even if everyone involved in the recruitment process is as prepared as humanly possible, things can still go wrong and chaos can (and will) ensue.
Whoever is chosen as the fraternity recruitment officer needs to be capable of handling the myriad of recruitment-related responsibilities and delegating tasks, as needed, to other brothers. Your chapter's recruitment officially begins the day you elect the recruitment officer. And, while any brother can be trained for this important position, there are probably certain brothers more suited to the role than others -- especially new brothers, who may be ambitious and knowledgeable, but have yet to see recruitment from the fraternity's side.
The fraternity recruitment officer should also work with other officers to engage in effective, consistent communication in preparation for recruitment. These officers need to ensure that all brothers -- including the newest members -- are in the loop regarding recruitment. If recruitment arrives, and all brothers are not on the same page, the resulting confusion could lead to problems that could have been easily prevented through better communication.
The recruitment officer, as well as others involved in fraternity recruitment, should also ensure they create and maintain strategic partnerships. He should partner with organizations and individuals who can help the chapter attract quality brothers. For example, if you are looking to recruit more artistic and creative brothers, then you may want to partner with music, arts, and theater clubs and organizations on campus. They might be able to help you find new brothers who would be excellent fits for fraternity membership.
Fraternity Recruitment Basics for the New Guy
An essential part of fraternity recruitment basics is familiarizing yourself with the recruitment tools available to you. These tools can make or break the fraternity, and the new guy is as integral to the success of fraternity recruitment as everyone else in the chapter.
Joining a fraternity is stressful and overwhelming enough; and for the new guy, who is not only adjusting to college life but to life in the fraternity, this stress can increase tenfold. But, there are some tools that new brothers can use to their advantage, especially as they have just recently been through recruitment themselves.
For example, it is likely that you, as the new guy, needed to have and/or make connections in order for your own recruitment to be successful. The same goes for the other side of fraternity recruitment basics: connections that the brotherhood has with PNMs (potential new members), Greek Life, chapter advisors, etc. are essential to achieving the fraternity recruitment results that your chapter is aiming for.
Some other fraternity recruitment basics that you probably used as a PNM included doing research, talking yourself up, looking and acting sharp, and maintaining positive language in all discourse. And, just as you aimed to look and sound as professional as possible when going through recruitment, you want to do the same when you are on the other side of fraternity recruitment.
Also, as the new guy who was just recently a PNM, you can help other, older brothers get into that particular mindset. Brothers need to be aware of how PNMS are preparing for recruitment and of how to conduct themselves around PNMs. Current brothers need to be just as enthusiastic and friendly as the PNMs, and perhaps more so, because brothers want to appeal to these PNMs in a way that only they can.
All brothers should be cognizant of how to properly use social media in regards to fraternity recruitment basics. Different types of social media, including Facebook, Twitter, and Instagram, serve different purposes. While Facebook is considered the OG form of social media, Twitter, Instagram, and even LinkedIn have quickly become excellent tools for social networking.
Now that colleges and universities have closed their campuses due to the Coronavirus pandemic, and brothers are most likely no longer living together or even near each other, it is important to know how to prepare for fraternity recruitment off-campus. As a result, communication is of the essence; but thankfully, in our technologically advanced society, this is not only doable but easy.

How Fraternity Software Can Help with Fraternity Recruitment Basics
Even if every brother, including the new guy, is as knowledgeable about fraternity recruitment basics as possible, things can happen. Unpredictable events and outcomes are basically the norm when it comes to fraternity recruitment.
Fraternity recruitment software like OmegaRecruit can help you with fraternity recruitment basics.
Fraternity recruitment software can be especially beneficial for your PNMs, and at every step of the recruitment process, from registering for and attending events, to eventually seeking and receiving bids.
OmegaRecruit will also keep all recruitment-related data in one place, and will even provide you with detailed graphs displaying trends, comparisons, and measurements of things such as PNMS, voting members, and chapter voting -- all important aspects of fraternity recruitment basics.
Your chapter may also want to utilize OmegaOne, a communication software specifically aimed at fraternities. It can help you become more familiar with fraternity recruitment basics, but can also be used year-round to keep in touch with your brothers, especially now while we are all practicing social distancing.
You can learn more about OmegaFi and our products by visiting www.omegafi.com. Or call 800-276-6342 or email us at info@omegafi.com.