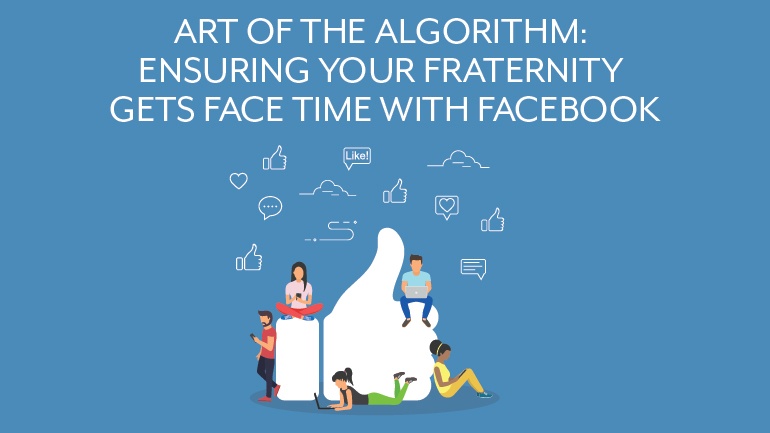 Facebook began as a way for Harvard students to connect in 2004 and has grown into a global venture that in 2016 was worth $350 billion--although recently there have been concerns over the company's mishandling of users' private information.
Despite Facebook's contentious presence in the news media, however, it's nearly ubiquitous as a social media platform. And regardless of the legitimate privacy issues people may raise about it, it's difficult to get away from. Not only is it an easy way to keep in touch with relatives and friends and former classmates, it's a big part of how brands get their names out there. While a fraternity isn't a business, it's as close to one as you can get without actually setting up shop. But what fraternities sell isn't a product in the traditional sense. It's a philosophy of life, of brotherhood.
Some might say that's worthy of a little space on your followers' Facebook news feeds. But are people even seeing your posts? And if they are, are they engaging? If not, you might have to rethink your approach to your fraternity chapter's Facebook page. It's okay. Rethinking is good for the spirit. Facebook invisibility is not, and it can happen pretty easily to you. This is especially true since Facebook recently readjusted its algorithm to show less "public content like posts from businesses, brands, and media" in people's news feeds, according to a statement by Facebook CEO Mark Zuckerberg.
That's why OmegaFi wants to make sure when you put your chapter's message of brotherhood out there, the right people are receiving it. Thus, we are happy to bring to you the Art of the Algorithm: Ensuring Your Fraternity Gets Face Time with Facebook.
3. Start from the Inside.

The great thing about building a community when you're Greek is that Greeks already have a community from which to build.
Make sure all your brothers, and as many alumni, brothers from other chapters and national headquarters personnel as possible like your fraternity chapter's Facebook page. Also, seek out other Greek followers whenever possible. While other fraternities and sororities on campus are going to be looking to build their own audiences and possibly competing with your organization for "likes" and "comments," it doesn't have to be a totally hostile environment. In fact, the less hostile it is, the better. Let them know if they follow your page, you'll follow theirs.
The competition is all in good fun. Real fraternity men believe in their organization enough to not be intimidated by some mutually-beneficial boosting of online presence.
To build the community from there, make posts that naturally start conversations. Make sure potential new members have in-person conversations with a recruitment chairperson, the chapter president and so forth. However, also make sure to invite them to the Facebook page and join the conversation. A friend tells a friend. Suddenly you have a bunch of friends advocating for your chapter! Essentially, that means you're cool now.
But aside from just building a followership, how else can you insure people actually engage with and see your chapter's Facebook page?
2. Take a Picture; It'll Last Longer.

Or rather, a post won't last longer, per se, but you're more likely to garner some attention from your followers if you place a heavy focus on visuals for your posts. Algorithmically speaking, you'll be rewarded with much more engagement if you post more videos and photographs and tag the appropriate people and groups, as well as including fewer external links.
We know you have like 500 pictures on your phone from the music festival last weekend. Don't be greedy. Share them! Well, share the ones that are, ahem, tasteful. That leads to another important point: Share media that represents your chapter's letters and values in the best possible way. We all want to come off as the "fun" chapter, but that is a double-edged sword. Like, don't post a video of someone swinging around a double-edged sword at a social. Better yet, don't do that in the first place. Remember, you're not a business, but you're still branding yourselves in the public eye. They're watching (like Skynet).
1. Facebook Pages Aren't Facebook Groups

If you're a veteran Facebooker, you already know that these are in fact two separate functions of the social media platform, used for two different purposes. For a fraternity chapter, this is important. A Facebook group is filled with people who have already bought into the idea of your chapter and what your letters represent. These are going to be full of the kinds of discussions inherent to an existing community.
"When is the next intramural soccer match? Can we stop losing now please?"
"Are any alumni interested in attending the upcoming formal?"
"Going on a vacay--where's the best sub place in New Jersey?"
"Why the heck are you spending your winter break in Jersey?"
"Here are some pictures of my vacay in Jersey. Mostly snow."
That sort of thing. You get the idea.
Facebook pages, on the other hand, are all about reaching out and growing your community. It's about putting your best foot forward and engaging with people who are just getting to know you. After a potential new member sits down with several fraternity chapters on campus, your Facebook page might be the one to show up on his wall and make him realize his ideals are your ideals. Then bam, he's a brother in the making.
So you should make sure you're showing up on their news feeds. One way to do this is to engage at the right times. Somewhat paradoxically, the best times to post on Facebook are the middle of the week (Wednesday or Thursday) around midday to a few hours after midday, according to Sprout Social. Maybe that's when the most people are bored in work or class? (Just kidding. Pay attention in class, folks.)
These are a few of the tricks of the trade when it comes to the Art of the Algorithm and Ensuring Your Fraternity Gets Face Time with Facebook. Let us know about your social media experience in the comments below!