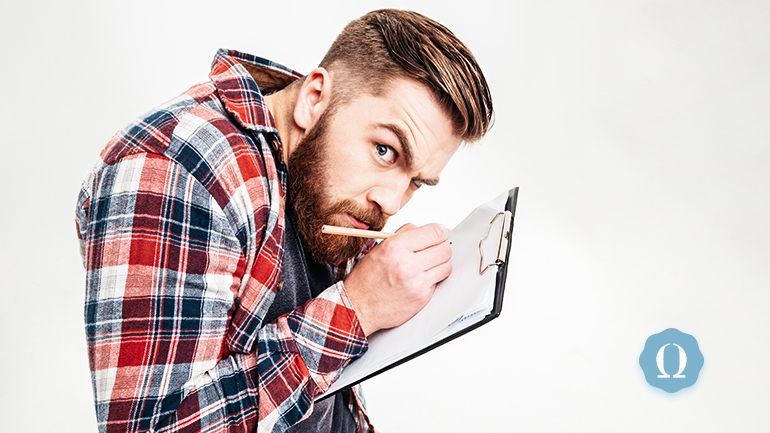 A rush is exactly what you feel during this week-long grab for the best future members.
It's exhilarating, as a brother, to stand on the frontier of finding your chapter's next generation to wear the letters.
If you're lucky, you have your pick. A good recruitment week has your chapter house teeming with potential new members, many of them wide-eyed and eager-to-join freshmen.
These are guys who want to please, and with some conversation and in-depth analysis, you should be able to figure out whose eagerness will translate to a positive chapter contribution down the line.
IFC recruitment can ensure a chapter's future success at the hands of well-picked brothers.
Or it can sow the seeds of doom and destruction if you hand bids to undeserving men.
Clearly, there's a lot at stake.
The best fraternity recruitment happens when a chapter plans far in advance, follows IFC guidelines, and capitalizes on strategies that've been successful in semesters past.
However, even with good fraternity management and all the planning in the world, mistakes happen. Recruitment is fast-paced and competitive. There are a million things going on at once. You can only hope that when you do mess up (because you will), the mistake is something minor enough to fix on the fly.
You can't always have the perfect, flawless recruitment you planned, but OmegaFi can help you minimize mistakes and sidestep some of the biggest potholes.
Here are our 4 Biggest IFC Recruitment No-No's.
4. Increasing (When You Should Be Decreasing) Risk at Recruitment Events
This is a mistake that can have detrimental effects on fraternity chapters, unfortunately.
IT'S ALSO ENTIRELY AVOIDABLE.
Why does it happen? Simple. You're trying to show off, and that eclipses what you should be doing—focusing on getting to know your potential new members better.
However, risk can lead to a failed recruitment, rules violations, or worse. We've all heard about "worse," and that's exactly the opposite of the positive, sustainable fraternity culture you're trying to build.

Even if you've been getting away with taking too many risks in semesters past, trust us: It will catch up to you.
Better to avoid as many unnecessary risks as possible. Dodging these major ones will have your risk management officer breathing a sigh of relief:
Alcohol.

Alcohol for any reason during recruitment.

Did we mention alcohol?

Also . . .

Hazing activities

Any kind of dangerous behavior by brothers or NPCs, coerced or not.

Anything that can seriously damage the house or furniture.
You're better off avoiding risks. Don't make your recruitment so flashy that you put your chapter in a bad situation.
A values-based recruitment is a safe recruitment.
3. Not Keeping Up with Your IFC Recruitment Rules
IFC rules for recruitment vary by university.
Yet they're largely the same in the broader sense, which is that they focus on helping you accomplish a values-based recruitment.
Your IFC wants nothing more than for you to recruit the best men possible to represent your chapter, and for those potential new members to have a quality recruitment experience as well.
But for that to happen, you have to . . . wait for it . . .
READ YOUR IFC'S RECRUITMENT RULES!

This probably sounds super basic and a little patronizing. We know your recruitment chair is competent at his job. And yes, we know he's familiar with IFC regulations. He's met with the IFC recruitment chairman and has all his dates and recruitment forms straight.
Still, no matter how much you think you've got the rules down, you never know when the hecticness of recruitment week will leave you forgetting things.
Instead of guessing in that situation, brush up on the rules when necessary. Keep a copy nearby. These include info on things like:
Common recruitment events and calendar dates

Expected conduct of brothers

Expected requirements of potential new members (GPA, conduct, etc.)

Information on submitting event planning and bid paperwork

Details on bid day and continuous open bidding
Don't assume the rules from last year still apply. Things may have changed. Get an updated copy from the IFC, Greek Life, or Student Involvement website, or ask for one directly.
2. Poor Communication with Your IFC
If you're communicating poorly with your IFC during recruitment, you're going to have a bad time.
The IFC is basically your most vital lifeline during recruitment week, and your surest way to have a "by-the-book" recruitment.
They lay out guidelines, set dates, and file forms, but they're also people just like you who want fraternity culture to thrive on campus.
On the one hand, recruitment is a busy time for IFC officers. You don't want to inundate them with emails and calls during this hectic period. If you truly can't find an answer to an important question, or there's a scheduling issue, make the conversation brief and to the point.
However, communicating about recruitment still makes a massive difference in general. Try to get your recruitment as squared away as possible before recruitment.
When your IFC recruitment chairman isn't busy directing PNMs and brothers like an air traffic controller, you'll get a lot more valuable back and forth.
It's easier to iron out events with your IFC in the planning stages than as they're happening.
1. You Don't Stay True to Your Values
Take a good, hard look at those letters you're wearing.
They stand for something, and so should you. Any IFC worth its salt wants nothing more than to help you represent your chapter's values to the best of your abilities.
One of the quickest ways to get off course during recruitment is to stray from those values. Luckily, it's easily avoidable.
By taking precautions against the mistakes we discussed above, and by holding yourself to a standard that makes your organization, alumni, university, IFC, and fellow brothers proud, you're sure to have an awesome recruitment.
Check out the IFC fraternity recruitment tools OmegaFi has to offer your chapter.
What are some of the biggest mistakes you'd warn brothers against during IFC recruitment? What steps do you take to get the most out of recruitment week and beyond? Let's hear your thoughts in the comments below!