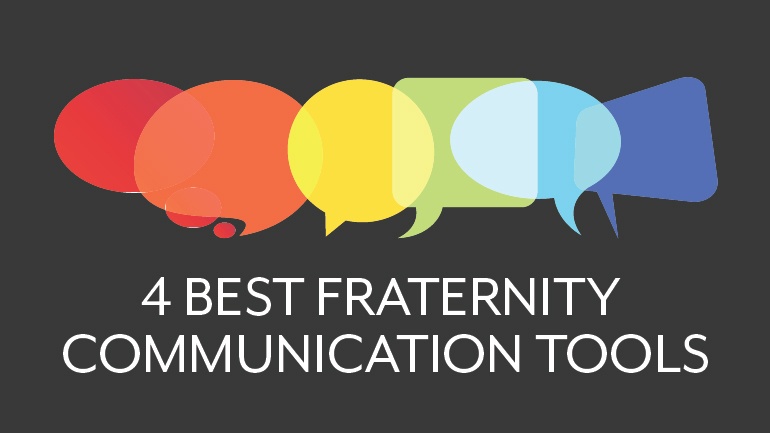 Fraternities are all about communication. It's one of the central tenets of what makes or breaks a fraternity chapter. It separates the good from the bad. You might say it's the ultimate "weed out" course. Here's why: Communication stems from the strength of your bonds with each other, and vice versa.
A strong, successful brotherhood isn't something you're born with, like a Maybelline commercial.
Brotherhood is something you work at every day. Think about any kind of relationship. If you don't put in the work, it's likely to fail. You'll drift apart, stop understanding each other and see each other as foes rather than being on the same team.
Any couples' therapist will tell you that you have to put in the work. You have to communicate.
Of course, fraternity communication is much more complex than communication between two individuals: You have to manage interaction with possibly over a hundred brothers, alumni, national advisors, university officials, your housing corporation, the Greek Life office, other fraternities and sororities on campus, organizations in the community and the list goes on and on.
A good couples' therapist will also tell you that sometimes communication requires every tool in your toolbox in order to succeed. But what does that mean for fraternity chapters? As complex as managing your fraternity's communication is in the first place, your communication tools are many, and choosing the right ones might not be so cut and dry. That's why OmegaFi wants to give you our run down of what we consider the 4 Best Fraternity Communication Tools.
4. Fraternity Communication Software

If we've said it once, we've said it a thousand times: We're nerds. And nerds are into software. Not just because we're nerds, but because we live in a technological world floating in cyberspace. We consider software to be like a space ship to take fraternity men from Point A to Point B without, you know, being exposed to the frozen vacuum of nothingness and stellar radiation.
Ahem. Anyway . . . our point is that software is pretty much a necessity in daily fraternity life. Like most everything else in fraternity chapter management and operations, communication benefits greatly from the use of software.
When it comes to communication software, fraternity chapters have their pick. That's great, because competition separates the good from the bad from the just plain ugly. It also gives you the ability to choose what works for you, based on your chapter's budget and needs.
If you're looking for an all-encompassing piece of communication software geared directly toward fraternity chapters, we recommend OmegaOne. It covers everything from text messaging to file, schedule and location sharing to study hours, and even the ability to survey brothers or virtually check them in at events. Financial communication, budgeting and payments can be centralized using OmegaFi's Vault.
Free communication tools out there can also do the job if you're on a shoestring budget, although usually they won't offer the same level of functionality and proficiency as professional pay software like those we've listed here.
3. Facebook Me, Bro: Social Media as a Fraternity Communication Tool

Facebook, Twitter, Instagram and SnapChat are just a few of the popular social media platforms young undergraduate men and women are engaging with every day. In other words, your fraternity chapter needs to get the Facebook algorithm just right, or else you might be hindering your recruitment and communication.
Facebook is an especially useful tool for communicating with your chapter, alumni, nationals, potential new recruits and other Greeks on campus. You can share info, event reminders, links, images and videos. Whatever you use, be sure to connect social media accounts with your chapter website.
2. Your Chapter Website

A good fraternity chapter website can go a long way. Trust us on this one. It may seem like social media is preferable to building and maintaining a website, but having a professional website that's easy to navigate can create an solid foundation for online communication for fraternity chapters.
As opposed to social media, a website gives your chapter total control over the layout and design, and in turn how the image of your chapter is perceived. Everyone has a social media account, but no one has your chapter website. You can link to your chapter and fraternity histories, share pictures of your chapter house and brothers, info about scholarships and philanthropies, give potential recruits and their parents a direct line of communication to your executive officers and even host a closed-access platform for internal communication among brothers directly on your website.
https://www.GetaChapterWebsiteAlreadyGuys.com.
1. Breaking: Fraternity Chapter Newsletter Important Communication Tool

Hot off the presses, we're bringing you this important news bulletin. A fraternity newsletter isn't just some novelty where you get to pretend you're an old-fashioned gumshoe in an overcoat and bowler hat. It's the baseline of chapter communication, especially when it comes to alumni.
Crafting a professional chapter newsletter that's designed for ease and efficiency of reading, with a focus on alumni and university milestones, as well as key chapter happenings, can go a long way toward communicating and building relationships with your alumni.
A newsletter is only one way to help maintain relationships with alumni, but used tactfully in conjunction with other forms of communication, your newsletter will be a useful tool in your fraternity tool belt.
While software, social media, a chapter website and newsletter are useful, they're only effective if a fraternity chapter uses its most important communication tool: their actions. They truly do speak louder than words, so go out there and live your chapter's values every day. Produce the best brotherhood experience you can, give back to your communities and create a presence on your campus. There's no greater way to tell the world who you are.
What tools are essential to your fraternity chapter's communication? Where do your brothers excel in communicating and where do they need improvement? Talk to us in the comments below.