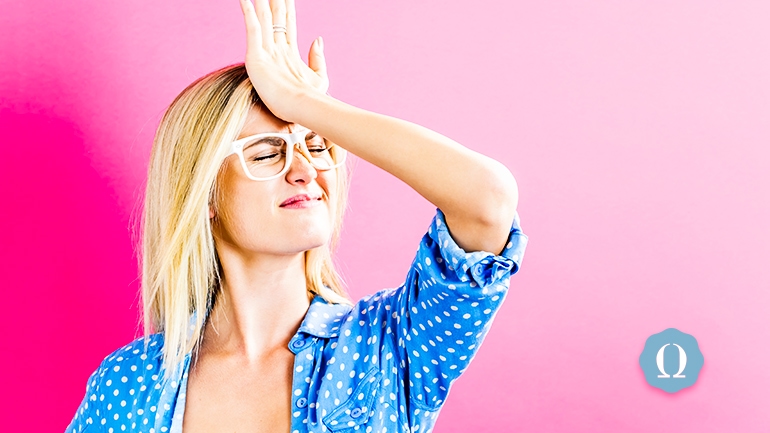 Panhellenic sorority chapters see their share of successes. They also make mistakes.
Hey, don't sweat it. Messing up comes with the territory. The important thing is that you learn from your mistakes.
Then you do better next time.
That personal growth is what sorority life's all about—not perfection, but the pursuit of getting as close to it as you can.
Panhellenic recruitment isn't the exception to this rule. It is the rule.
Recruitment week is perhaps the most hectic time for any group of sisters. To make it out unscathed, with zero mistakes, means you're likely superhuman.
For most of us, however, a picture-perfect recruitment isn't in the cards. Someone's going to end up in the wrong place at the right time, or the right place at the wrong time. Something will get lost in the fray. You'll have to think on your feet and quickly right the ship so Potential New Members are none the wiser.
But you know you can do it, because you do it every year. And somehow you still walk away with a new class of sisters—good sisters.
Yet there is a way to save yourself a lot of time and trouble, and make recruitment a little easier on you.
Recruitment success is all about preparation. A big part of that preparation is mapping out a course to avoid major mistakes and minimize the unforeseen.
OmegaFi wants to help your chapter have a successful recruitment. We're here to tell you, whatever you do, Don't Make These 4 Panhellenic Recruitment Mistakes.
4. Don't Focus on Recruitment Events—Focus on People
You've probably heard this advice already from your College Panhellenic. You've heard the term "values-based recruitment" as well.
You're probably a little sick of hearing it, to be honest. But there's a reason they hammer this point home.

Panhellenic recruitment is about people. Period.
That's why your Panhellenic has set up a schedule of events that focuses on sisters getting to know PNMs, without the loud parties, over-the-top decorations, and general showboating.
Plan far enough ahead that sisters are all on the same page about recruitment events, but don't put too much stock in the events themselves.
PNMs want to get to know sisters, and you really need to get to know them, too, to make informed decisions about voting on bids.
Recruitment events are just a springboard to get you chatting.
3. Deciding Who to Bid? First Impressions Are (Mostly) Useless
You know the type of sister . . .
She thinks she's a detective, scrolling through PNMs' Facebook profiles. When a student contacts the chapter with questions about membership, she's immediately off searching every corner of Instagram for clues.
Sure, you may find some warning signs here that are immediate red flags: excessive drinking, dangerous behavior, posts about skipping classes.
But aside from the obvious disqualifiers, you won't really learn much about someone from social media.
Likewise, you may not get to know them very well from one brief conversation.
Some PNMs are shy, and it takes a few interactions to get them to loosen up and tell their stories. Others might be nervous and make a bad first impression, but then make up for it and reveal their true selves, given the chance.
Let's be fair--recruitment week is a fast-moving tornado, and you're meeting a lot of new faces in a short amount of time.
You can use recruitment software to streamline the voting and bidding process.
Even so, you aren't going to be able to give everyone an in-depth series of interviews. You're going by your best judgement at the time.
Still . . . try to remember that PNM you were on the fence about, who said something embarrassing and stammered through your conversation. Yet something told you to give her a second try.
Trust your instinct. Go beyond first impressions.
2. Don't Avoid Academics: For Panhellenic Chapters, It's a Big Deal

We get that you may not want to come off as the nerdy chapter. You may not want to be like, "What's your GPA?"
Anyway, your Panhellenic Association already has rules in place about academic standing of PNMs.
But you do want to get a sense of what each PNM's college experience is like. Ask questions like:
What are you majoring in? Why?

Do you have a career in mind, or are you still figuring it out?

Do you have a favorite or least-favorite class so far?

What do you like to do on campus?

Are you a freshman? If so, how are you adapting to college life?
Questions like these can give you an idea of what kind of student and person a PNM is at the same time.
You may not want to talk a lot about school and come off as the nerdy chapter. However, bidding new sisters likely to fail out of college can be really bad news for your chapter.
Good students, on the other hand, often make hard-working sisters who represent Panhellenic values.
1. Don't Play Fast and Loose with the Recruitment Budget
You do not want to be shoveling water out of a sinking budget during recruitment week.
Chapter budgets are always subject to change, but recruitment is one of those things that needs to be pretty much a sealed deal well ahead of time.
Budget for things like food and non-alcoholic drinks, but with Panhellenic recruitment it's often not necessary to go overboard with costs. Decorations and costuming can be kept to a minimum. A DJ playing loud music is unnecessary and gets in the way of conversation.
In some cases, your school will limit your recruitment budget, and it's important in that case to make sure you don't go over.
If possible, use chapter budgeting software such as OmegaFi's Vault. This software can help keep your recruitment budget well managed so you can focus on making recruitment a success.
Even though now you'll manage to avoid these four major Panhellenic recruitment mistakes, you'll still stumble once or twice during the recruitment process.
Take a deep breath. You've got this. Now go meet your future sisters.
What questions do you have about Panhellenic recruitment? What mistakes do you think are important to avoid? Let us know in the comments below!