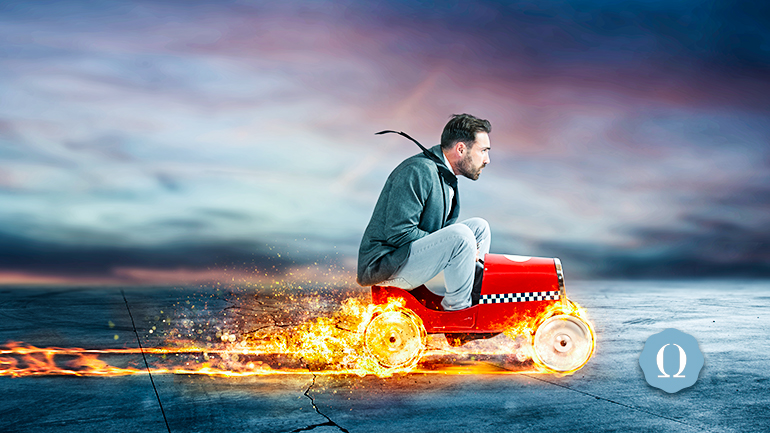 Recruitment can make or break your Panhellenic sorority chapter, and the haters better believe you'll pull together some lit recruitment week events.
You're going to ensure potential new members remember your chapter one way or the other.
You've been planning your sorority's Panhellenic recruitment since—well, since last year's recruitment.
You've set aside enough in the budget to ensure that recruitment will be memorable, but in the end, you must step back and decide if PNMs will remember you for the right reasons.
And yes, we know that sororities are social organizations. Many sisters wouldn't join if there weren't at least some fun and festivities that come with membership.
But there's a clear line between being social and being out of control.
The latter will get your chapter into big trouble. Most think this will never happen to them. That they can party hard and shun the rules without the risks ever catching up to them. Those chapters are like bank robbers, riding the high of each heist and believing themselves invincible.
Those chapters are wrong.
Learning that the hard way is a tough spot to be in. The last thing you want is to face disciplinary issues or pay whopping fines over a totally avoidable infraction during recruitment.
The thing is . . . Panhellenic recruitment rules for sororities are there for a reason.
Not only do they provide a risk-free, values-driven recruitment, but they make recruitment more efficient, too.
Panhellenic rules make recruitment fair and equitable.
There are guidelines and a schedule all chapters follow, brining all Greeks together on the same page.
Most importantly, you're more likely to get the high-quality recruits that'll make your sorority strong from a Panhellenic recruitment.
OmegaFi wants your chapter to get the most out of recruitment week. Let's talk about Why Panhellenic Recruitment Rules Matter for Sororities.
Greeks Are a Campus Community. Panhellenic Recruitment Rules Reinforce That.
You might bristle a little at this and say, "Recruitment is war! We're in it to win it!"
You're partly right: You still have an obligation to your national sorority and chapter to bid the best new sisters you can.
You won't simply hand over a strong potential new member for the greater good of Greek Row.
But it's also important for all chapters that your campus has a strong overall Greek culture, and that starts with community.
One of the things that reinforces that community is when all chapters follow the Panhellenic recruitment rules set out for everyone.
Some of these rules include things like:
Set recruitment periods and deadlines for bids and other paperwork

Fixed official recruitment week events that are the same for all

Minimum GPA regulations for PNMs

Non-discrimination policies

Anti-hazing regulations

Ban on alcohol at official recruitment events

Regulations of sisters' conduct during recruitment
If the rules aren't followed, there are penalties in place to deal with that.
This puts everyone on the same playing field. A big, well-established sorority chapter may attract new sisters a little easier than a newer, smaller colony without a chapter house. But at the very least, everyone has an equal shot at getting pledges fair and square.
Recruitment week is driven by Panhellenic regulations and guidelines that bring Greeks together. When PNMs walk down Greek Row, what they see is a community, all working under the same set of rules.
And that's exactly what you want, because . . .
Recruitment Rules Attract More Quality Sorority Women
Imagine, if you will, a sorority recruitment where there are no rules. Everyone competes to throw the sickest parties. They scheme. They cheat. They get a ton of partiers to come out, drink, and many of them joined their chapters.
Fast forward a few months, when the sorority culture on campus becomes so dangerous and unruly that the university shuts down chapters left and right.
Sound extreme? It is. Yet on some campuses, it's happening.
Sororities must be better than that.

Panhellenic rules for sorority recruitment aren't just meant to foster Greek culture, but to maintain a healthy and positive culture, all while minimizing risk and attracting the right kinds of sisters.
Example: Academic minimums bring in sisters who're serious about studying.
College sorority cultures only flourish when sisters focus on their success in the classroom.
Anything short of excellence puts a chapter in danger of deteriorating into poor performance, apathy toward their responsibilities, and risky or inappropriate behavior.
Having standardized recruitment rules lets both sisters and PNMs know exactly what sorority life is all about, for all chapters: values, academics, and sisterhood. Period.
Do the Math: Recruitment Rules Bolster Your Budget
As much as you want the biggest, sickest party on campus during recruitment week, is it really worth getting in a spending war with other chapters?
Even for the big chapters, it's easy to overspend on sorority recruitment and dig yourself into a budgeting hole.
Panhellenic rules make budgeting for recruitment a lot easier, because everyone's basically working within the same structure of events and activities.
And even when your chapter holds a unique event, recruitment regulations often limit recruitment budgets and lay out how to spend funds.
For instance, some universities limit the budget for flowers, or food. Some ban alcohol and hired DJs—both major expenses.
That may seem like a bummer, but the focus should be on meaningful one-on-one interactions with PNMs, and the rules help keep it that way.
There are also a range of fines for breaking the regulations. These are easily avoidable with even the most minimal planning and diligence on your part. This should end up being a major savings point for your chapter.
Panhellenic recruitment rules exist to make sorority recruitment better than it could ever be without these rules in place.
Instead of letting them get you down, embrace them.
OmegaFi wants to hear from you. How have Panhellenic recruitment rules influenced your chapter? What are some of your proudest recruitment moments? Let's relive the glory in the comments below.