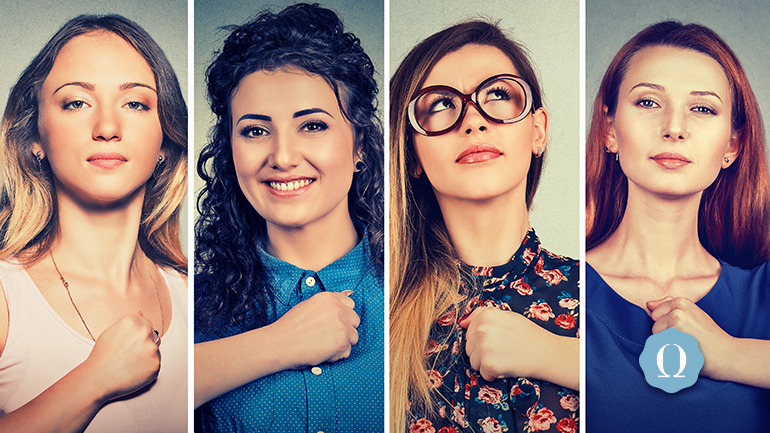 Panhellenic sorority chapters share a bond across North America, and they're proud to show it.
Why?
Sororities who come together accomplish great things.
Other noteworthy sorority groups have arisen in the United States as well. Two of the better-known sorority umbrella groups are the National Pan-Hellenic Council and the National Multicultural Greek Council (which also includes fraternities).
Each deserves its due for bringing collegiate Greek women together to attain praiseworthy national goals.
But for now we're here to sing the praises of the National Panhellenic Conference, their university panhellenic associations, and the sorority tools they provide your chapter.
For those who don't know about the NPC and panhellenic organizations, let's go over the stats. There are:
26 member sororities . . .

with over 400,000 undergraduate sisters . . .

in over 3,000 chapters . . .

on nearly 700 campuses across the nation, and some in Canada.
In other words, there's a vast support system a sorority chapter can draw from when part of a panhellenic group.
When you're looking to build a solid chapter foundation and reputation on a college campus, as well as for a sorority nationally, the tools the NPC and panhellenics provide can make a major impact on your success.
So don't go it alone if you don't have to. After all, sororities are about sisterhood. Why not extend that concept beyond your chapter house walls?
OmegaFi wants to help you show the women on your campus what Greek community is all about.
Here's How Panhellenic Tools Can Help Your Sorority.
Panhellenic Academic Tools That Make the Grade
Academics are at the center of any successful sorority chapter trying to thrive in a college environment.
We wouldn't be doing you any favors if we didn't tell you point blank:
Chapters who place partying over grades will fail. Period.

"Academics are at the center of any successful sorority chapter"
If you're going solo, it's possible to still build a chapter with a solid GPA and sisters who go on to graduate and do great things to represent their sororities and universities.
However, you have vastly more resources to help your members succeed in the classroom when your organization has the backing of a panhellenic association.
Here's why. Panhellenics:
Encourage potential new members and chapters to hold themselves to a higher standard of GPA.

Guide sisters toward campus academic resources like tutoring, academic advisors, and academic advocacy.

Often provide their own resources, like Greek tutoring exchanges, scholarship opportunities, group study sessions, and academic statistics.
Panhellenics are made up of women just like you, who care passionately about sorority life on your campus. They work to enrich the sorority experience and help members become better sisters and stronger, more successful women.
Leadership Tools that Drive Sororities
Excelling in your classes helps build a strong chapter foundation, but leadership is how you apply your knowledge.
Panhellenic associations are in the business of sorority leadership.
They offer tools not to do the work for their member chapters, but to let them to work their own way to success.
What's the difference?

Well, imagine you sat back and let someone else do everything for your chapter. Panhellenic officers took care of your recruitment and picked sisters for you. They managed your risks, oversaw your chapter house, ran your budget, and chose your philanthropy projects.
All you had to do is relax and enjoy the spoils. Then one day you graduated. You now have responsibilities. Your colleagues expect you to pull your weight and show leadership skills.
But you don't have any.
The NPC and associated panhellenic groups place a major focus on leadership because they want you to succeed.
For instance, Panhellenics offer frequent leadership conference and workshop opportunities, as well as professional training to prepare you for future career leadership success.
On a national level, the NPC's Be Bold educational program helps sisters gain crucial leadership abilities.
This program empowers sisters not to be followers or part of some mold, but rather to bring out the qualities in themselves that make them natural, confident leaders.
Sisters with diverse viewpoints and personalities can bring unexpected solutions to difficult chapter challenges.
These panhellenic tools can help bring out each sister's invaluable strengths as a leader.
Giving Back and Building Up
When you think of philanthropy, you know that each individual chapter has its own take on giving back.
But philanthropy in a vacuum can't achieve its purpose—to enrich through community bonds.
Panhellenics provide tools to promote and enrich your causes, and to give structure to how all member chapters participate in philanthropic events.
They often promote a Panhellenic philanthropy project you can participate in or donate to.
They also help build a values-driven, safe, fair, and equal recruitment process to strengthen your Greek community.
They offer guidelines for recruitment such as when to contact and extend bids to potential new members, what to do during your chapter's rush week, expected conduct, rules about alcohol at rush events, as well as anti-discrimination and anti-hazing regulations.
These regulations help all chapters have a quality rush and promote Greek culture on campus in a positive light.
With each chapter following the same rules, recruitment becomes less focused on cutthroat competition and one-upmanship.
That means you can put all your energy into getting to know potential new members and making the right recruitment choices.
For new Panhellenic Associations, the NPC offers resources such as template chartering documents and recruitment guidelines. Likewise, a member chapter will work closely with their college's Panhellenic Association to establish themselves on campus.
Panhellenic tools offer sorority chapters a variety of ways to become more successful members of their campus communities.
They do this by guiding you to academic excellence via strong leaders, fostering community engagement through philanthropy, and helping chapters build greatness from the ground up.
What tools does your Panhellenic Association offer that have helped your chapter? If you're currently a Panhellenic officer, what initiatives or accomplishments are you particularly proud of?
Share the love in the comments below.