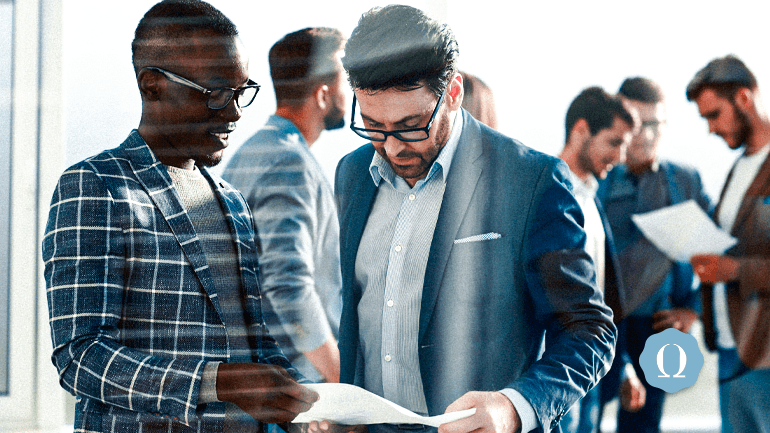 Fraternity communication goals for the chapter executive are a lot different from the goals of the average brother.
Your everyday member will benefit from bonding, values and leadership development, and engaging with chapter activities and goals. Of course, these are all fundamental building blocks of your organization.
However, executives must strive to live up to all these—and must face unique, complicated chapter management and communication challenges.
You're in charge, but you can't do it alone.
In other words, if you're a fraternity exec, you're running the show and you must communicate what you need from members. That's the only way to make sure every brother does his part effectively.
Fraternity software is a major tool every chapter executive needs at his disposal.
OmegaFi designed the perfect software to help you accomplish top chapter communication and management goals: OmegaOne.
Check Out OmegaOne: The Ultimate Fraternity Communication Software
Understanding key executive fraternity communication goals and strategies, then applying all the tools at your disposal, will help you succeed—not just once, but every time.
In this blog, we'll discuss executive communication goals such as:
Let's take a closer look at how to set and achieve your top Communication Goals for Fraternity Executives.
Chapter Management and Planning with Other Officers

Most if not all your communication goals are better solved alongside your fellow chapter executive board members.
Good fraternity communication can be seen in how you structure meetings, for instance. You have an executive board meeting to hash out the fine details of an event, initiative, or other chapter goal.
Once you're ready, you bring that message to the relevant brothers. If it's a general message, you let brothers know during chapter meetings. If not, you inform specific committees or individuals on a need-to-know basis.
Why? Because information overload—telling everyone everything all the time—leads to confusion and to brothers becoming disengaged from what you're telling them.
Getting the messaging right starts in executive meetings. But it's also important to streamline those meetings for maximum efficiency.
That means that likely a bulk of the conversation happens before that meeting ever takes place.
Here's the role chapter communication software plays.
OmegaOne's Software Solution for Executive Board Communication
A feature of OmegaOne that separates it from general software is that this fraternity communication tool is tailored to Greek-specific needs.
This is done with you, the executive officer, in mind.

Here are a few features to streamline your executive meetings and help you come together as leaders:
OmegaOne is officer-driven communication. Officers have a high level of control over who sees what and can direct communication specifically to other officers. When necessary, you can also touch base with key alumni who are connected to you via OmegaOne. Brothers won't see what you're discussing until you're ready.
OmegaOne is a management tool. This makes it perfect for officers, because it's designed to help you communicate about shared objectives. This can include sharing files with other officers, such as plans, contracts, images, or videos. You can send alerts and messages whether longer discussions or quick adjustments are needed.
OmegaOne helps execs get together. You can plan events only officers are invited to, including anything from traditional exec meetings to an on-site meet-up to check out a potential venue for an event, and much more. The sky's the limit.
How the Right Message for the Right Brother Builds Engagement
Once you've scoped out a plan and strategy among your fellow officers, you must bring together certain brothers in certain ways to accomplish your chapter goals.
While some alerts and messages are appropriate for the entire chapter, others are not.

Think about that group chat you're in where you see every message, regardless of whether they're talking to you.
It's annoying enough when you're talking about what someone had for lunch at the new Peruvian restaurant downtown. Now imagine complex chapter matters, where brothers are being asked to do specific tasks, and how frustrating that can be when wires get crossed.
Only certain brothers need to know certain things at certain times. Keeping it on a need-to-know basis can help dial brothers into what's needed of them, not everyone else.
Communication software can help.
OmegaOne's Software Solution for Communication with Brothers
OmegaOne can help you tailor messages, event invitations, and more, in ways that are organized according to tasks you need from specific groups of brothers.
Here's how to communicate with brothers using OmegaOne's top-down style:
Event planning is at OmegaOne's core. As opposed to strictly online communication, OmegaOne focuses on getting brothers engaged. That means you can customize who's invited to certain meetings and events, and you can include all the details for brothers, including how to check in.
Have unique conversations with brothers. As with your fellow officers, you can have unique conversations with different groups of brothers. This includes wall alerts, texts, and emails, as well as shared files and more. Only the brothers you choose will see these messages.
Brothers pay their chapter bills online. With OmegaOne, brothers can pay their membership dues and other chapter costs electronically. Meanwhile, you as the officer can manage chapter finances, as OmegaOne connects directly to chapter budgeting software Vault. It gives both officers and members a direct connection to the investment you're making in one another.

These goals and strategies, with the help of OmegaOne chapter communication software, will help you better connect with fellow execs, alumni, and your brotherhood.
OmegaFi offers software solutions for Greek chapters for recruitment, budgeting, communication, and more. Learn more about our services or call direct at 800.276.6342.
What are some of your chapter's top communication goals? How do you go about achieving them? How have you used communication software up until now? Let us know in the comments below!