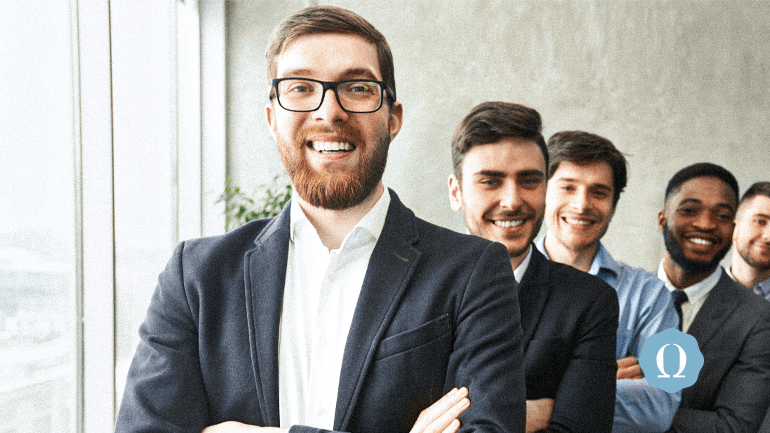 Fraternity recruitment on campus happens fast.
Despite all your chapter's thorough planning, recruitment events, meeting Potential New Members, and deciding on bids can feel like pure chaos.
Getting it right every time requires proven fraternity recruitment goals, tools, and strategies.
Recruitment doesn't happen in a vacuum. It's a process that's been built upon for decades.
It also changes with the times. Recruitment nationwide has trended away from hazing, alcohol, and other risky or unsavory behavior.
Recruitment has steadily become more values-based and cooperative among all chapters on campus.
All these recruitment trends are good--very good--for both current brothers and those seeking membership.
None of that growth would have happened if not for chapters learning from one another and applying those lessons at the campus, headquarters, and national Greek life levels.
That's why we want to look at what works and what doesn't in fraternity recruiting, and help you apply what you learn to your brotherhood. That way you'll not only recruit well, you'll become a recruitment leader and trendsetter among the chapters on your campus.
Here's how you can Set the Pace for a Successful Fraternity Recruitment.
Fraternity Recruitment Events
Nailing fraternity recruitment events is no easy task.
The reason is that, in today's fraternity world, you're holding your chapter to a higher standard, and that standard is ever evolving.
You must follow the expectations from your university, your fraternity HQ, your Greek umbrella organization, parents, legislators and public safety officials, and others.
Keeping it all straight and nailing it is a huge challenge, and the way you represent yourself during recruitment events can make or break potential connections with PNMs.
Here are a few basic recruitment rules of thumb.
Don't:
act arrogantly, put down other chapters, treat PNMs disrespectfully, or haze them
engage in alcohol-based activities
play loud music and create a "party" atmosphere where conversation is impossible
Do:
connect with PNMs, discuss shared values and academic and professional goals, etc.
coordinate with campus recruitment officials, advisors, and others to clarify and solidify rules and expectations
educate brothers on their roles and expectations, as well as where to be and when to be there for the events schedule

Phi Delta Theta compiled a list of potential dry fraternity social events, some of which can be applied to recruitment.
You can make your own list of alcohol-free recruitment events and discuss them with executives and brothers.
Build a recruitment culture around building a better fraternity community, follow the expectations of you, and hold events that connect you with PNMs.
Connecting with Your Future Brothers
What can really separate you as a recruitment leader, one other chapters want to emulate, is how well you connect with PNMs.
You may have the most fun and well-planned recruitment events. However, it's not just about how much fun you have—it's about finding the right brothers.
Sometimes you're meeting so many young men it's a challenge to keep them all straight. Yet when you're making an important connection, you know it right away.
Here are a few proven ways to connect better:
Brainstorm a list of key questions to ask PNMs based on chapter values and member expectations.
Brainstorm a second tier of questions focused on PNMs themselves, their individual goals, challenges, likes and dislikes, etc.
Know recruitment rules inside and out, so you don't make mistakes like promising bids or promoting inappropriate values or behavior.
Always ask open-ended questions, not "yes" or "no" questions, to get PNMs to open up.
Have mock conversations with members prior to recruitment, in order to work out the most valuable ways to communicate.

The University of Kentucky Greek Life office suggests PNMs prepare for recruitment by taking steps such as researching individual chapters, figuring out what they want out of fraternity membership, and asking questions.
These are also great strategies for your chapter to adopt from the other side.
During your conversations, encourage them to ask you questions, so it's not an interrogation. Ask them straight up what they want out of Greek membership.
Fraternity Communication
Communication creates a foundation of recruitment planning and execution, as well as landing quality bids.
Here are a few crucial groups with whom to form a foundation of good communication.
Brothers
Each brother has a unique role in recruitment, and these roles should be part of your overall strategy and planning.
For instance, your recruitment committee members, executive officers, or general members will all have different tasks and expectations during the recruitment process.
While the recruitment chairman might attend meetings with advisors or officers with the Greek Life office, university administrators, or alumni advisors, he needs to communicate what is discussed effectively.
Assigning information to individual groups and brothers—versus just telling everyone everything—can help keep expectations clear.
Learn How OmegaOne Premium Fraternity Communication Software Can Help

Advisors and Administrators
Keep a checklist of key officials in the recruitment process, as well as deadlines and requirements if you must submit paperwork or payments.
Some key officials to connect with include:
alumni chapter advisors
fraternity/sorority life advisors
recruitment officers for your IFC or other umbrella group
public safety officials (University Police, etc.)
your fraternity HQ
Your recruitment communication checklist should include:
a process for discussing quality potential members with your alumni advisory board
a process for planning events from start to finish, such as PIKE's recruitment event strategy
a list of due dates for bid and vote lists, event registration, recruitment and/or new member fees, mandatory meetings, etc.
a risk management plan and phone number list for university police, administrators, Greek Life officials, etc. Make sure your risk management expectations are clearly communicated to brothers.
setting expectations for a clear and smooth transition process from PNM to new member

Other Fraternity Chapters
An overlooked aspect of recruitment communication is making sure you stay connected with other chapters on campus.
Sure, you're all busy competing for recruits. But at the end of the day you're all trying to pull in the right new members, and that can be different for every chapter.
Ultimately, you're trying to build not simply a better chapter, but a better Greek community, campus-wide.
Keep the lines of communication open all year long with other chapters. Collaborate when you can. You never know what you'll learn—or what knowledge you'll impart.
OmegaFi offers software solutions for Greek chapters for recruitment, budgeting, communication, and more. Learn more about our services or call direct at 800.276.6342.
What are some of your chapter's top recruitment goals? How do you go about achieving them? Let us know in the comments below!