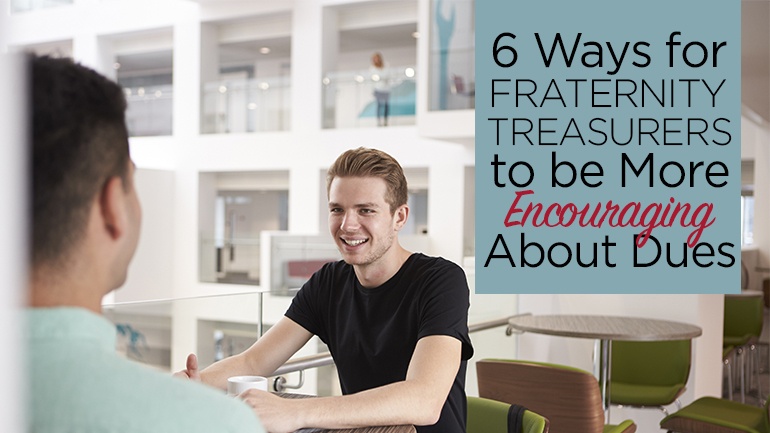 It's an eternal topic in fraternal halls: How the heck can our chapter treasurer be more encouraging in the collection of dues? It's like herding cats, or perhaps more accurately (although not far off from the cats analogy), it's like parenting. Some of the boys aren't behaving as they should; they aren't being responsible. Or maybe they're just struggling and need guidance. Should you give in? Yell at the top of your lungs? If you happen to be a parent, you know that either of these reactions is a victory for the child over the parent. "Fine, leave your toys all over the floor." Then, five minutes later: "Why are your toys still all over the floor!?!?" The children get to either feel vindicated as the victor or the victim.
Okay, let's not be too patronizing. Your fraternity brothers aren't children--except Billy. We won't talk about him. But a parent-child relationship does mirror how authority structures operate in the real world, both in business and otherwise. That makes sense, doesn't it? If you're supposed to perform a certain job task and don't, won't there be pre-determined consequences? But what makes you want to do a good job if your boss is a jerk and doesn't encourage morale in the office, if she or he doesn't care about you? Well, that's the line a fraternity treasurer rides also. We'd like to make it a little easier for you here at OmegaFi, so without further delay, let's do some constructive parenting with 6 Ways for Fraternity Treasurers to Be More Encouraging about Dues.
6. Bend, Don't Break

Flexibility is the most direct and comprehensive way to encourage dues payment by your fellow fraternity brothers, but it will only work if you don't equate flexibility with ineffective leniency. When Billy *cough* comes up with a "my dog ate my homework and wallet" excuse every chapter meeting, flexibility isn't shrugging it off. It means offering Billy, or whomever, different methods and means of payment. For instance you might consider getting a chapter credit card reader to attach to someone's smartphone. That way the chapter can collect dues not only with cash or check, but by card as well. Also, to go one step further, use OmegaFi's Vault to make payments easy, straightforward, and manageable online. One other flexibility you can afford brothers is a payment plan. Installments are easier for many than one lump sum, but make sure there is still some incentive to pay all at once, like a discount for the next semester, so not everyone falls back into the payment plan--just those in the most financial need.
5. Speaking of Incentives

Incentives are key to getting productivity out of those in a workplace environment, and, to overextend a metaphor, children. The same theory applies to fraternity treasurers trying to find ways to encourage brothers to pay dues. One of the biggest incentives is going to be future financial discounts on dues. Think of a discount (to be applied either immediately or in a later semester when dues are collected before the deadline) as the more encouraging version of a financial penalty for late payment. If brothers are only thinking about fines and penalties, it will not foster a productive result unless coupled with the incentive. If not a discount, maybe offer up some baseball tickets, a parking space, etc. Anything to get brothers actually wanting to pay dues!
4. Brothers, Talk to the Sisters

Talk to the sorority sisters you know, because chances are they have this dues collection thing way more on lock than you do. They might do things like make special signs to hang on sisters' doors in the house, give them a special seat at the table during meals, or place their name on a board for recognition for paying dues on time. You don't have to make arts and crafts for brothers for paying their dues--but it might help. Make them a macaroni painting with their names. Hang it in the common area of the house so they can be given the proper amount of ribbing. They earned it!
3. Statements

This one goes to professionalism. You should make up dues statements each semester. There should be one for each brother, and it should explain how much is due and how to pay. Apply this to those on a payment plan, also. It should be a printed statement, and you should keep copies, so you know there's a paper trail. Also, print receipts in the same fashion. You can even pick up a receipt book from the store that allows you to quickly scribble off who's paid what and a copy for yourself at the same time. Similarly, keep a paper trail of your weekly report on who is still outstanding on dues. It's encouraging, in that when fraternity treasurers operate with a level of professionalism, brothers feel they ought to reciprocate.
2. Bang for Buck

Let brothers know what their dues are paying for. Be transparent. Encourage brothers to take a look at the budget and explain how dues are delineated to the various costs that benefit the fraternity. They really want that kick-ass vampire themed formal in the ballroom downtown, right? Well, we guess they'd better pay on time, then. That also makes it less stinging when, if they don't pay, they aren't allowed to put on their plastic fangs, suit, and fake blood, and participate in the events they don't pay for. They've seen what it costs. The punishment should make sense because it fits the crime. Even Dracula could figure that out.
1. Encourage them To Run for Treasurer

They won't even know you're tricking them into paying their dues on time! Here the idea is to talk with brothers earnestly about the challenges of the treasurer role, as well as how it's rewarding and a good teaching experience. Answer all their questions about how the position operates. Show them this blog about what it takes to be a good fraternity treasurer. Once they get how tough the position can be, they'll sympathize with the challenges you're going through. If they run and serve as treasurer later on, all the better.
These are just a few of the ways OmegaFi feels that Fraternity Treasurers can Be More Encouraging about Dues collection. Certainly there are some would-be, current, or former fraternity treasurers out there who have their own tips and tricks. Feel free to leave them in the comments below.