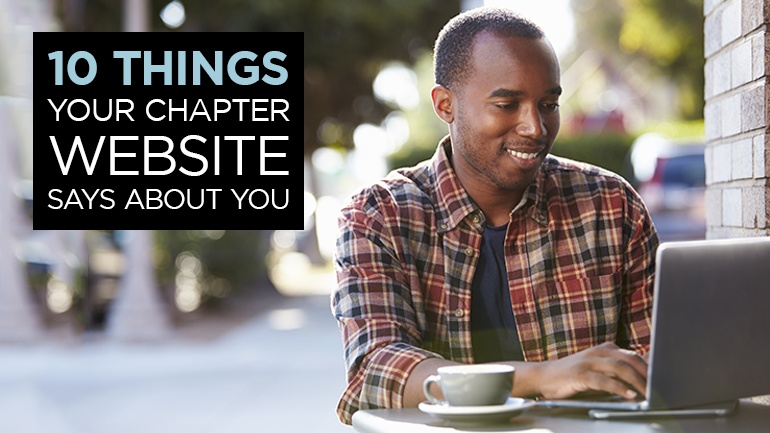 To be frank, first impressions are everything. Whether it's your appearance or your behavior, that first impression can often be a lasting one, so it's important to lead with a strong foot forward. With that said, your chapter's website is no different. In this Internet age we have all become accustomed to a certain degree of quality when surfing the web. Whether consciously or subconsciously, we demand that websites are clean in their design, modern in their aesthetic, and overall user friendly. In fact there are dedicated careers (that are growing) that deal exclusively in user experience (UX) and user interface (UI). Omegafi will even build one for you. In this sense, your website and its design are huge for how others perceive you and your organization. However, most importantly, as branding and advertising continue to move into a more digital space, the way in which you recruit and inspire others to join your organization will increasingly lead them to look to your chapter's website (or lack thereof) in making their decision on which organization they'd like to rush.
Your website can say a lot about you, so for your benefit OmegaFi is here to bring you everything you should expect from others on your site's design moving forward. These are the 10 Things Your Chapter Website Says About You.
10. Your Professionalism
Is your website updated regularly? Does it have a design that is contemporary (no 90s flash players)? If not, that's a problem. We all know those dated websites that visually just don't feel right. Whether they have the information or products we need, we look at them sideways for their antiquity and look for a more modern alternative. In truth, the name of the game in website design is modernity; technology advances quickly, and the look of your website should match this rate of progress.
9. Your Attention to Detail
Here's another question: Does your website have misinformation, typos or broken links? If so, you need to address those concerns immediately, as even a simple grammar error on a website can unfortunately give the impression that your organization isn't too keen on proofreading. This expresses a lack of attention to detail or worse, laziness.
8. Your Brotherhood/Sisterhood

How does your website utilize pictures to emphasize its brotherhood or sisterhood? Do you have a ton of pictures? An RSS feed linking to your social media accounts (twitter, Instagram, Facebook)? It goes without saying that there should always be someone at your events taking pictures, so use those pictures on your website. Show that your chapter is social and that your sense of brotherhood or sisterhood is strong.
7. Your Values
Let's take a look at your chapter's navigation buttons. What do they say? What is their focus? A general menu should have Home, About, Events, Achievements/Accolades and Recruit buttons at the very least. By designating the way in which your viewers navigate your website, you're simultaneously giving them a tour of what you value most. So present your values and core principles with purpose in your site's design, and show those interested in your organization exactly what you want them to see.
6. Your Focus

What your organization is focused on is evidenced by what you choose to communicate. Are the photos that are posted on your website and social media channels all of your organization partying, or are they of your organization participating in service? Whatever values your organization prides itself in (its brand, if you will) your website and any other online property should reflect those values. Again, your website is a method for communicating what you believe, so take the effort to promote the core focus of your organization as much as possible.
5. Your Community Involvement
As we mentioned above, you can tell a lot about an organization by what it chooses to highlight. Although nearly every organization performs service in some way, shape or form, in the case of all things, appearances are everything; we only know what we see. So if your organization performs a great deal of community service, make that known. Have a dedicated menu tab to highlight your organization's service and philanthropic efforts. If you do not promote your service efforts appropriately, a webpage with these elements missing will be assumed to have none. Most people enjoy service, and nearly everyone respects it, so make your efforts known and clear.
4. What You Do On Campus

Your website should be able to effectively communicate just what you do on campus. When we say "what you do," we're talking about the total package. Who is your organization compared to its contemporaries? How do you stack up? Are you the party frat or the nerdy sorority? In this sense, understanding your brand as it relates to your specific chapter is key. Use your website to tailor this image to your liking. If your organization is known for partying and nothing else, highlight your service, social, and academic pursuits heavily to balance out your perception.
3. Your Achievements and Accolades
When it comes to achievements and accolades this subject is more or less a no-brainer: If you've won any kind of awards or have achieved in any significant way, make those achievements known. Present them in the form of an "Achievements and Accolades" page that directly showcases these accomplishments using photos, brief summaries and dates. The organization of this information is up to your chapter or your webmaster's discretion. Our suggestion: Put it front and center. Your organization rocks, so say it loud, and say it proud.
2. Your Diversity

Imagine for a second that your organization's front header image is a cascade of white males or white females. For some of you reading this, it is. That may be the natural make-up of your organization based on your student population. That's understandable. However, for an incoming Asian male, or an incoming Middle-Eastern female, this uniformity can feel immediately alienating. Diversity in life is the key to progress. Whether it's new ideas, new perspectives, or simple genetic evolution, diversity on a biological sense brings about the best traits in everything. If your organization doesn't have many minorities, that's fine; scale back. Rather than having the main image of your website be a panorama, simply show two brothers or sisters (that are genuinely close) in a warm embrace. In this sense, the relationship serves as the symbol of your brotherhood or sisterhood as well as the diversity of your organization. The image on the next slide can be the big panorama.
1. Your Organization
As our last item on the list we have perhaps the most obvious: Your website speaks about your organization. When we say "organization," we don't mean the ability to organize. We're referring to the whole of your fraternity or sorority. What does it stand for? How do its members carry themselves? In essence, it is the immediate sum of all the items previously listed. What makes you different, unique or special? Why should an interested non-Greek choose your organization before any others? This overall impression of the most elemental qualities of your fraternity or sorority should be sharply apparent within a first impression. You only get one, so make it count.
If you enjoyed our article on the 10 Things Your Chapter Website Says About You, that's great! Now update your website and let us know what you did in the comments below!