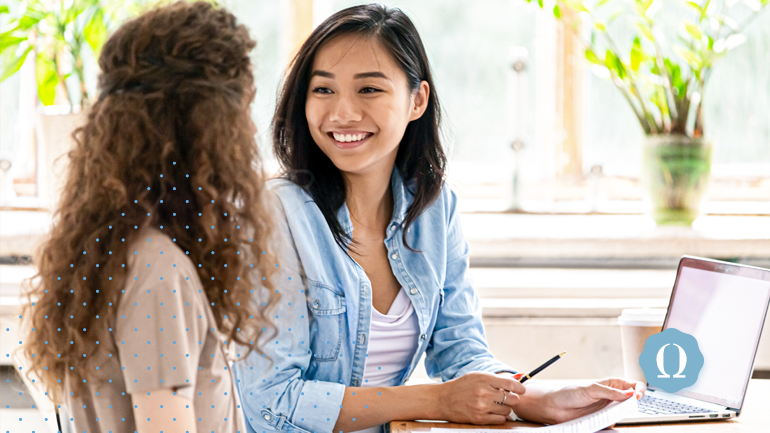 Sorority recruitment can be a major challenge even with a sorority house. Not having one can make your chapter feel at a major disadvantage. After all, isn't part of the appeal of joining a chapter to live in a giant mansion with all your besties?
Some seem to think so.
Though we can't say heated pools, big screen TVs, and modernized study spaces aren't attractive to students and parents, today's sorority recruitment and membership simply isn't about all of that. And you wouldn't want to attract sisters who joined just to live in a big chapter house, anyway.
Sorority recruitment is about shared values, developing leadership skills, and connecting with your community, chapter house or no.
Let's put it this way.
Say you had the biggest, most lavish house on campus. Say you had a Potential New Member who wanted to join your chapter, but instead of talking about how she wants to contribute and grow as a sister and student, about your common goals and interests, she keeps bringing up how big the parties must be in your awesome house.
That's what we call a recruitment red flag.
You don't want someone joining your chapter just for a cool place to live. That type of PNM is not serious about the obligations and challenges of chapter life and not right for your chapter.
That's why not having a sorority house shouldn't change how you interact with potential recruits.
It's also why we here at OmegaFi say, Sorority Recruitment with No House? No Problem.
How to Make the Right Sorority Recruitment Connections

When chatting with PNMs, shared goals and values should always be on the top of your list of talking points.
However, not having a house is going to come up at some point. It's best to lay it out quickly and confidently.
"No, we don't have a house, but it hasn't affected our academic excellence. Did you know we were recognized for having the highest overall chapter GPA on campus last semester? How are classes going for you? Do you have a major in mind yet? What are your goals as a student?"
"Our alumnae are fundraising for construction of a new house to begin in a couple of years. In the meantime, let's talk about how our sorority's national chapters have raised over $1 million for lung cancer research. Have you done any volunteering? Would you say service will be an important part of your sorority experience?"

"Sorority houses offer a lot of amenities we know students are looking for in a Greek life experience. However, we've managed to become as tight-knit and successful as any other chapter. We go on plenty of retreats and fun trips, throw great socials and formals, and are as close as blood-related siblings. We're just as tight with our alumnae, which is great for professional networking. Did you know our sisters have gone on to become successful astronauts, politicians, movie stars, and CEOs of Fortune 500 companies?"
For some PNMs, a sorority house may still be a dealbreaker.
But emphasizing the chapter's strengths and shared values will help bring in the right sisters to help your chapter grow and flourish in the long run.
Campus Spaces for Sororities without Houses

It's good to establish campus spaces as communal gathering places both in your everyday chapter life and specifically for managing recruitment events.
Some of these spaces you'll have to formally schedule ahead of time with your university. Some are less formal and can be impromptu meet-up spots.
Here are a few that might work for you:
The Student Union for recruitment events. This works especially because it's a central location that all students are familiar with and in which they often hang out. They already have parking passes, and there are spaces that can hold large groups. Booking a space at the student union may be preferable to sending potential recruits to a sister's apartment that's a half-hour away from campus and hard to find, with limited parking.
The campus gym, smoothie bar, tennis courts, swimming pools, etc. for working out, eating healthy, and holding fun events, like a synchronized swimming contest to raise money for a local charity, for example.
The library and local coffee joint for study hours. Letting sisters choose from a few locations to complete their study hours means they can go where they're most comfortable and meet up with specific sisters for peer tutoring, a group study session for a shared course, etc.
These are just a few suggestions, but the sky's the limit!
Home Is Wherever You Are with Sorority Recruitment Software
For those without a sorority house as a central space for everyone to meet up, sorority software can play a major role in both recruitment and communication.
Here's how OmegaFi's premium chapter software solutions can help.
OmegaRecruit – The Only Recruitment Software You'll Ever Need
Centralized PNM database
Mobile-friendly, electronic rounds of PNM voting
Slideshow function that makes voting straightforward and easy
Accessible recruitment data, such as trends, comparisons, and measurements of the chapter's votes, PNMs, and voting members
Integration with ICS campus recruitment software, so you can send your bids electronically
Learn More about OmegaRecruit Here
OmegaOne – The Future of Sorority Communication
Centralized hub for sisters to communicate electronically via their mobile devices
Officer-friendly top-down style of communication, where chapter managers drive the conversation
Customizable groups for messages, alerts, shared files, event invites, and more
Event management calendar, geo-location check-in, and attendance points system
Study hours attendance tracking and emergency alert system for sister safety during a campus crisis
Learn More about OmegaOne Here
OmegaFi offers software solutions for Greek chapters for recruitment, budgeting, communication, and more. Learn more about our services or call direct at 800.276.6342.
What are your thoughts on how to pull off a great sorority recruitment without a chapter house? Let us know in the comments below!