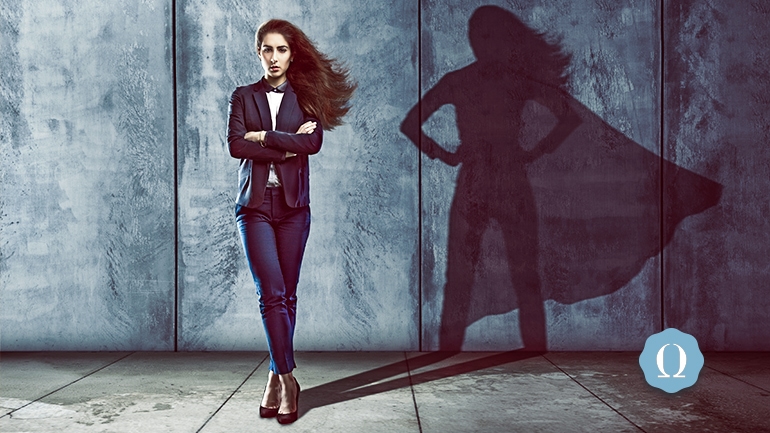 Sorority recruitment is how sisters communicate their true strength.
In today's fast-paced world, sorority women must work harder than ever, developing leadership, personal, and professional skills that they'll use once they graduate.
Working hard is nothing new to sisters.
Sororities have been breaking molds and cutting their own path for generations.
In fact, the whole concept of women's Greek organizations started in defiance of a traditionally male-dominated fraternal world.
Some women will join African-American, Latin, or other cultural sororities—with a long history of having battled both as women and people of color for their place on college campuses.
Most sororities have also evolved and modernized their standards to strive for more inclusiveness and diversity.
Sorority life is forged in fire, and sorority success relies on tapping into that inner heat.
One thing sorority women have learned from their history is how to work together, and together, how find their individual voices.
It's these voices that inspire potential new members who want to make a name for themselves and take part in building that community.
OmegaFi works with inspiring sorority chapters like yours every day. Many sisters will go on to become the next great athlete, politician, actress, artist, or businesswoman. You can find any chapter's alumni ranks rife with these success stories.
Greek women can reach great heights when they put their minds to it and use their voices.
Let's talk more about the Powerful Sorority Women Who Rule the World.
The Voice of Sorority Recruitment
Recruitment requires your sorority chapter to use its voice.
Having a strong, clear voice leads to strong, clear communication—the cornerstone of all relationships.
You can build a stronger chapter with new members that will strengthen and revitalize your sorority family when you focus on communication and relationship building.

Connect with the right potential new members by:
Having a values-based recruitment process
Minimizing distractions at recruitment events like loud music, costumes, and decorations
Eliminating avoidable risks such as alcohol at official events
Enforcing anti-hazing standards
Maximizing one-on-one conversations with PNMs
To reach these goals, you need preparation and coordination among sisters.
During the early planning stages of recruitment, have these discussions about sisters' conduct and what's expected of whom for each event and stage of the bidding process.
Get alumnae advisors in on the conversation for feedback on PNMs. After all, they're a part of your sorority community, too.
To amplify and streamline the conversation, use recruitment software like OmegaRecruit, so you can quickly share information about and vote on PNM bids.
Recruitment is how you make your voice heard.
But you also want to make sure you're telling the right story.
Tell Your Sorority's Story
Sisters must understand the bigger picture of their sorority to be able to share that story with PNMs.
That means going beyond the factoids you memorized about your founders as a freshman.
You must embody your sorority's values every day. You never know what future sisters might be watching when you wear your letters. What do you want your letters to mean when people see them?
What story will you tell?
Your sorority has a national vision that began with your founding sisters and continues to this day. Discuss how to portray this during recruitment.
What values and objectives do you share with your chapters across the country?
This may take some investigation. Your recruitment chair can:
Visit your national sorority's website. Use info on mission statements, national philanthropy project and national foundation pages, news and events, and other initiatives and resources to help you understand your sorority's current story as well as its history.
Discuss questions with nationals. Beyond what's laid out in the rule book, how do they envision recruitment for their chapters? What story do they want to tell? What's relevant about your sorority, now, nationally? Send a quick email, or make a phone call and take notes.
Digging into the national story can help you show PNMs the bigger-picture value of membership.
Tell Your Chapter's Story
There are qualities that are unique to you and your group of sisters. Making these qualities known is essential to attracting the right PNMs.
What are the biggest chapter projects you've completed—or that you're working on now?
What are sisters proudest of?
What kind of name have you made for yourself on campus? Is it accurate, or should you set the record straight?
Show PNMs the value of joining not just your sorority, but this chapter, with these sisters. Focus your conversations on both the fun, bonding experiences they'll have as well as the hard work toward shared goals.
Figure out if they're going to add to that value or detract from it.
Tell Your Story
Your story is one of the most important parts of your chapter's recruitment.
You're not just a sorority, or a chapter, you're individuals with your own strengths and weaknesses. You're all stressed with school work and trying to find your way. And you each go about that differently.
Each personality in a sorority adds value to the whole, and that includes yours.
PNMs need to feel like what makes them unique will factor in to their sorority experience. They don't want to become just another number, a robot in a jersey.
Sorority life is about finding out who a sister is and bringing out her best self.
So get personal. Tell them about your college experience, how you came to join your chapter, and what makes you, you.
Ask them questions that get them to open up, too.
You'll meet a lot of new people during recruitment. We get it. You can't have a deep discussion with everyone.
However, you can get a real, lasting impression by moving beyond stock questions and sharing at least one unique thing about both you and the PNM.
After all, if they receive a bid, you're going to be sisters for life. You'll share many more memories and bond deeply.
That bond? That's what makes sorority women powerful.
How does your chapter use its voice to recruit? Let us know in the comments below!
OmegaFi offers software solutions to sorority recruitment, budgeting, and other chapter needs. Get in touch to learn more.