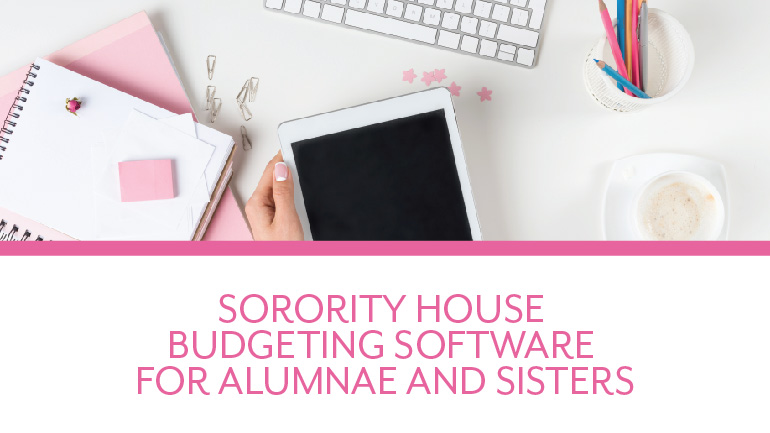 Alumnae and sisters are in different stages of their lives, and they may not view the needs of the chapter in the same way.
While sisters may be more wrapped up in the fun of social activities, alumnae have grown wiser over the years and might see the chapter more like a business with strict managerial needs.
Alumnae recognize the chapter as part of the larger sorority organization. If the chapter fails, it sends ripples that affect the reputation and wellbeing of the sorority.
That's one reason alumnae volunteer to help with the housing corporation—because although sisters and alumnae view the world a little differently, one thing you share is the need for a healthy budget.
That's right. The dreaded "b" word.
Legend has it that if you say it three times in the mirror at midnight, the ghost of treasurers past will appear and moan about deficits.
Spooky, right?
It's even more spine-tingling when your sorority chapter budgets their way into a real-life hole, or worse, you bungle chapter house finances.
Speaking of ghosts, it's that time of year again when we start liberally quoting Dickens. And, as the ghost of Jacob Marley says in A Christmas Carol, "No space of regret can make amends for one life's opportunity misused."
Your housing corporation manages its butt off between sisters' leases and other housing contracts, utilities, taxes and insurance, maintenance and repairs, and building a profit for reserve funds. This doesn't even include the intense work you do during a major capital fundraising campaign for house renovations and improvements.
In other words, there are a lot of opportunities to be missed.
That's why when it comes to financial management for your chapter, sorority house budgeting software can keep you on track.
OmegaFi knows the value of a well-balanced budget. So let's dive between the lines and explore the value of Sorority House Budgeting Software for Alumnae and Sisters.
Getting Alumnae and Sisters on the Same Budgeting Page

You need to build a strong chapter-alumnae communication and engagement program for all mutual goals and initiatives.
Yet for obvious reasons, budgeting tops the list of your shared interests.
Some housing corporations keep their finances separate and hidden from their chapters. Not only does this create a communication disconnect, it also makes budgeting more burdensome and can lead to misunderstandings and mistakes.
Sorority house budgeting software helps chapters and alumnae centralize and streamline how they manage their coffers. That can offer a huge advantage in getting your housing corporation and sisters on the same page.
Consider OmegaFi's Vault Pro. Our platform illustrates how software can centralize your chapter's budget and housing finances in the same hub.
Aside from being able to share budget specifics and financial reporting, you can also manage banking, bill payment and account reconciliation, 1099 tax documents, and online leasing contracts for sisters. On top of that, there are financial experts available to assist with both general budgeting questions and those specific to your housing corporation's needs.
Healthy house finances require you and your sisters to be on the same page on all these crucial management tasks. Good sorority house budgeting software can help.
You're Running a Sorority Capital Campaign. Can Budgeting Software Help?

Of course, there is software out there to help track and manage donor gifts for a major capital fundraising campaign.
However, this is not the same as house budget management software, which is not tailored toward fundraising needs and tasks.
Sorority capital campaigns for housing needs require a lot of resources and volunteer hours from alumnae and their chapter, and there are many moving parts when soliciting and managing major gifts over a long period of time.
Software can help with campaign management, but it's more of a Band-Aid than a panacea. Really, the diligent research, planning and execution by the alumnae housing corporation and chapter are what counts.
And if you want to bolster your campaign management holistically, it may be more useful to consult with sorority fundraising experts.
Otherwise, sorority house budgeting software can help manage your current finances and free up vital resources for you to commit to fundraising efforts.
It also facilitates making housing cost adjustments in the budget and leasing terms once you complete a housing project.
Alumnae communication software may also be useful, since keeping and maintaining active engagement with the chapter about fundraising needs and progress is crucial.
Beyond Software: Opening a Window to Chat

A lot of the language we use for software alludes to actions that are inherently human.
Take opening a new chat window, for instance. Think about what it literally means to open your kitchen window, stick your head out and greet a neighbor.
This should give us a hint about how to best use our software—not to replace the sense of community and teamwork that make us most human, but to augment those aspects of our lives.
This is especially true of sororities, which thrive on building social bonds.
While software can make managing a sorority house budget much easier, help you make fewer mistakes, and keep everyone on the same page, it can never replace real engagement between the alumnae and sisters.
There's plenty you can do to stay in sync with your chapter:
Visit the chapter house periodically.
Forge a relationship with the house mom or manager, as well as with other executive officers.
Keep an open line of communication about housing needs that might arise.
Offer a presentation to sisters each semester about their chapter house responsibilities and the housing committee's role in management and budgeting.
Software is most effective when used to strengthen existing bonds and enhance your combined efforts to manage sorority house finances. Whether you're managing sisters' housing fees or planning a major capital fundraising campaign, software comes down to helping you do what you do better.
What questions do you have about budgeting for sorority housing? Let us know in the comments below!