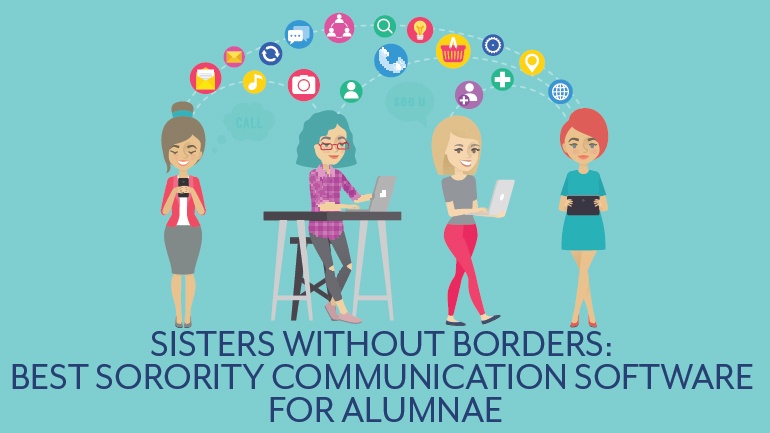 You send a newsletter every so often. You ask for donations from alumnae, but you never get quite the enthusiastic response you expect. What is it that's lacking in the relationship between sisters and the alumnae?
Likely the answer lies in a lack of good communication. Sure, you can invite the older generations of your sisterhood to picnics and retreats, bring them to chapter meetings and confide in them with recruiting and other chapter decisions. Your hearts are in the right place, which is an important first step. Yet, how does that work when many alumnae have either moved out of the area or don't have time to meet up constantly in person?
The answer is pretty simple and straightforward, luckily. You can easily keep in touch and keep alumnae in the loop from anywhere using sorority communication software.
Using sorority communication software makes your relationship with alumnae, even at a distance, much more meaningful than simply asking for donations and sending a newsletter. Yes, the newsletter is incredibly well-crafted, and kudos to you for that. But a newsletter alone is kind of like sending your bestie an email every once in a while. Without the texting and hanging out, sharing photos and a meal once in a while, it doesn't exactly feel like you're showing the love, does it? That's why OmegaFi wants to transform the women in your chapter, new and old, into Sisters without Borders with the help of the Best Sorority Communication Software for Alumnae.
You must begin by asking yourself . . .
For Business or Pleasure?

Not all kinds of communication with alumnae are created equal. To find the perfect software for your sorority and alumnae to communicate, you must begin by asking yourself what exactly you want to accomplish. No matter what your goals are, you'll not only want to strike the right tone, but you'll want to use different software depending on the subject and purpose of your communication. Some interactions you're going to have with alumnae may be strictly chapter business, such as budgeting, housing costs, donations, recruiting and so forth. Other times you may just want to share some selfies you snapped during your summer vacation to Maui with an alumna in your family tree. Rebecca loves the beach! She's a certified diver, but she's been working hard all year and is so envious of your time on the island. You share how you found discounted ticket prices and offer to go with her next time, so she should save up some vacation days. A few simple pictures and texts and you've given Rebecca something to look forward to.
But how do you choose what software will work best for your sorority to communicate in each given situation? Luckily for you, you're not short on choices.
A good place to start overall with sorority communication is OmegaOne. This will give you a jumping off point, if you will, to a variety of group and individual communication options and syncs with a number of other types of software that you can use directly on your smart phone.
When it comes specifically to chapter business, you might want to consider software such as Slack or Trello to work through any collaborative projects that might require alumnae input, with file sharing, video chat, and other customizable ways to organize project communication. When it comes to recruiting, you'll want to use communication software such as OmegaRecruit, which can integrate with OmegaOne, to keep alumnae involved with the bidding process and beyond. And of course you can handle budgetary concerns and donations via Vault.
If you're looking simply to communicate with alumnae for fun--and we recommend you do--check out a less business-oriented piece of sorority software such as GroupMe. GroupMe is a fast and easy way to access large groups of people or individuals, and feels similar to your typical social media, only much more focused than Facebook, for example, for quick, customizable communication. You can share photos, videos, locations, share with a group or just a single sister or alumna. You can talk about whatever whenever and to whomever right from your phone.
But if you want alumnae to donate and assist with the chapter financially, you'll have to appeal to the close relationships you've been working so hard to maintain.
Give Them a Reason to Give
Beyond sharing pictures and occasionally including alumnae in chapter activities, garnering alumnae donations means running an effective fundraising campaign, which means having a healthy relationship with your alumnae overall. While the software listed above can go a long way in establishing a baseline relationship, maintaining alumnae relations goes well beyond this.
The fundraising services of Pennington & Company allow you to leverage their team of expert advisors to get your large-scale campaigns off the ground. Pennington's expertise spans the spectrum of fundraising activities, including conducting feasibility studies, campaign management, web development and--crucially--alumnae relations.
Alumnae relationships are built through certain indispensable steps such as producing an attractive and engaging, professionally produced alumnae-centric newsletter. Pennington can help with direct-mail solicitations as well as a web presence that bolsters your fundraising efforts and maintains an active and comprehensive database of alumnae. One of the most important aspects of alumnae relations is making sure alumnae are recognized for any financial contributions they make on the chapter's behalf.
As you can see, alumnae relations can be a complex process, especially when communicating at a distance. It's part social and part business, part videos of a funny-looking monkey you saw at the zoo and part campaigning to fund a new chapter house. Whatever you're communicating about, it should all be genuine, and there's plenty of sorority communication software out there to help you achieve the right balance.
Now that we've talked about what we think is the Best Sorority Communication Software for Alumnae, we'd like to hear from you. How has software helped to keep you in touch with alumnae and sisters alike? How've you managed to keep an open line of communication about recruiting, fundraising and other chapter happenings? Let us know in the comments below.