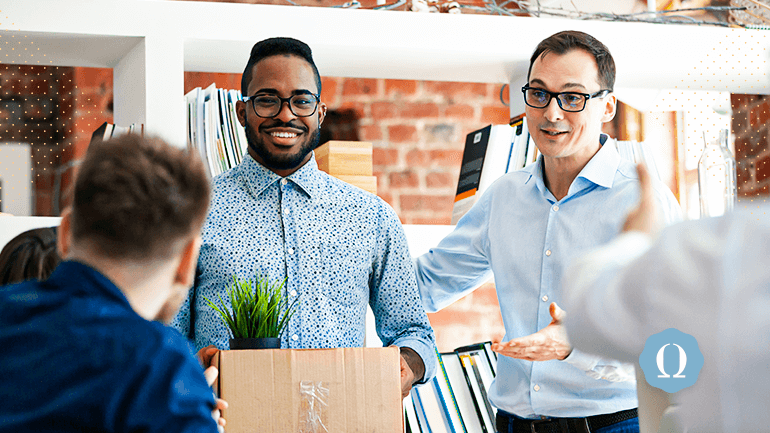 You've moved all your boxes of instant noodles and ironic t-shirts into your side of the dorm room. Now you're looking into IFC recruitment. Why? Because you are officially a college freshman.
You've taken the first step toward a better future.
*Break for applause.*
That's right. You've taken control of your own life, and while it's probably a bit terrifying, it's also exhilarating. Stepping bravely into this great unknown is worthy of praise.
Plus, you're an honest-to-goodness adult. That means you have freedom—the freedom to go to bed when you want, eat cookies before dinner, and, as so many have before you, hang a John Belushi poster on your wall. Go ahead. You've earned it.
Now you've decided to join an IFC chapter. You're doing this because you want to become a leader, a builder, a better man. You also want to enjoy the company of good friends and make some memories along the way.
Yet IFC fraternities' lifeblood is their values, and the way they show those values is by recruiting brothers who will embody them.
So let's take a closer look at what it's like going through the IFC recruitment process, step by step.
OmegaFi can help you make your best impression. Here's IFC Recruitment for Men New to College.
What Makes IFC Recruitment Different?
On most campuses there are a few different governing bodies for different fraternities, with different rules and ways of doing things.
A few of the prominent ones include:
Certain honors and professional fraternity councils

Alongside the IFC, the NPHC is one of several Greek councils that oversees fraternity chapters.
That can be a lot to digest. It's worth learning about each of the different fraternity councils on your campus. But let's say you've already decided to join a general social IFC fraternity.
The first thing to know about IFC fraternities is that they're values-based social organizations.
If you're wondering what that means, it's exactly what it sounds like. Each chapter and the IFC in general has certain values, such as honor and integrity, and uphold practices that ensure student safety and wellbeing.
IFC fraternities believe school comes first. You usually must hold a certain GPA and be enrolled in a certain amount of credit hours to even sign up for recruitment.
Usually IFC recruitment occurs over the course of one week of events, followed by a designated period of bidding, during the fall or spring semester. You must register before the deadline. You can find out more about specific sign-up dates through your Greek Life office, or by visiting their website.
So . . . How Do You Actually Register for IFC Recruitment?

Every campus has its own process you can find out about by talking to Greek Life or IFC officials, but you'll likely have to register with your IFC to participate in recruitment week events and to seek a bid.
You may be able to register electronically, as many campuses use recruitment software like ICS. As someone seeking a bid, all you really need to know is that it makes life easier for everyone involved.
Have the following information ready for recruitment registration:
name
date of birth
university ID number
phone number
email
campus address
permanent address
high school GPA
current college GPA
college classification
how many credit hours you've completed
and/or how many credit hours you're currently enrolled in
You'll have to agree to a list of IFC rules, and may have to agree to attend a seminar about becoming a Greek member.
Once you've registered, congratulations! You've taken your first step to becoming a fraternity brother.
What to Do During IFC Recruitment

First, take a deep breath. It's going to be okay. If you've made it this far, hopefully you're already familiar with the IFC rules and expectations. But just in case you're not 100 percent sure what to do, we'll help walk you through it and give you the cure to your pre-recruitment jitters.
Once you're signed up, you'll want to visit with as many chapters as possible. If you're a "legacy," meaning a family member was a member of a certain chapter, or if you're simply interested in certain chapters, be sure and check those out.
However, it's important to meet with a wide range of chapters. We recommend going for variety.
Some chapters are big and have massive chapter houses. Yet small chapters have value as well, and you might find that a close-knit group of brothers working toward building their chapter appeals to you.
When you attend events, keep in mind that the point is to have conversations with brothers, to determine if your values are a match. That's why IFC events are dry (no alcohol), there will be no sorority women at the events, and hazing and other dangerous behavior is prohibited.
You should feel perfectly comfortable being yourself—well, as comfortable as you can feel meeting hundreds of people in a single week.
Wear semi-casual attire as some events might be outdoors, but make an effort with your appearance to show you care. Khaki shorts and a polo, for instance, are acceptable.
Chatting about the football team's 5-star safety is great, but make sure to always steer the conversation back toward the fraternity's interests and values as well as your own.
Remember, you're seeking a bid, but you're also interviewing chapters to see who's a match for you.
After the recruitment period, there will be a period of no contact. Brothers will vote and decide whether to extend you a bid. They're not allowed to promise you a bid during recruitment events, so if they do this, know that they're breaking IFC rules and that you should inform the IFC.
Once you're told who's offering you a bid, it's up to you to decide which chapter is the right match.
Whose brothers were most memorable? Who most matched your personality, goals, and values? Do you prefer a big or small chapter?
If the chapters you prefer don't extend a bid, don't worry. You can always go out for recruitment again next year!
If you do get that magical golden ticket, then congrats. You're a bone fide fraternity brother. And your journey is just beginning.
OmegaFi offers software solutions for fraternity chapters for recruitment, budgeting, communication, and more. Learn more about our services or call direct at 800.276.6342.
What questions or comments do you have about IFC recruitment? Let us know in the comments below!