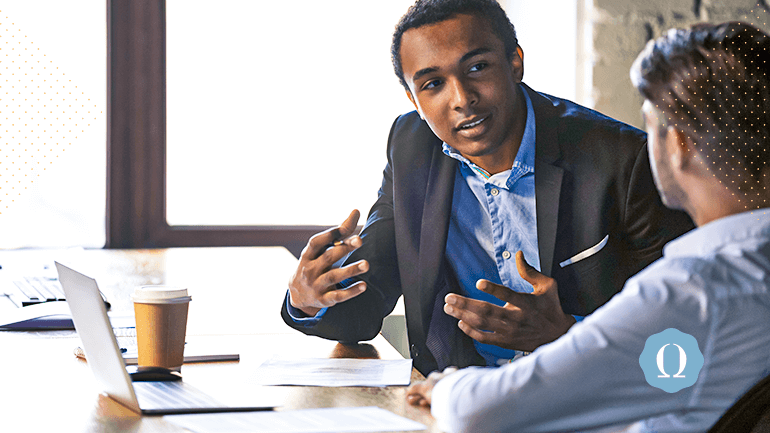 It's fraternity recruitment time.
Let us rephrase. It's always fraternity recruitment time.
Even if it's not recruitment week, you're always planning, preparing, rehearsing, networking, budgeting, and building a successful recruitment program for your chapter.
It's no easy feat. But you know what makes it easier?
*dramatic drum roll*
Fraternity recruitment software.
Having the right software to organize and streamline your recruitment process can make a major impact on your chapter's success.
And sure, it helps take some of the burden off you and your brothers. It can help Greek life officials manage campus recruitment and bid list submissions.
But what about Potential New Members (or PNMs)? How does it affect them?
The men you're recruiting rely as much as you do on chapter events, voting, and bidding running smoothly and efficiently.
Recruitment software benefits PNMs at every step along the way of the process, from registering, to attending events, to eventually seeking and receiving a bid.
OmegaFi wants to dive deeper into this topic and give you an in-depth look at What Fraternity Recruitment Software Means for PNMs.
The Best, Most Awesome, #1 Fraternity Recruitment Software Tools on the Market

Before we begin, here's a brief rundown of our recommended premium fraternity recruitment software tools.
ICS software runs the recruitment show on your campus. It's designed to allow Greek officers to manage fraternity recruitment from one central hub, including PNM registration and the selection/bidding process.
OmegaRecruit is the perfect chapter recruitment tool. It's designed for your chapter to be able to store PNM data, complete rounds of voting, and compile and submit bid lists, all from your mobile devices.
Chapter communication and planning comes together with OmegaOne software. OmegaOne's the perfect tool for communicating and coordinating recruitment events. It also integrates with OmegaRecruit software.
ICS Software: The Who's Who of PNMs Registering for Recruitment
Let's take a closer look at how ICS software helps PNMs register for recruitment.
ICS is a trusted software tool on many college campuses for fraternity recruitment management, because it offers the Greek community an easy way to register and manage PNM data, and to easily exchange information and payments with chapters and Greek councils.
Here's how ICS software benefits PNMs:
Registration—PNMs register in a central database, where their information is securely stored, and important information like GPA and contact info are easily accessible by Greek officials. PNMs can also easily and securely update member data online.
Guidelines—Greek councils can share specific recruitment guidelines regarding alcohol, student safety and conduct, event schedules, deadlines for bid selections, and more. This keeps everyone on the same page and things running smoothly.
Selection—The selection process is easier than ever using ICS software, so that PNMs can have real-time information on the bidding process and help match them with the right chapter.
ICS recruitment software helps Greek councils manage recruitment for their chapters; helps chapters run an efficient recruitment, voting, and bidding process; and helps PNMs stay connected and informed throughout it all.
OmegaRecruit: The Well-Oiled Software Machine of Chapter Recruitment

The adage goes . . .
Well, there isn't really an adage yet about OmegaRecruit, but we're confident there will be one day.
Why? Because we're making recruitment history with fraternity chapters across the country. OmegaRecruit software makes your life easier as a brother, allowing you to store and access PNM information, vote from your mobile device, and complete and submit your bid list.
But what does that mean from the perspective of the men to whom you extend bids?
First and foremost, it means your focus is on them. Any time you can take the effort out of a recruitment goal and apply that effort toward your PNMs, it means you're spending more time getting to know them. You're more relaxed and focused with less on your plate to worry about, and you'll have the kinds of conversations that let you know if you're a good fit.
PNMs also know you'll give them a fair shake. When you use software, it gives your PNMs confidence that your chapter really values them each individually and is giving consistently equal consideration to everyone who walks through your doors during these events.
No one falls through the cracks. You know who they are, what your shared values are, and can strategize on how to proceed with each so you don't waste your time—or theirs.
Software means you don't keep them waiting. Their time is valuable, and so is yours. Remember how we mentioned ICS software above? OmegaRecruit software is fully integrated with ICS, which means you can submit your bids electronically, saving you time and effort.
It means Greek officials can process this information more quickly and more accurately, and they can track a PNM from registration to their official membership offer with your chapter.
That means PNMs know where they are in the recruitment process—without having to wait for the paperwork to come in.
OmegaOne Communication Software: When He Becomes Your Brother
OmegaOne, OmegaFi's premium all-in-one fraternity communication software, brings recruitment and brotherhood together.
Before and during recruitment, OmegaOne allows officers and brothers to communicate via email, text messaging, and other kinds of alerts, shared files, as well as a shared chapter events calendar with geo-location-based check-in options.
This helps your chapter stay connected when planning and executing recruitment events. It also integrates with OmegaRecruit, meaning you can transfer your PNM bids to your OmegaOne database as new members.
Suddenly, those who were once on the outside looking in are a part of your digital network.
This helps smooth the transition by giving new members customizable access to things like:
pledge manuals and chapter handbooks
details and reminders for new member events
a real-time stream of important chapter alerts
access to brothers' bio and contact data
Throughout the recruitment process and beyond, both brothers and prospective members benefit from the use of fraternity software.
What questions or comments do you have about fraternity recruitment software and how it impacts PNMs? Let us know in the comments below!