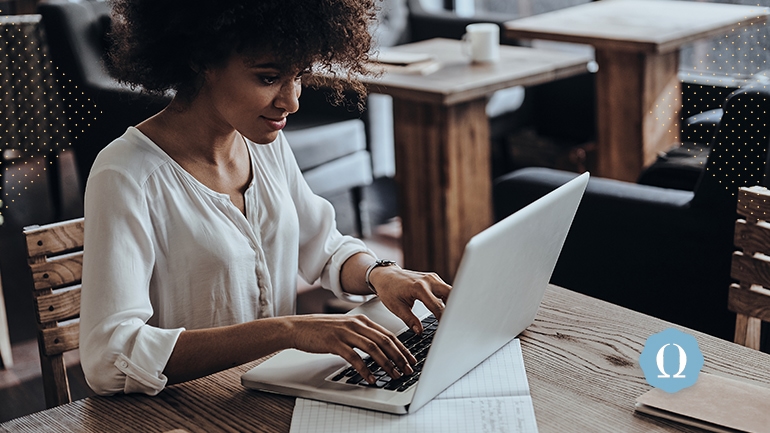 When you're a small-but-plucky chapter, having the right sorority recruitment tools can make the difference between success and failure.
A larger chapter may more easily survive a less-than-stellar recruitment, whereas your chapter needs every sister you can get.
Each year, recruitment is one of the most important challenges you undertake.
Still, it's important not to lose sight of the fact that, regardless of how many members you have, all chapters share essentially the same recruitment goals and values.
Every chapter strives to:
recruit the best possible sisters with values that match your organization's values,
hold recruitment events that embody those values, and
grow your ranks organically in a way that strengthens your mission.
Ultimately, recruitment's about quality and quantity. Of course, a small chapter ultimately must grow. Just keep in mind that bringing in five sisters dedicated to school, chapter values, and becoming young leaders is far better than recruiting twenty party-animal new members with low grades.
Why? Because those twenty recruits who aren't cut out for chapter life will end up being a weight around your shoulders. When all is said and done, they'll sink you.
Over time, sororities whose members don't hold the right values turn into sororities without values. On the contrary, members who embody your chapter's values apply those values to themselves, their sisters, and their community.
The good news is that, as a small chapter, you get to build your future from the ground up.
It's a fresh slate. By focusing on the right objectives and employing the best recruitment tools, the smallest chapter has just as much chance of success as the biggest.
OmegaFi wants to see your sisterhood blossom with these Sorority Recruitment Tools for Small Chapters.
You Joined This Chapter to Build Something. Recruit Fellow Builders

Think about what drew you to this chapter over one of the bigger chapters on campus. Maybe you went to their events and felt lost in the crowd. Maybe you felt overwhelmed by the pressure of it all.
Or, maybe, you saw that those chapters already had strong foundations and no shortage of freshmen women competing for a bid. While you didn't think there was anything wrong with joining a large chapter, you wanted something different. You wanted to become a builder. You wanted to help establish what's what and who's who. You wanted to take on a leadership role from day one. You wanted a challenge. And you wanted to tackle that challenge with a tight-knit team of dedicated sisters.
Those qualities in yourself? That's exactly what to look for in Potential New Members. But how do you attract those kinds of members? It's not always easy to pick them out of a crowd. But there are some tools you can use to attract them to your chapter.
Show Them Who You Are
When it comes to small chapters, one of your greatest tools is you. That means it's really up to you to be a leader and model what your chapter's all about. There are no background roles, no one to pick up the slack.
Be candid with PNMs about the level of work it takes. Your numbers mean you're a close bunch, but it also means that everyone in the chapter takes on a leadership role.
You're working within a budget, among other constraints, and it can sometimes feel like an uphill battle. On the other hand, you experience every chapter victory as a personal accomplishment. When your chapter grows, you and the women you recruit today will immortally be a part of its foundation.
Show Them Who You'll Become
Often there are certain deal breakers for some PNMs. As a small chapter, you may not have a chapter house yet. You may not have as big of a network of alumnae. Your events might not have the powerful budget behind it that big chapters have.
None of those things takes away from your chapter's value. It just means you have to help PNMs envision what it is they're working toward when they join your ranks.
Be prepared to share what your goals are—a chapter house on or off campus, an increase in active sisters, budgeting for certain goals or events, a bigger presence on campus and in the community, etc.
Then explain how it is you hope to reach those goals. What's your timeline? What about this particular group of sisters makes those goals possible? Be confident in your plan. Help the women who seek a bid from your chapter be confident in their recruitment decision, too.
Sorority Software Tools to Help You Along the Way

Having a plan and confidently leading your sisters toward greatness can be great recruitment tools, and just good ideas in general. However, every chapter benefits from the help of software to achieve good recruitment, budget management, communication, and more. Here's are some software tools OmegaFi offers that can help.
OmegaRecruit
When it comes to recruitment, you want to focus as much as possible on your conversations with PNMs. The easier and quicker other recruitment tasks are, the better. OmegaRecruit offers a comprehensive software solution that lets you store PNM data, hold rounds of voting, and compile and submit your bid list all in one place.
Vault
Your recruitment budget relies on pitch-perfect financial management. Everything must be accounted for. That means having the right tools to keep your coffers in perfect order, so you don't have to worry about coming up short. With Vault, you can manage your budget in one central, online hub, as well as manage online banking and chapter bills, among other features.
OmegaOne
The newly launched OmegaOne fraternity and sorority communication software is the culmination of decades of OmegaFi's dedication to building the perfect digital chapter tool.
OmegaOne offers: multi-channel communication between members and officers; a shared chapter calendar and events management; geo-location based study hour, event, and emergency check-ins; points management; file storage and sharing; paying chapter bills; and more.
It's also integrated with our other software tools mentioned above. If you act now, your chapter can use OmegaOne free for a month.
What questions and comments do you have about sorority recruitment tools for small chapters? Let us know in the comments below.