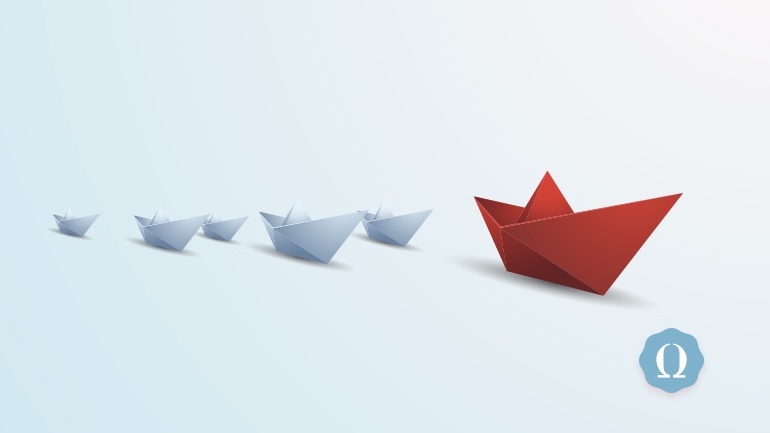 Each fraternity chapter has its own recruitment goals. Helping them reach these goals isn't easy.
But what about setting IFC recruitment goals for the whole campus? That is one monumental challenge.
Many chapter members don't have a bigger-picture view of the Greek recruitment process.
They're too busy planning events and strategies, preparing for the voting and bidding process, and then giving the brothers they bid an awesome new member education experience.
That's where you, the strapping IFC recruitment officer, come in.
You have the unique perspective of being both a brother and something more.
You work to improve Greek life for your chapter mates—but also the larger fraternity community. You're the glue that holds IFC chapters and advisors, administrators, and other officials together.
Your role in the IFC is critical.
When you make recruitment goals, it sets the tone for every IFC chapter. But what do those goals look like? How do you accomplish them?
Even though recruitment only lasts a week, getting it right is a year-round process.
OmegaFi's got your back.
Let's look at How to Set IFC Recruitment Goals—and how to accomplish those goals.
IFC Recruitment Communication
One of your top recruitment goals as an IFC officer is to get every chapter on the same page. You can only achieve this through good communication.
But what does this look like in practice?
One obvious means of communication is through regular, scheduled meetings—just as your chapter's executive board would do.
You have meetings with other IFC officers and advisors, to plan out promotions, events, and strategies. You meet with the recruitment committee to lay out the rules and clarify dates, times, and procedures.
But how do you communicate beyond the basics?
Your IFC can use communication software like OmegaOne to share official messages, calendar dates, files, announcements, poll questions, and more. It won't replace the in-person planning, but it can help augment.
It's also important to balance communication with other Greek organizations like your school's Panhellenic, so you can have a broader idea of campus recruitment.

"Attend leadership conferences and training seminars when you can to learn important strategies for success."
Once you've planned and prepared with your IFC, reach out to chapters. It's good to go beyond the obligatory meetings when possible.
Meetings with chapter recruitment chairs usually take place about twice a semester. It's hard to sit everyone down often, so you want to cover major topics thoroughly during the standard meetings.
Yet you can still reach out more often and keep an open door.
Balance getting to know members of your recruitment committee on a personal and professional level. Pick their brains. Figure out how they view recruitment for their chapters, and meet them halfway.
If their vision gets off track from important IFC principles, help them back on the rails.
If you feel stuck, don't try to solve breakdowns in communication on your own. Turn to advisors, administrators, and fellow IFC officers for help.
What Does "Values-Based Recruitment" Mean? How Do You Make It Happen?
IFC values shift the focus to meaningful conversations with potential new members, and to minimize risky behavior, hazing, and alcohol at recruitment events.
It sounds perfect on paper, but it's not always easy. Things go wrong. Chapters make mistakes.
How do you plan and implement a values-based recruitment every time?
As the recruitment officer, you must incorporate a high standard by using all the IFC officer tools at your disposal. Each officer's role feeds into your own:
Risks and Standards connects you to chapter risk management officers, who in turn play a crucial role during recruitment. Their role prevents potential injury or misconduct. Make this a central part of your recruitment strategy.
Scholarship applies to current brothers, but also potential new members registering to seek bids. IFC chapters must take academic success seriously in order to build the right kind of brotherhood—hard working, studious, and engaged. Remind all chapters of their obligation as student organizations. Be clear about minimum GPA requirements.
Community Relations keeps service at the heart of fraternity life. See what opportunities there are to build community-focused philanthropy events into the recruitment schedule. Guide chapters to seek service-minded members.
Membership Development means fostering new member growth after they accept bids from chapters. You want recruitment to set chapters up with the best brothers possible, and for membership to lead naturally into the new member education process. Coordinate with your membership development officer so you can analyze trends in member retention, grades, and general overall engagement, and use that data to build a better recruitment strategy next semester.
You can also make sure your Greek Life office is using ICS recruitment software, and that chapters have a way to connect with that software to streamline the bidding process and keep everyone on the right track.
Of course, something will always go wrong. It's the nature of dealing with a large group of fraternity men working toward a shared goal.
If a chapter breaks the rules, including your own chapter, you'll have to deal fairly and equally with everyone. When necessary, you'll turn disciplinary matters over to Greek Life or even University Police.
The goal is always to keep negative consequences to a minimum by educating and preparing chapters the best you can, through seminars, presentations, meetings, and--most importantly--connecting directly with brothers.
Set the Gold Standard of Recruiting
Sometimes fraternity life is a little bit of monkey-see, monkey-do.
It's also a bit of see-no-evil, hear-no-evil, speak-no-evil.
You're the gold standard of IFC recruiting on your campus, and you must set the tone for all recruitment chairs, brothers, and potential new members' conduct and actions.
Attend leadership conferences and training seminars when you can to learn important strategies for success.
An important program all IFC officers should attend is the IFC Academy. These conferences take place regionally during the spring, which should put you in the perfect position to come into fall recruitment more focused and ready to succeed.
Regardless, your goal should be to always improve on a personal level, take advice humbly, and deal with chapter members and PNMs fairly and consistently.
OmegaFi offers software solutions for IFC fraternity chapters and Greek officers for recruitment, budgeting, communication, and more. Learn more about our services or call direct at 800.276.6342.
Let us know your questions and concerns about IFC recruitment goals in the comments below.