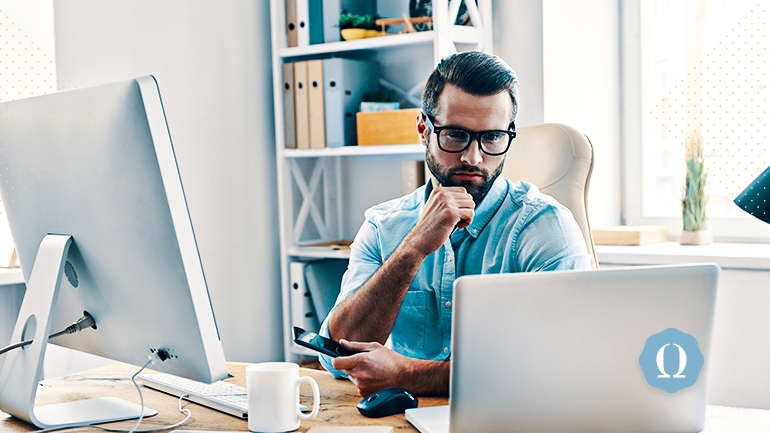 Many fraternity chapters—yours, for instance—have IFC recruitment goals.
When you achieve them, these overarching goals have massive benefits for you and your brothers.
They include things like holding a values-based recruitment period, connecting with potential new members who share your chapter's values and mission, and building a committed group of new brothers who are motivated in and out of the classroom.
These are important benchmarks for brothers to work toward together.
However, when you're a risk management officer, your goals will be a bit more specific.
Many of the benchmarks you're aiming for come straight out of your chapter officer manual. You're dedicated to promoting safe activities and mitigating dangerous ones throughout the recruitment process.
Isn't this what you're doing every day? Sometimes keeping brothers out of trouble can feel like juggling flaming swords and trying to make sure none fall and burn down the chapter house.
However, through risk education and constant vigilance, you've managed to do a fine job. You've got this, right?
Absolutely! However, it's important to keep in mind that much of what you're trying to accomplish must align with IFC recruitment regulations—not just the chapter's rulebook.
This takes a lot of coordination between you, other executive officers and brothers, alumni and fraternity life advisors, IFC recruitment officers, and other university officials.
But what exactly are the right things to focus on, with the hecticness of recruitment fast approaching?
OmegaFi wants to help you manage recruitment risk like a pro. Let's talk about Fraternity Recruitment Goals for the Risk Management Officer.
A New National Perspective on Health and Safety: What It Means for Your Plan

The North American Interfraternity Conference has devised a new set of standards for fraternity health and safety for IFC chapters.
As a risk management officer, you play a crucial role in implementing those standards.
Let's look at a few of these new changes and how they affect your role.
Beginning September 1st, 2019, alcohol above 15% ABV will be banned in chapter facilities and events, except when served by a third-party vendor.
This hard alcohol ban affects 6,100 IFC fraternity chapters on 800 campuses, according to the NIC, and is meant to represent a transformation toward a higher standard of safety, as well as reduce alcohol-related risks and incidents for members and guests.
What it means for you, as a risk management officer, is that you must help brothers adopt a perspective on bonding and brotherhood that don't revolve around alcohol.
It also means that you should have conversations with brothers about the "party animal" stereotype and how to escape them in an honest and reflective way as a group.
Your strategy toward recruitment should actively seek brothers who want membership to build up your chapter, and red flag those who are likely to break the NIC's new safety standards and regulations.
A push for tougher anti-hazing laws from the NIC and parents
By now, IFC chapters know full well about the dangers of hazing, and chances are you're actively working to prevent it with regulations from your university, IFC, national organization, and local authorities.
However, hazing is still a reality chapters must face head-on.
The NIC recognizes the challenges of eliminating hazing on college campuses, and has dedicated itself to fighting hazing in the new member experience.
They've also developed an online app called SocialSafe, which allows you to contract venues, catering, and other companies, as well as manage ticketing and guest lists for events—all while ensuring they'll follow guidelines for risk management by your IFC and national fraternity.
Your anti-hazing plan on a chapter level should incorporate these national initiatives, and you should coordinate them with fraternity officials and advisors, then pass on that information to your fellow executives and brothers.
In the event of an emergency . . .
The NIC has adopted Good Samaritan medical policies for fraternity risk management practices.
Good Samaritan Policy means that in a medical emergency caused by drugs or alcohol, students involved in the emergency are offered amnesty from punishment so they don't hesitate to contact 911.
Coordinate with advisors to educate brothers on the Good Samaritan policies, emphasizing education and prevention of these scenarios in the first place.
All in all, education and enforcement go hand in hand. Help brothers understand and participate in these changes in your risk management plan, so that you can keep the punishments for rule breaking to a minimum.
Talk to your IFC, Fraternity Life Advisors, and alumni advisors about facilitating an NIC IMPACT campus-based leadership institute program at your college.
This will help better prepare you for the risk-management challenges facing your fraternity community, and help you achieve a more values-based recruitment as a result.
OmegaFi's Risk-Free Recruitment Software Tools

When you're trying to mitigate risk during recruitment, you need the right software tools to keep you on track.
OmegaFi's software tools are designed specifically with chapters like yours in mind.
OmegaRecruit lets your chapter store PNM data, as well as complete rounds of voting and submit a bid list electronically, so you can focus on having a safe, successful recruitment, and bring in the right brothers every time.
Vault financial management software lets you build and manage the perfect chapter budget for both recruitment and risk management needs.
OmegaOne fraternity communication software brings it all together. With OmegaOne, you can:
communicate with the right brothers at the right time about your risk management strategy.
Share important files.
make sure everyone's safely where they need to be with a shared events calendar and a geo-location-based check-in option.
quickly update brothers about important alerts with the wall feature.
use the emergency check-in system, if necessary, which creates a push message to members every 2 minutes for 30 minutes for them to mark "safe" or "unsafe," as well as the ability to geo-locate and communicate with members marked "unsafe."
These software tools help you budget, plan, and enact your risk-mitigation plan with confidence and consistency, and to have fast, reliable options in the event of a crisis.
OmegaFi offers software solutions for fraternity chapters for recruitment, budgeting, communication, and more. Learn more about our services or call direct at 800.276.6342.
Leave your questions or comments about our fraternity recruitment risk management goals in the comments below!