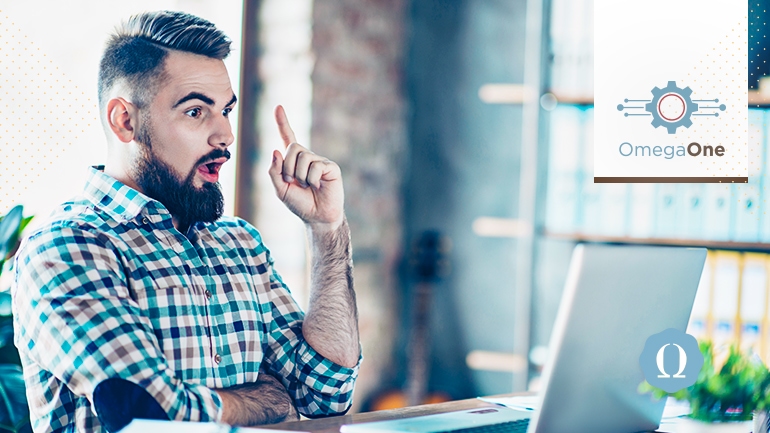 Knowing your fraternity software basics can help your chapter reach its goals and give you a greater chance at success.
But what in the world is fraternity software? How does it help? Why bother with it?
Sometimes we get used to doing things the old-fashioned way. That's especially the case in fraternal organizations, where there's a tried-and-true method that's been used for decades.
Change doesn't come easily. Yet without change, we would never grow, evolve, thrive in our ever-transforming world.
We live in a digital age, and in 2019 that means using software to help manage your chapter.
Click here to learn more about OmegaOne, our new all-in-one fraternity communication software tool coming this fall, designed specifically with your chapter's needs in mind.
Software geared toward fraternity chapter members can be used to:
manage chapter finances
communicate more effectively with members
balance and coordinate a shared schedule of events
optimize academics
foster leadership
and more
Let's say you already know all this. You're either already using fraternity software, or just starting to.
That's great. But how do you use it? How could you use it to optimize your efforts and reach your goals?
Is Using a Different Piece of Software for Every Fraternity Goal a Good Idea?

Short answer: No.
If you use a different program or app for each new chapter task that arises, you may find yourself asking, "Why does my chapter use all these tools?"
Some of the software tools you may be currently using include:
spreadsheets to track attendance points, compile bid lists, and set and manage your budget
cloud storage for important chapter files
messaging apps for general communication
social media apps for chapter promotion and engagement
a program to build and manage chapter contracts
a database management program
a study app for study hours and academics
That's a lot.
It's time-consuming and counterproductive to have to constantly switch between these software interfaces.
For one, each has its own password and username combo. That's on top of all the other logins you must remember for university email, setting your schedule for the semester, posting on class message boards, et cetera.
What about when you need data you've stored in one place to be transferred or integrated somewhere else? Or when you need to share files and communicate to keep pace with brothers' busy schedules?
Fraternity life is all about being interconnected, and so is the software that most benefits brothers.
Hence, the next logical question is: "Where do I start to build the ecosystem I need?"
One of the key determinations you should make when answering this question is who the audience is for this tool.
The problem with many software options is that they aren't designed specifically for fraternity brothers, and therefore don't tackle the unique challenges of brotherhood.
Let's look at the difference when software has brothers in mind and works to strengthen your chapter.
OmegaOne: Fraternity Software That Brings Your Chapter Together

What you really need is software that does it all. Software that thinks like a brother.
That's where OmegaOne comes in.
OmegaOne is OmegaFi's premium, all-in-one management and communication fraternity software.
Sign up here to use OmegaOne free for the month of July.
Here's how this software brings all your needs together with a functionality and flow that will keep your chapter running at peak performance.
First and foremost, fraternity software must connect us.
OmegaOne's major function is communication, because connecting as brothers is the bedrock of fraternity chapter success since time immemorial.
Sure, we used to communicate with carrier pigeons or—brace yourself—landline telephones. But communication has evolved.
OmegaOne represents that evolution by placing communication at the forefront and integrating it throughout all its features. The main interface is a personalized wall for members, where they can receive notifications and updates about practically everything from officers.
Beyond this, officers can send texts and emails to customizable groups, so the right information goes to the right brothers at the right time. No more annoying "reply all" conversations blowing up your phone.
Everything about OmegaOne conveys information quickly and efficiently, making brothers more informed every moment of every day.
We designed OmegaOne with mobility in mind. This software is smart phone friendly, so brothers can access a shared chapter calendar, view announcements, share files, access contact information, and much more, all while on the go.
Convening brothers for meetings all the time takes way too many resources and is a huge burden. Most of the time members are scattered across campus.
Having a central communication hub for the chapter means they can touch base from anywhere.
Members can also check in to events and study hours using a geo-location function, so all you have to do is show up to that location during a set time. You can check out by leaving that location.
During a campus-wide weather event or other dangerous situation, chapter leaders can send out an emergency check-in alert to make sure members are safe.
Fraternity Software for Everything Else
One of the best features any fraternity software can offer is the ability to cover major tasks all in one place.
Communication sits at the core of OmegaOne's functionality, but this is used to achieve other major goals beyond simple messaging and shared scheduling.
OmegaOne covers these common chapter responsibilities:
Members can pay their chapter bills through OmegaOne.
Officers can set and manage the chapter budget with Vault. You can switch between the two programs using OmegaOne's grid function.
Manage attendance points, as well as member appeals.
Manage recruitment, including the voting and bidding process, using OmegaRecruit. Submit your bid list electronically, and transfer PNM info to OmegaOne to add new members to your database.
These are just a few of the main ways OmegaOne covers your fraternity software needs. See for yourself by taking the 30-day OmegaOne challenge.
The main consideration you should always have when investing in digital solutions for your chapter is this: Does it serve your specific needs as a fraternity chapter? Does it have you and your brothers in mind?
We like to believe that OmegaFi has produced software that will do exactly that.
OmegaFi offers software solutions for fraternity chapters for recruitment, budgeting, communication, and more. Learn more about our services or call direct at 800.276.6342.
Leave your questions or comments about our fraternity software in the comments below!