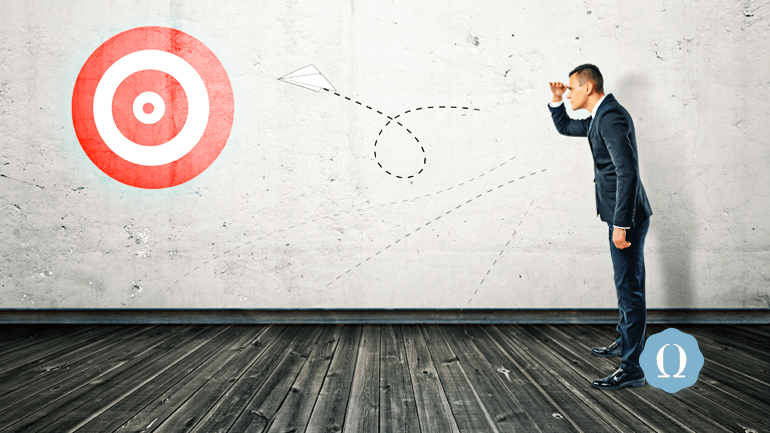 Fraternity recruitment goals sit at the center of your agenda as a new recruitment officer.
But how do you achieve them, exactly? That's the million-dollar question. Okay, maybe not a million dollars, but your chapter's wellbeing does rely on a healthy recruitment.
No pressure, right?
Don't worry too much—it's not all on you. There are many stakeholders in your chapter's success that will help ensure recruitment stays on track.
Getting recruitment right is about every brother playing his part. Yet the recruitment officer plays a vital role in setting and managing goals, helping brothers clarify and meet expectations, and generally ensuring recruitment doesn't go off the rails.
And that's no piece of cake. New officers are still in the learning process. And, if you want to know the truth, you never stop learning. Mistakes happen to veterans and novices alike. Having the right fraternity recruitment goals in place can help set you on the right track in the first place and minimize errors.
Let's take a closer look at some of the most important recruitment benchmarks:
Recruitment Needs a Strong Foundation—Go Back to Basics Often
As a recruitment officer, you'll very likely come up with new ideas, deal with unexpected situations, and help catapult your recruitment experience into the future. Of course, it's crucial for chapters to adapt to new situations in the Greek world.
However, a chapter recruitment process grounded in values and positive traditions will give you an important foundation to build upon.
Here are a few steps you can take to make sure your foundation is a solid one:
Read and understand the rules.
Ask questions of the outgoing officer.
You learn new things every day, not just during your new officer training.
When you're stumped or something isn't working, go back to the rules, values, and traditions that made your chapter great to begin with.
Your Chapter, Greek Community, and University Need to Connect (and You're the Plug)
Possibly one of the most important things you do as a recruitment officer is to act as a conduit between brothers, Potential New Members, your Greek Life office, alumni, etc. The higher ups have expectations of which brothers need to be aware.
Let's take an example of your Greek umbrella organization. This would be your college IFC or other similar group. They help shape recruitment for all their chapters on campus, and they need brothers to be up on rule changes on things like: alcohol at recruitment events, hazing regulations, and other possible established and new rules.
The same is true of your university administration and campus public safety. Your alumni and fraternity HQ may have a certain image they want you to portray during recruitment, certain rules when it comes to hosting events at the chapter house, etc.
Finally, your fellow executive officers and recruitment committee will have worked with you to set a budget and formulate a sound plan. You'll have meetings or communications with these different groups, and it's up to you to communicate all this information to brothers in a way they can understand and act on.
Demand a Lot from Your Chapter. They Can Handle It.
We get that you're the "new guy" in charge of recruitment. You feel like you haven't earned the clout to push back too hard with brothers. And that may make you hesitant to step on any toes.
Being a doormat, or putting together a recruitment that underperforms, is a huge mistake. Not only will brothers not respect your position, they'll see the poor results and potentially be less motivated to try harder next time.
You must set the precedent for what can be achieved. Create a vision—and then make them believe.
Of course, respect brothers' boundaries when it comes to school, other chapter obligations, and getting a good night's rest. But do expect them to show up to recruitment events, to follow recruitment guidelines and represent your letters, to vote for PNMs for the right reasons, and to show young men and your fraternity community why your chapter's values are worthwhile.
Whatever it takes to achieve the next level and land the right new brothers, get everyone on board. They can handle it.
Analyzing Recruitment: How'd You Do? Can You Do Better?

Reality rarely lives up to an ideal. There are some crucial metrics you can look at, however, to measure your recruitment success and plan for future recruiting.
Compare some of the following:
Did you meet, exceed, or fall below your target recruitment numbers?
What is the average GPA (if available) of your bids?
What is the average GPA of your chapter the past few semesters?
How many brothers committed serious rules infractions over the past few semesters?
What about brothers who didn't pay dues, paid late, or were sent to collections?
What are the notable achievements of brothers, academic, philanthropic, and otherwise over the past few semesters?
This information gives both you and future recruitment officers a way to measure expectations of your members and how your recruitment process might be affecting the quality of brother you bring in, for better or worse.
Greek Software: A Tool for Chapter Recruitment?
In a word, yes. Software can help connect you quickly and effectively at different levels of the recruitment process—from planning, to execution, and beyond.
Here are a couplefew of OmegaFi's premium fraternity software tools and how they can help:
Vault is a chapter budgeting tool that can help you and your treasurer plan a budget for recruitment and other chapter needs, collect membership dues, and manage banking transactions all from one central hub.
OmegaOne connects brothers at all levels of the chapter management process. Through a centralized events planning/management and attendance tracking system, getting brothers in the right place at the right time for recruitment events is easy. You can also send alerts, emails, or texts to customized groups of brothers, share files, and more.
OmegaFi offers software solutions for Greek chapters for recruitment, budgeting, communication, and more. Learn more about our services or call direct at 800.276.6342.
What are some of your chapter's top recruitment goals? How do you go about achieving them? Let us know in the comments below!