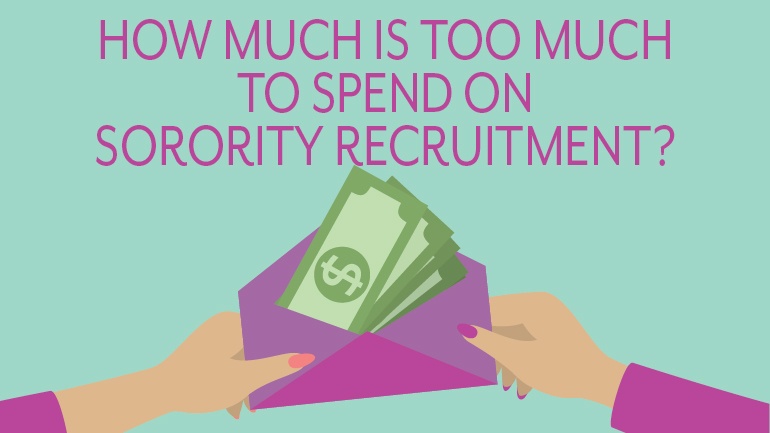 It's obvious to any sister with a head on her shoulders that sorority recruitment is at the epicenter of whether a chapter succeeds or fails. After all, any great empire without its people will turn to ruins worn by desert sands.
In the case of sororities, a pattern of poor recruitment will turn your chapter into an expired chapter webpage and an empty, boarded up chapter house.
This is notably less dramatic than the image of ancient pyramids and crumbling statues. Yet watching your sorority chapter fall apart before your eyes, losing all the history sisters have built over the years, still sucks. It sucks a lot.
To keep your chapter from going the way of King Tut, you need to give sorority recruitment the attention it deserves. That means devoting a lot of crucial resources and funding to recruitment, which, in turn, means careful budgeting and sorority financial management. Your sorority treasurer will likely have past semesters' budgets to give her a roadmap for the future, but recruitment can be tricky in that it may vary from semester to semester based on how well or how poorly rush week has gone in the past.
Your recruitment chair might be one to go by the books and follow those who came before, or (as drastic times call for drastic measures) she might have some new, big ideas. Big ideas are great! They bring a fresh approach and have the potential to succeed where ideas in the past have failed. The only catch is that big ideas can cost your chapter big money. So when you're setting this semester's budget and double-checking your numbers, OmegaFi wants to make sure you keep in mind How Much Is Too Much to Spend on Sorority Recruitment.
Well, Um, It Depends

It's not the most articulate response, but sorority recruitment budgeting really depends on a lot of factors, including how much you expect to pull in with membership dues for your current chapter budget, how much is typically spent on recruiting and what kind of return you expect from your investment.
Initiating a bunch of new sisters during a successful recruitment equates to more dues, and in turn a bigger budget, for next semester. But you still have to deal with the current budget, and that can be a pretty big headache when you're trying to expand and intensify recruitment efforts. Do you have savings? Are there other areas of the budget you can let suffer a bit for now and focus more on them in later semesters? Could alumnae fundraising help net you a more robust recruitment class?
The answers to these question vary greatly from sorority to sorority. Some chapters spend $1,000 on recruitment, some $100, and some $100,000. Professionally produced sorority recruitment videos can cost a chapter anywhere from $200,000-$400,000. That's obviously a lot of money, and too much for many sisters to seriously consider. Yet they're more popular than you might think.
The rules on some campuses and with some sororities will limit how much a chapter can spend on recruitment, so it's important to always follow those guidelines, and if you can get away with spending less and still produce a quality rush, there's no reason to blow the extra cash.
Ultimately it's about what you can comfortably spend without making other parts of your chapter suffer so much that you're unattractive to potential new members anyway (not to mention your current sisters). You might want to gamble a little on a big idea, but look at the recruiting landscape on your campus and your chapter's trends in recruitment realistically. Don't gamble on bringing in twice as much in dues next semester to recoup the money you spent.
If you're truly worried about spending too much, talk to your sorority advisors, and use professional sorority budgeting software to nail down the costs.
What You Spend on Sorority Recruitment Doesn't Matter As Much As You Think

Recruitment is always going to carry a cost for things like food, decorations, clothes, regalia, entertainment and fun. And of course sorority chapters are going to get competitive about who can throw a better recruitment event, as well as who can look the most fabulous while doing it. Consider how your recruitment efforts stack up against other sorority chapters on your campus, and ensure your budget reflects that.
Keep things in perspective. Throwing wads of cash at recruitment may seem like a good idea, but it's never going to pay off if that's all the effort you put in.
Flashy videos and lobster dinners aren't necessarily the most crucial aspects of recruitment. It's the reputation you build over time by recruiting quality sisters who will represent your chapter values and show PNMs that your organization is the best one to join, period.
In essence, the best investment you can make in sorority recruitment is you. Be true to yourselves, and at the same time represent your sisterhood as best you can. Are you the fun chapter? The serious chapter? The laid back chapter? The driven, professional chapter? Know who you are, and own it.
When it does come time to spend money, some of the most important investments are simple and inexpensive. Invest in some basic sorority recruitment software to connect with the right PNMs and streamline the screening and voting processes. Set the best possible conditions for you and prospective new sisters to hash out whether they're right for you and you're right for them. Recruitment activities offer opportunities to put your best foot forward.
When considering How Much Is Too Much to Spend on Sorority Recruitment, we think it's important to consider all these different angles, but ultimately to do what's right for your chapter rather than seek a one-size-fits-all approach.
Tell us about some of your most successful past sorority recruitment efforts. How much do you think is too much? How much is too little? How much is, in the immortal words of Goldilocks, "just right?" Let us know in the comments below!