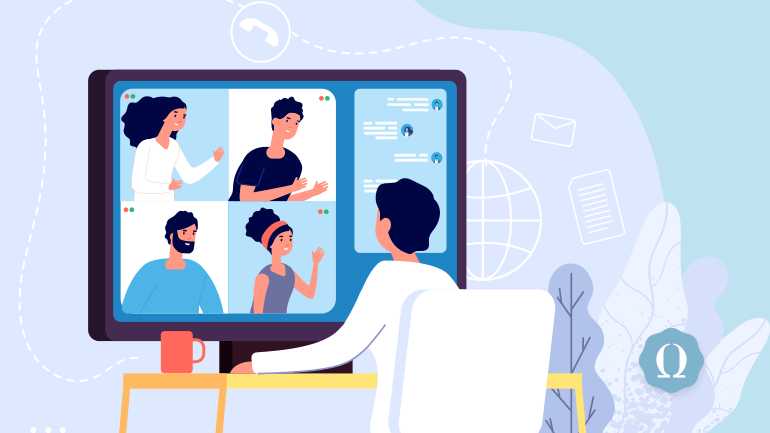 During this time of unprecedented social distancing, sorority and fraternity software is a crucial tool for running your Greek chapter remotely.
Chapters are shutting their doors across the country. Classes and jobs have become largely remote. Video conferencing is, for now, replacing face-to-face contact.

Learn More about OmegaFi's COVID-19 Response Here
That's a pretty big challenge for your chapter.
Think about it this way . . .
Greek Chapters Thrive on Personal Connections
By and large, those connections are usually in person.
You live in close quarters in the chapter house. Members meet up for chapter and other meetings. You get together on and off campus to bond and complete chapter projects.
Recruitment alone sees countless people on campus coming together, connecting, and shaking hands.
How do you take the very up-close-and-personal nature of chapter bonding and transfer it to a digital world? How do you bridge that distance between members across cities and states?
How Can Chapters Manage from a Distance?
It's no easy feat. But fraternity and sorority members are nothing if not resilient. Adapting to new challenges is what Greek life is all about.
Moving chapter management to a completely online environment will take some adjustment, but with the right sorority and fraternity software, it's more than achievable.
The right chapter software should serve you in good times and bad, when you're together and when you're apart.
Here are a few of OmegaFi's software platforms that will help you run your chapter remotely:
Watch the Video of this Blog:
OmegaOne Communication Software Brings You Together
When you're trying to manage your chapter remotely, single-use software like chat apps and spreadsheets simply won't do.
Keeping things structured and enforcing expectations from afar isn't easy.
That's Where OmegaOne Comes In
Your software needs to anticipate these challenges. You need communication software that not only combines your tasks in one place, but also is designed specifically to help sorority and fraternity officers reach their chapter management goals. OmegaOne helps you do just that.
Virtual Attendance Keeps Your Chapter Going
One of the key challenges you'll face as an executive officer is keeping your members disciplined and showing up.
Accountability must be built into the software you're using.
OmegaOne communication software is designed to get members together and provide digital communication between meetups, in order to optimize your time once you're all in the same place.
It may seem like quarantining makes that impossible, but the concept of attendance-driven communication is basically the same.
OmegaOne lets you:
Schedule video conferences, online meetings, and deadlines with the shared chapter calendar.
Share specific "event" details like the platform and login code for a video conference.
Share documents and files relevant to the online meeting, to guide discussion.
Track attendance with a numeric sign-in code.
Manage attendance points and receive appeals when members can't make it.
Engaging Members When It's Hardest
Of course, when you're in a massive video conference and everyone can see each other's faces, or you're having a structured chat, it's easier to engage members than the times between these meetups.
And while you need to be lenient, considering hardships some members may be going through, you can still engage them in a meaningful and positive way—that also achieves chapter goals—between meetings.

Aside from the scheduled meetings, use OmegaOne to:
Ask questions, send surveys, and quiz members on discussion topics.
Be alerted about members' birthdays! In this hard time, a birthday message can go a long way.
Send emergency alerts if necessary, for members to check in "safe" or "unsafe."
Connect members who share classes through the Classmates tool.
Direct quick alerts, emails, and texts at any time to customized groups of members and alumni.
Since OmegaOne is mobile friendly, it's easy to touch base with members anytime. And during this time of crisis, staying connected and raising each other's spirits is more crucial than ever.
The Chapter Economics of Vault: How Sorority and Fraternity Software Balances Your Budget
Without a doubt, your chapter will have to reassess its budget. For one, events have been pushed back or cancelled. Members aren't living in the house.
The financial response will depend on your chapter's individual circumstances. However, you're going to have to make some financial management decisions.
Vault chapter budgeting software makes that possible remotely.

Vault lets you set and manage a budget with the help of a dedicated OmegaFi chapter financial representative.
Members can pay their dues digitally from their homes.
You can also manage banking transactions and view real-time financial reporting to stay informed and make immediate decisions as things change.
Sheltering in Place: What Other Software Tools Should Chapters Use?
There are plenty of digital tools your chapter can use during this time. The best use of these platforms is to supplement premium chapter software.
Here are a few examples.
Video Conferencing
While everyone hunkers down, video conferencing has become a popular way to connect, using platforms such as Zoom, Jitsi Meet, and Skype. Each platform offers different options such as screen sharing, recording meetings, and group participation functions. Plan and prepare for video conferences using OmegaOne. Quiz members about topics discussed using the "questions" function.

Presentations and Recorded Videos
With a video conference screen sharing option, or even when getting everyone together isn't feasible, you can build presentations to get information across to members. Beautiful.ai allows you to build slideshow presentations for free. Or record a video presentation of yourself using your phone. Then share the files using OmegaOne.
Apps Abound to Keep in Touch
Not everything is about chapter business. Once you've covered the important tasks, try to connect on a personal level. While you can definitely communicate with OmegaOne, you may want to have other outlets to keep in touch. For instance, you might play Words with Friends. Or perhaps you're connected through social media like Facebook and Instagram. Did you know Scener lets you watch Netflix shows and movies digitally with your friends?
Whatever you do, we want you to stay safe and listen to what local, state, and national officials are telling you. The right sorority and fraternity software can help keep you healthy and run your chapter remotely.
OmegaFi provides software tools to fraternity chapters for recruitment, budgeting, communication, and more. See what we have to offer here or call us direct at 800.276.6342