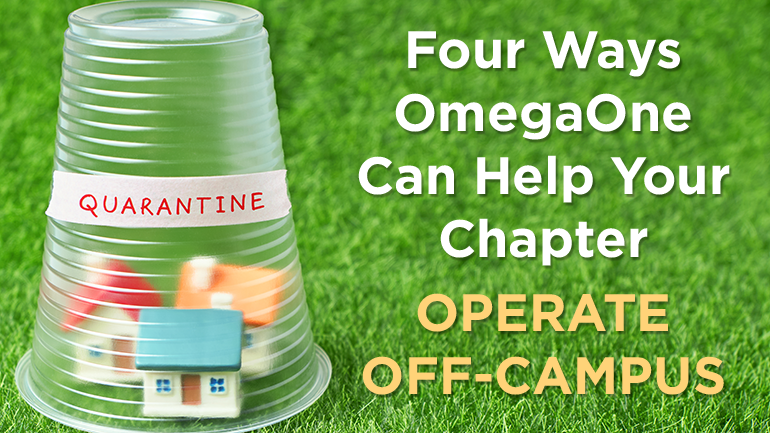 It is hard enough to communicate with everyone while in the same place, but mix in a rapidly spreading virus, universities closing campuses with a dash of social distancing and what do you have? The perfect storm. Is your chapter prepared?
If this sudden switch to virtual learning did not leave you enough time to complete everything on your chapter's to-do list, there are a few ways that you can use OmegaFi's OmegaOne to continue operations virtually and get those items checked off. Because let's be honest, nothing feels better than that sense of accomplishment after checking items off the to-do list. *Cue the sigh of relief*.

1: You get a vote and you get a vote!
If the chapter still has items that need to be voted on, you can post questions in OmegaOne. This allows members to vote on important items such as budgets, bi-laws, etc. so nothing is left on the table. No matter where your members are, if they have access to the internet they can be notified and submit a vote! Any important documents you need signed or distributed can be saved to the files section of OmegaOne for members to quickly access 24/7.

2: Keep on studying!
Not everyone learns well with classes online or has the dedication to stay on track. It is important that you try to provide all of your members with the resources they need to continue their educational success - even though they are not in a classroom! With OmegaOne you can set goals and have members track their study hours. This way, you can make sure that they are staying on track… despite the temptation to binge watch all of the new movies on Disney +. Members can also add their courses to the Classmates tool. This will show them anyone else who is taking the same class, so they can share study plans and ask questions. They may not be able to study in the same room, but they can still partner together to succeed!

3: Wash your hands and keep calm.
Safety is the number one priority right now. OmegaOne's Emergency Check-In feature can quickly show how everyone in the chapter is doing, and if there is anyone that needs help. While it takes 20 seconds to wash your hands, you can set up an Emergency Check-In in 30 seconds. Many students have gone home, but others have opted to cash in on those discounted flights. If you start an emergency check-in everyone in the chapter will be sent emails and texts for 30 minutes until they verify if they are okay or not okay. Their check-ins can include notes, and even show their location, so you can confirm where they are if they need help!

4: Can you hear me now?
Let's be honest, communication is never easy. Right now, everyone is getting information from a million directions about what is happening at the school, the chapter, and even the country! Using OmegaOne you can make sure that important information is readily available and stands out. The calendar can show information about postponed events, and current plans for future events. Sending mass emails and text messages can quickly share information, and make sure it stands out from your group chat that is currently flooded with memes. Is there an update about when you can return to campus? Post an announcement in OmegaOne about it! You can include a link to your source and have an email and text message sent to everyone about this exciting update. No matter where your members are, you can make sure they are informed and have up to date information.
---
With all the tools in OmegaOne, your chapter can be like Dory and "just keep swimming" or sing like High School Musical "we're all in this together". Feel confident OmegaOne has your back and will help you through this chaotic time. Just remember to watch those movies on Disney+ AFTER you are done studying!

How is your chapter making it through this challenging time? What could you use help with? Tell us in the comments below!