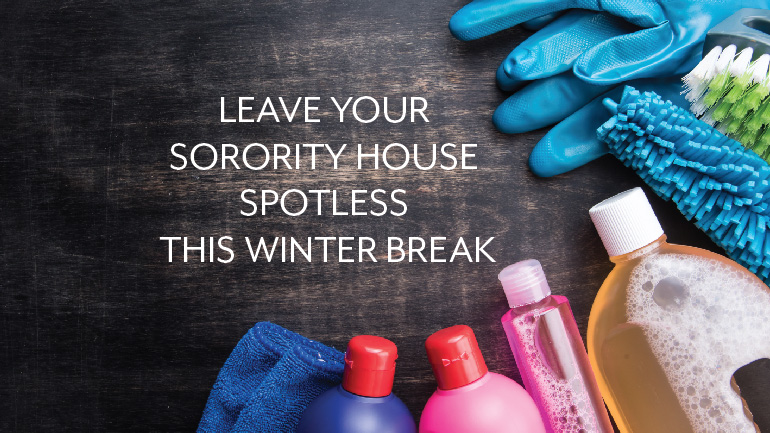 It's happening. Winter break is coming! Unfortunately, your sorority chapter house already looks like it's been abandoned to the elements.
The horror.
The squalor.
The piles of dirty clothes.
By the time sisters come back in the spring semester, your house will have been declared abandoned, and you'll have a family of racoons ready to defend their newfound home.
Do you want racoons, Betty? Because this is how you get racoons.
At least you won't have to take down the holiday house decorations you strung last December—they'll have built a nest out of them.
As your house director has been telling you for months, you need to clean. For one, sorority house upkeep is a necessary part of your tenancy in the house.
Keeping clean is just showing good manners to your housemates.
However, there's a lot more to getting the house ready for winter break than a quick dust up. There are issues of safety and maintenance, tenancy regulations, and managing the property during the break.
The more you can do now, the easier you're making it on those managing the property while you go home to enjoy the family and food.
Think of the sorority house and all its major renovations and upkeep as an investment you're sworn to protect. That means when you drop your final exam pencils and are ready to hop on a flight home, remember to first clean and prepare the house against damage from winter weather, fires, vandalism and break-ins.
OmegaFi knows how tempting it is to throw your laundry in the hamper and jet. But you really should Leave Your Sorority House Spotless this Winter Break and well-managed between semesters. Let's talk about why.
Putting Your Best Foot Forward with Your Sorority Housing Corporation

Managing a sorority house over a break can be challenging on different levels. You compound those challenges when the undergrad chapter doesn't fulfill its obligations to clean and secure the property before vacating.
In the excitement to go home and catch up with old friends, you might easily miss a dirty gutter here or some food that's going to rot and stink up the house there.
Maybe there's a loose window lock you've neglected to have fixed, and you figure it'll be fine to just leave it for the spring semester. No one will notice.
Fast forward to your housing corporation filing an insurance claim after some burglars broke in and left the window open all winter long, causing a ton of damage.
Take Care of Your Sorority House Now, or Look Elsewhere for Alumnae Help Later
Many sorority houses are as old as a century or more. More than likely, your house has undergone many updates in safety equipment and building standards over the years.
It may have even undergone a major renovation project or two.
Think about how many sisters have come before you, and all the blood, sweat and tears alumnae have put into the house.
Not to mention cash. A major sorority house renovation can cost a million dollars or more. Most of that money comes straight out of alumnae's pockets when they donate to capital fundraising campaigns.
When the house needs a renovation in the future to keep pace with other chapter properties on campus, alumnae may be less inclined to give if sisters show they're unable to care for the property as it is. It suddenly becomes a riskier expense because of the tenants.
You don't want to be "those sisters" that alumnae groan about.
Any insurance claims you cost them now by not preparing the house for winter break puts undue financial pressure on the sorority. Those mistakes may come back to haunt you.
The solution to securing your sorority house is simple.
The housing corporation—or whoever manages your property—typically stays connected with your house manager about winter break, and chapters should be provided a checklist of things to do before leaving the house unoccupied.
Some typical pre-break sorority house preparations include:
Winter weather preparation for heating systems, piping, insulation, windows and doors
Scheduling regular snow removal services if necessary
Unplugging non-essential appliances
ensuring lights are on timer and exterior motion sensor lights work
Security prep by contacting police, fire department, alarm company and other relevant parties to inform them the house won't be occupied
Secure personal items and store valuables
Lock and secure all entryways
Clean the premises
Remove perishable food and throw out trash
Perform an inspection with housing officials for interior and exterior damage and safety issues
Especially in regions where cold weather is common in the winter months, keep your heat on. Keep in contact about any housing issues that arise during the break.
Remember, the more you do now to prepare your sorority house for winter break, the fewer problems you'll return to next semester.
Leave Your Sorority House in the Right Hands: Winter Break and Beyond

Your housing corporation likely does a ton of work to upkeep your property and manage housing finances. They're doing their level best.
But what happens when they're overburdened, or lack enough volunteers to manage your house to the standard of other chapters on campus? What happens when they're running out of ideas to get sisters to sign leases when other housing options offer better amenities at better prices?
At best, your housing needs will be a struggle for both alumnae volunteers and the undergrad chapter. Some issues may end up being neglected. It's a road better left untrodden.
Consider the benefits of partnering with a sorority house management company like CSL Management.
As opposed to general management companies or housing consultants, a company like CSL specializes in the Greek housing management needs of sisters, alumnae and their national sororities. They can help with repairs, maintenance and safety inspections, tax and insurance filing, health and safety assessments, and overseeing house project management.
They function as a support system between house directors and house corporation volunteers.
Oh, and that whole winter break dilemma? They can help with house management during periods of no occupancy as well.
So forget spring cleaning; get your winter break sorority house prep done now.
What house prep tips and tricks have you picked up over past winters? Give us your list and we'll check it twice in the comments below.