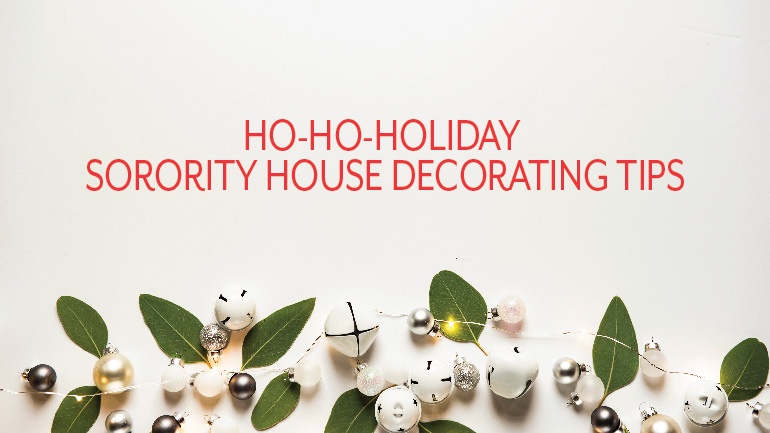 Decorating your sorority house probably feels like an afterthought this December. Studying for exams has you so sleepless and bleary-eyed that climbing a ladder is probably downright dangerous.
Plus your mind's already on winter break. Hot chocolate and snowball fights? Please. You're going to visit your parents in Miami Beach, lie in the sand, and soak in the mild 80-degree weather.
And sure, that's all well and good. You need to get your mind off school and the busy life of a sorority sister. Letting the waves wash over you seems like the perfect way to wash off all the stress.
Mom and dad will be at the airport to welcome you with open arms, take you home, and fix you a sandwich. Oh, and they'll remind you to lather up with suntan lotion. You'll take this parental pestering any day versus being told not to forget your scarf and gloves.
But before you book that flight, leave a little holiday cheer in your sorority house.
After all, whether it's your childhood bedroom or your chapter house den, home is where the heart is.
Sorority house holiday decorations come in all shapes and sizes, from the simple and elegant, to the flamboyant, to the…well…interesting.
It's a time for sisters to show their creativity and spirit, and to bring a little light to the icy cold nights on campus.
So untangle those bulbs, dust off those wreaths, and light those menorahs. The holidays are here.
These are OmegaFi's Ho-Ho-Holiday Sorority House Decorating Tips.
The Holidays Belong to All Sisters. Deck the Halls Accordingly.

Your sorority house is big. Between all the sisters living in it, there's a lot of cheer to go around. That means your decorations are going to be big, too.
It also means--unless you're a religious sorority--that you have to consider the cultural differences of all your sisters.
Don't worry. We aren't enlisting into the so-called War on Christmas™. But neither should you.
Avoid the animosity thrown around by talking heads on 24-hour news cycles about Starbucks cups and sidewalk Santas. In fact, always avoid animosity toward your fellow sisters. You're better than that.
The holidays are a time to make everyone feel loved and special, so consider staying away from symbolism that overtly leaves some sisters out of the fun. Empathy is the reason for the season.
Pool decorating ideas and survey sisters using sorority communication software like OmegaOne. Encourage everyone to participate in the planning without steamrolling anyone.
If you throw a holiday social, keep that same spirit of inclusivity. We're not saying don't do Secret Santa, if all the sisters are cool with that.
Maybe just ask before you creep up behind them in a red suit and fake beard.
House Themes: Decorate to Express Your Sisterhood

Naturally, you want to do something special with your holiday decorating prowess. You only get to use said prowess one month of the year, and you're itching to show off your stuff.
Sure, that's a lot of pressure. And yes, left to your own devices you'd quickly go rogue. But let's reign in that extreme wreath-hanging addiction for a slightly more reasonable approach.
What makes your sorority special? What do you want to express about your chapter's holiday spirit?
Picking the right theme--something you're already used to doing for other chapter activities--can make a world of difference in your decorations.
For exterior lights and decorations, use your sorority's colors and letters or express some other sorority symbolism.
For inside common areas, keep things simple but elegant with garlands, wreaths, Poinsettias and any chapter-specific traditions or decorations. Unify the theme in each area, letting sisters put up their individual decorations in their rooms.
Socials should have themes as well. It's cold outside, so try to bring a feeling of warmth to your guests. Also, give them some literal warmth. Turn up the heat. Light a fire.
Those chestnuts aren't going to roast themselves!
Normally we'd say to keep your holiday socials classy, like your decorations. But let's be honest. You kept that ugly sweater in your closet all year long, resisting every urge to throw it out or set it on fire.
You've earned the chance to throw it on and look ridiculous this holiday season.
Holiday Fundraising--No, Not to Cover the Electric Bill

When you add hundreds of little colored bulbs in the mix, the electric bill can put a damper on your mood and have you shouting "Bah humbug!"
As fun as it may be to gripe about the utility bill, throw on a stovepipe hat, and pal around with time-travelling ghosts, you've got more charitable things to worry about.
Even Scrooge figured out that the holidays are all about giving. Ask Tiny Tim.
There are different ways your chapter can approach holiday philanthropy. You might make this one of your main philanthropies or a minor one, but every dollar you raise can make a difference.
Do your homework and partner up with an existing holiday season charity, or choose your own in the local community.
You can plan a holiday festival at the house and raise money that way, and some slick decorating can help you draw people in. You can also engage alumni to participate.
In lieu of cash donations, you might run food and present drives or partner with local organizations that are running these.
If all else fails, hit up a soup kitchen. They can always use the help.
Or--and we hate to keep harping on this, but--throw that ugly sweater party already. The nausea and vomiting caused by clashing patterns will be a small price to pay for a good cause.
Don't go dark this December. Give your sisters the guiding light of sorority house holiday decorations.
Does your chapter have holiday traditions? What sorority house decorations are you rescuing from the basement corner and untangling this winter? Is "Grandma Got Ran Over By a Reindeer" the worst song ever written? Or does that honor go to "Jingle Bells"? Let's delve into these crucial issues in the comments below.