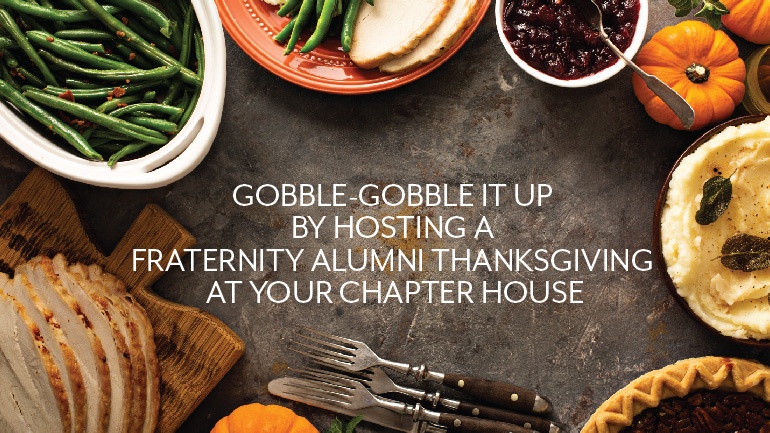 This first tip's free: Don't, under any circumstances, try to host alumni for Thanksgiving dinner on Thanksgiving Day.
No one--we mean no one--will show up. We're talking zero alumni. You and maybe two other brothers will awkwardly sit at a table covered in 25-pound turkeys meant to feed over 100 guests. Kitchen staff will whip you up a stuffing that may or may not have "special" ingredients added.
And let's be honest. You'd deserve it.
Now that we've got that out of the way, let's talk Thanksgiving.
Presumably, your fraternity chapter house will be fairly empty. Brothers and alumni alike will be home enjoying good food, family, and watching the Detroit Lions lose. (Those of us whose families are Michiganders might end up with a bit more indigestion than others.)
And what could be better than that? Huh? What's better than a Thanksgiving dinner? What about . . . two Thanksgiving dinners?
*Stomachs quiver in anticipation.*
No, we're not just yamming it up. Who in their right minds would pass up on two November feasts? Not you, that's for sure.
So sharpen those carving knives, load your basters, and loosen those belts.
Come on and Gobble-Gobble with OmegaFi. This is how to Host a Fraternity Alumni Thanksgiving at Your Chapter House.
"Who's Coming to Dinner?" and Other Alumni Thanksgiving Planning Questions

Okay, guys. You're always talking about how you host the "best fraternity events" and that no other chapter can compare.
It's time to prove it. Put your skills to the test. Plan the most epic pre-Thanksgiving Thanksgiving of all time.
First, get an idea of which alumni are local and which will likely attend. Build a guest list and follow up for any last-minute cancelations. Be mindful that many will have flight plans for the holidays, so don't host too close to the end of the month or tell alumni last minute.
Also, you'll have to factor cost. If there's no space in the budget for this event, don't worry. You still have some options that aren't Charlie-Brown-Christmas-tree-level sad.
Your best option may be to hold a Thanksgiving dinner semi-potluck style, where brothers chip in and each bring a certain amount of assigned food and drink items.
Before you send everyone running off to the frozen section, see if you're allowed to use any of the food already stored in the chapter house kitchen. Depending on how your meal plan system works, this might not be viable. Your fraternity might not want to foot the bill on whatever you plan on pilfering. Still, it's worth it to ask.
Plan portion sizes to match your guest list. Generally speaking, you're looking at one and a half pounds of turkey per guest, and you probably want to leave room for seconds if you can.
Make similar measurements for each Thanksgiving food item you're planning on serving for the dinner.
Essentially, go through the same checklists your social chair goes through for every chapter event. Provide an experience as fun for alumni as you do for each other.
Vegans? In Our Fraternity House? For Thanksgiving???
Hey, it's 2018. Better to have an open mind and an open menu than turn guests away.
Take a cue from your fraternity house kitchen, which should already offer options for brothers who are vegan or vegetarian, as well as those who have allergies or other dietary restrictions.
We know, we know. If no one told you not to, some of you would barehand a slab of bloody meat and gnaw it apart like a coyote, but it's easier to provide food options than you think.
In fact, when confirming alumni guests, ask about dietary restrictions. Do the same with brothers. Provide alternatives based on the responses you get.
Giving options shows you care, and gets everyone in the spirit of giving thanks to one another.
So break bread and pass that Tofurky. It's that easy.
The Annual Brothers Vs. Alumni Fraternity Thanksgiving Gobble-Gobble Bowl

You're covered in mud and grass stains. There's sweat in your . . . everywhere.
You dislocated your finger, but your chapter president/quarterback popped it back into place and told you to stop being such a baby.
The alumni are driving. They hike the ball. You're blitzing to deflag their quarterback, but that's when he chucks a bomb.
One of the alumni makes a miracle catch, shakes your chapter treasurer and scores.
That's the game. The alumni won the Gobble-Gobble Bowl this year, and they'll rub it in your face for at least a whole year.
Ideally, it's a game you play before you eat.
But it's also a key to making your alumni Thanksgiving a success. Hosting fun events can turn a serviceable meal into an epic experience you'll all remember forever. Plus, it's a great way to engage and bond with your alumni.
You can always go with the basics of competitive holiday shenanigans, like flag football, cornhole, foosball or Ultimate Frisbee. Or you can take it any fun, creative direction you think alumni would enjoy.
Whatever you decide, plan a loose schedule of events so alumni aren't just hanging around the chapter house waiting on food.
Plus, keeping everyone busy and having fun prevents them from devolving into heated political debates, like your Uncle Billy and . . . everyone else.
You can even involve alumni living at a distance with online games, like best Thanksgiving joke, or "most awkward Thanksgiving turkey Instagram pic." You can announce the winners during dinner and have a good laugh.
To host a great alumni Thanksgiving dinner at your fraternity house, stick to the plan, give your guests a feast for the gods, and bring on the fun.
If all goes well, you should be sending alumni home to their traditional Thanksgiving dinners bragging about the Thanks-give-a-ganza the undergrads threw for them.
Let's just say Norman Rockwell's got nothing on you guys. Just don't forget the pie.
If you were to host a Thanksgiving dinner, what ideas would you add to convince your alumni you aren't a bunch of turkeys? Let's get in the holiday spirit in the comments below!