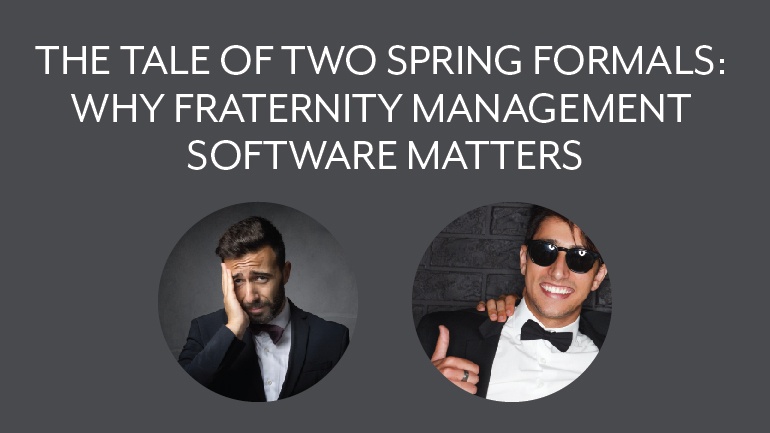 Anyone who's planned a spring formal can attest--it is in no way, shape or form easy. Unfortunately, it may seem easy to the others in your chapter who have no experience with it.
"What's so hard?" they wonder. "It's just planning a party."

Yes, planning a party. Except this party just so happens to be one of the biggest events of the year. Pulling it off means no one will ever know how much effort went into it. Messing it up means disaster on a stick. You heard us. A stick.
And the thing is . . . there are so many things that can go wrong. Tracking attendance, place settings, tables and chairs, decorations, venue, catering, the frigging sound system . . . you get the idea. Bad planning can quickly turn your spring formal into a really not-fun version of knocking over dominos.
So how do you avoid certain doom? How, you ask--no, demand.
How?
A little collaboration and careful planning go a long way, as well as asking how spring formals of semesters past were brought off without any hitches. However, all of that is still daunting. What can really help you plan your spring formal, or any event for that matter, is the right software. That's why OmegaFi is proud to present you with The Tale of Two Spring Formals: Why Fraternity Management Software Matters.
Spring Formal #1: It Was the Worst of Times . . .

You've forgotten to finalize everything with the caterer, so there will literally be no food at this formal. You're speeding through traffic toward the pizza place to pick up as many cheese pies as you can, but it will take forever for them to make enough to feed everyone and their dates. Also, strapping young men in tuxes and women in gowns will be scarfing down deep dish and drinking from two-liters of soda.
Not exactly the scene you had envisioned.
Also, half the chapter never RSVP'd, so you have no idea how many are going to show up out of the blue. Are they bringing dates that also never RSVP'd? Are they? Just assume yes. They really are trying to make your life more difficult.
Ask them. Ask Kyle, "Kyle, are you trying to make my life more difficult?"
And Kyle will say, "Yes, dude. Of course I am."
So you're slinging pizzas at spring formal, the attendance numbers are hazy at best and Kyle is really screwing with your Zen.
What else? Certainly any number of other things can go wrong. The hotel ballroom you're using--for whatever ungodly reason--has no PA system. Why on earth this would be so doesn't matter; you're going to have to use Kyle's feedbacking guitar amp. You might as well let Kyle DJ while you're at it. Might as well let Kyle plan and run the whole thing, to be honest, and save yourself the headache.
What went wrong? You went through the event with the others, studied last year's event and even wrote everything down. Unfortunately, it was on a word processing file on a thumb drive that fell out of your pocket somewhere between the house and the basketball courts. You reconstructed it all as best you could, went over it again with everyone else, but despite your best efforts a lot of things fell through and it shows.
You should've used fraternity management software to help plan and execute your spring formal. Also, stop using thumb drives to store important information. Haven't you ever seen a spy movie?
Spring Formal #2: It Was the Best of Times!

In this scenario, Kyle is nowhere to be found. Take a coffee break, Kyle. Or more likely, take a nap. Kyle has no idea what's going on.
Instead, your brothers and their dates--for whom you have an exact head count--are being served a nice meal of grilled chicken and steamed vegetables and those of age are drinking Pinot Grigio like they're hanging with the Great Gatsby himself. (Okay, for you literary types, we know we just mixed our Dickens and Fitzgerald allusions here; just go with it.) You remembered to switch venues to the hotel across town, which in fact does have a PA system, and fancy chandeliers hanging from the ceiling! The music is pumping. People are dancing. A good time is being had by all.
So what's the difference between this spring formal and the one above? Simply put, this time you used fraternity management software to make sure all your event planning priorities were met.
For the best results, we suggest using fraternity event planning software and the direct communication software of OmegaOne.
OmegaOne is perfect for everyday communication needs, not only planning the spring formal. You can keep in touch with those in your chapter easily to ask questions, take surveys, mark dates on a calendar, share files and more. This will help you coordinate what's going on with the chapter with everyone's desires, as well as how to begin planning the logistics of the whole enchilada.
OmegaOne will also help you fine-tune the details and make this spring formal the best ever. You'll want software that centralizes the management of your fraternity's event planning, rather than having it spread out over various platforms or--ahem--on a thumb drive (we're not going to let you live that one down). You'll want to have web-based collaboration, be able to track registration and attendance, manage important expenses and transactions and promote your formal, at a minimum.
Like we said, this kind of planning is not easy. In fact it's very, very time consuming, frustrating and difficult, to say the least. But with the use of fraternity management software for event planning and communication, things have the potential to go--dare we say it?--smoothly.
What are some of your experiences with using fraternity software to help manage an event? What are some of your event successes and disasters? Let us know in the comments below, and we'll laugh and cry together.