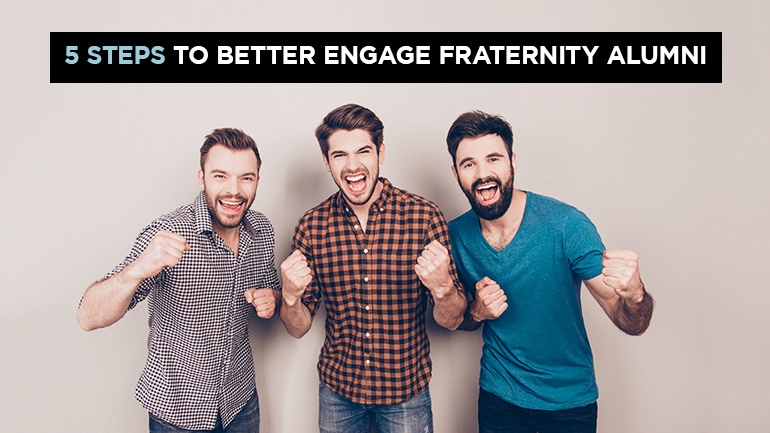 Oh brother where art thou?
In a college or university there is a standard cycle: acceptance, education and departure, typically culminating within a four-year process. A Greek organization is not exempt from this assembly-line process of introduction and matriculation. As new brothers are initiated each semester, older brothers will in turn step through the gates of graduation and enter "the real world."
Although this process is natural, it has the unfortunate side-effect of creating a disconnect between the youngest brothers and their graduating elders. In social organizations that pride themselves on the continued upholding of custom and tradition, it should go without saying that the lack of certain information being passed on can create a problem for the identity and culture of a fraternity. Wisdom can only be gleaned from the experienced, and in this sense, it is paramount not only to engage alumni but also to maintain this connection. As with any new task involving a full-time schedule, it can be difficult to build new habits within the hectic day-to-day of just being a student.
With your inspiration in mind, OmegaFi is here to give you 5 Steps to Better Engage Fraternity Alumni.
5. Create a GroupMe

Although we've mentioned this before, GroupMe is an app that utilizes a chat-based structure but limits it to only those you invite. In the case of your fraternity's chapter, these "groups" can be limited to whatever parameters you set. For instance, maybe you want to create a group chat of only brothers in your pledge class. You can. Or perhaps you'd like to create a group of only active, undergraduate brothers. You can do that, too. If you so choose, you can even create a group large enough to accommodate all brothers—undergraduate and alumni—requiring brothers to designate their name, pledge year and semester, all within their display name. The benefit of Groupme is instant connectivity. Messages are immediate within the app, which can serve as a constant stream of entertainment and brotherly engagement.
4. Send Your Chapter Minutes to Alumni
Any executive board worth their weight in salt has a designated secretary (sometimes called the Keeper of Records) whose job it is to record the minutes of each chapter meeting. Although these minutes are just highlights of the actual meeting itself, they can be incredibly informative. In many fraternity chapters, these minutes are circulated only among undergraduate brothers. However, there is an intrinsic benefit to supplying alumni brothers with these minutes as well. For brothers who have recently graduated and still wish to have their hands on the pulse of the chapter, meeting minutes can be great as inside information. Not only can they give distanced brothers an idea of what's going on and decisions being made, but they might also provide a clear framework for the upcoming schedule of the semester. In this sense, alumni will ultimately feel closer and more involved with the chapter even when engaging remotely if they have meeting minutes.
3. Plan for Homecoming

If you're looking to reconnect or make connections with alumni brothers, your best opportunity will invariably be during your school's homecoming. As the school puts on a week of events (mostly dedicated to its undergraduate population), it also uses the platform as an opportunity to plan for returning alumni. Whether it's the homecoming game and tailgate, or dedicated alumni events on campus, there's an intent to draw in former students. As a chapter, your organization should plan accordingly to entice and accommodate returning brothers. In planning these accommodations, keep in mind that the brothers you're looking to draw are now trying to make it in the world and achieve their unique personal goals. This means that a toga party with a crowd of 18-22 year-olds might not be their cup of tea anymore, so try to keep social events as formal as possible, and look to emphasize the fostering of brotherhood first.
2. Pick Up the Phone
This is the easiest entry on the list by far: Pick up the phone and call alumni. Chances are good that your organization keeps detailed records of its past members. This information will include emails, phone numbers and other contact information, so if you want to engage an alumni, the easiest and quickest way is probably to contact them directly. With this in mind, if you haven't spoken to them for a while or are making contact for the first time, consider a text message or email first. In the message, let them know who you are, of what year, and that you'd like to create or improve your relationship. Give them a call at their convenience, remind them who you are, what you want to do in life, ask them about their life, and ask them if it's okay to give them a call every now and again. If you do that enough times, you'll likely create a viable and valuable relationship.
1. Take a Trip

Although picking up the phone may be the easiest way to connect with alumni, taking a trip is by far the most fun. This takes a bit of planning on your end, but it is undeniably worth it. In short: As a brother of the active undergraduate chapter, create a trip budget, decide on the accommodations , make an itinerary for the days traveled, and then execute.
The draw of this type of trip is two-fold. First, recently graduated brothers in the work force tend to have some —though perhaps just a little — disposable income and free time. The second reason is that graduate brothers who want to travel may just need a group to do it with and a reason to do so.
The best part about this form of engagement is that it's fun. Imagine picking a city (let's say Toronto) and exploring that city with your brothers over the course of a weekend. This can be a once a year type of event with a different city every time, but it gives brothers who have graduated a break from their daily routine and an opportunity to reconnect and form new memories. It's a Win-Win.
For any brothers looking to foster connections and better engage fraternity alumni, give one of these steps a try. If you have an added suggestion for engaging fraternity alumni, don't keep it to yourself. Let us know in the comments below.